Newsroom
08/04/2021 02:51
NIO feiert wichtigen Meilenstein: Produktion des 100.000sten Premium-Elektrofahrzeugs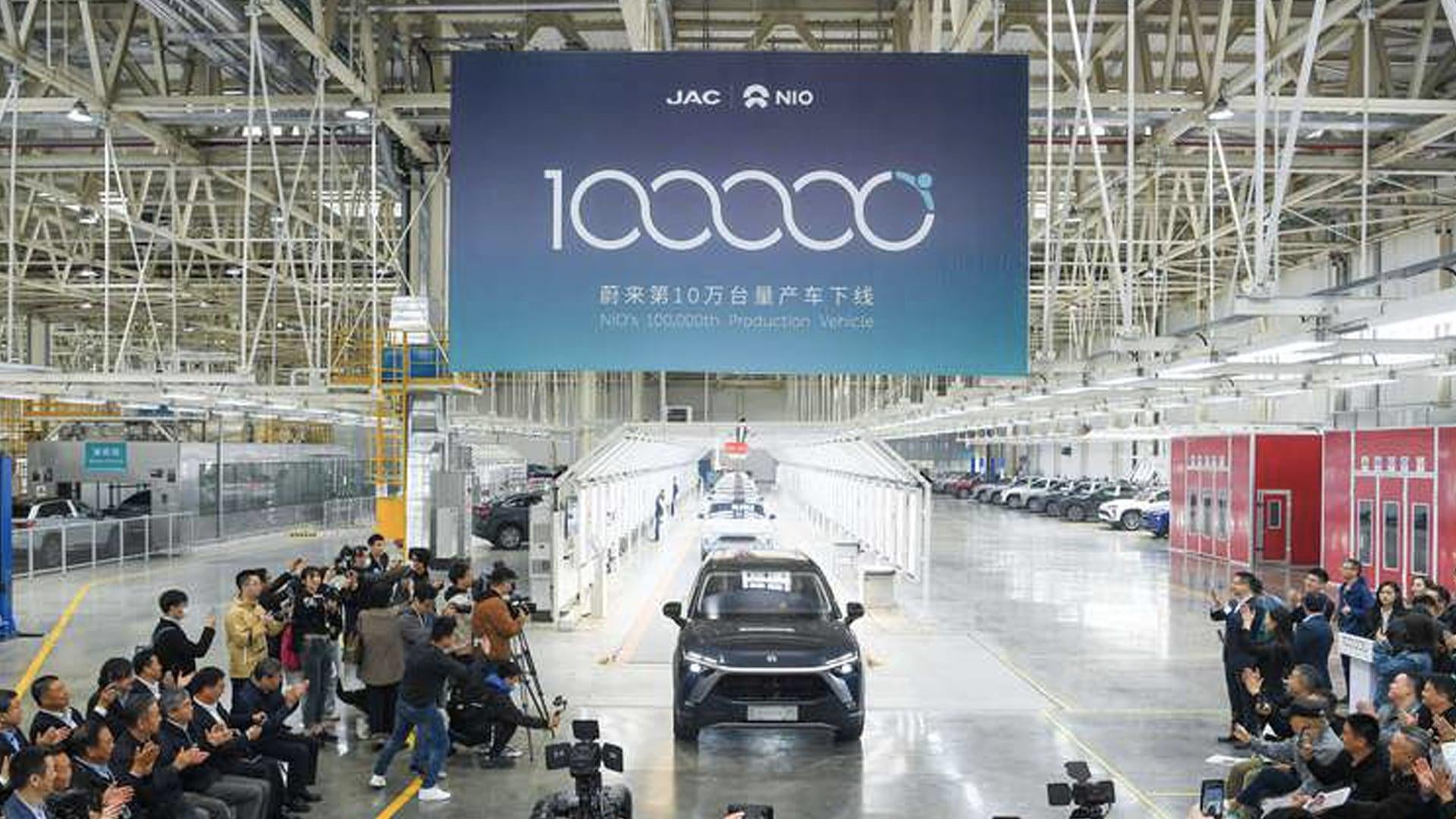 ,
NIO, ein Pionier auf dem Premium-Markt für Elektrofahrzeuge, hat einen weiteren Meilenstein erreicht und das 100.000ste Serienfahrzeug produziert. Die Produkti-on startete am 27. Mai 2018 mit NIOs Flaggschiff, dem NIO ES8.  Exakt 1.046 Tage später, am 7. April 2021, rollte im JAC-NIO Fertigungszentrum in Hefei NIO Num-mer 100.000 vom Band. Bei dem Premium-SUV handelte es sich um die neueste Version des ES8. 
Bei der Roll-Off-Zeremonie kamen NIO-User der ersten ES8-, ES6- und EC6-Generation zusammen, um diesen Moment gemeinsam zu feiern.
Erst im Juli 2020 hatte NIO die Produktion des 50.000sten Premium-SUV zele-briert. Keine neun Monate später erreichte NIO bereits die 100.000er-Marke.
Rekordmonat März: 7.257 Fahrzeuge
Diesem Meilenstein in der Serienproduktion ging ein weiterer Rekord für NIO vo-raus: im März 2021 lieferte das Unternehmen 7.257 Fahrzeuge aus, was einen neuen Monatsrekord mit einem starken Wachstum von 373 % im Vergleich zum Vorjahr darstellt. Die Auslieferungen setzten sich zusammen aus 1.529 ES8, dem 6- und 7-sitzigen Premium Smart Electric SUV des Unternehmens, 3.152 ES6, dem 5-sitzigen leistungsstarken elektrischen Langstrecken-SUV des Unternehmens, und 2.576 EC6, dem 5-sitzigen Smart Electric Coupé SUV. 
Im ersten Quartal 2021 steigerte NIO seine Auslieferungen um 423% im Vergleich zum Vorjahr und erzielte mit 20.060 ausgelieferten Fahrzeugen einen neuen Quartalsrekord.
Bis zum 31. März 2021 erreichten die kumulierten Auslieferungen des ES8, ES6 und EC6 95.701 Fahrzeuge.

Über NIO:
NIO's Mission ist es, mit smarten Premium-Elektrofahrzeugen und einem herausragenden Nutzererlebnis Lebensfreude zu vermitteln. NIO wurde im November 2014 als globales Elektroautounternehmen gegründet. Das Unternehmen beschäftigt über 7.000 Mitarbeiter in erstklassigen Forschungs- und Entwicklungs-, Design- und Fertigungszentren in Shanghai, Peking, San Jose, München, Oxford und weiteren Standorten. Im Jahr 2015 war NIO Titelsponsor des Siegerteams der Fahrerwertung während der ersten ABB FIA Formel-E-Saison. Im Jahr 2016 präsentierte NIO eines der schnellsten Elektroautos der Welt, den EP9. Der EP9 stellte den Rundenrekord für ein Elektrofahrzeug auf der Nürburgring Nordschleife und drei weiteren Strecken von Weltruhm auf. Im Jahr 2017 präsentierte NIO sein Vision Car EVE und vermeldete, dass der NIO EP9 einen neuen Geschwindigkeitsweltrekord für ein autonomes Fahrzeug auf dem Circuit of the Americas aufgestellt hat. Am 28. Juni 2018 begann NIO offiziell mit der Auslieferung des ES8, eines 7-sitzigen Hochleistungs-Elektro-SUVs in China. Seit September 2018 ist NIO an der New Yorker Börse gelistet. Am NIO Day am 15. Dezember 2018 launchte NIO offiziell den leistungsstarken elektrischen Langstrecken-SUV NIO ES6, der seit Juni 2019 serienmäßig ausgeliefert wird. Am NIO Day am 28. Dezember 2019 launchte NIO offiziell das leis-tungsstarke Smart Electric Coupe SUV EC6. Die Auslieferung der überarbeiteten Version des ersten Serien-fahrzeugs ES8 wurde am 19. April 2020 gestartet. Die Auslieferung des Smart Electric Coupe SUV EC6 startete am 25. September 2020. Am 9. Januar 2021 wurde der NIO ET7, die erste smarte vollelektrische Limousine mit autonomer Fahrfunktion, offiziell vorgestellt.

Safe Harbor Statement
This press release is not an exhaustive summary of the terms of the definitive agreements. Further infor-mation regarding the investments and the terms of the definitive agreements will be included in NIO's subse-quent filings with the SEC, including its annual report on Form 20-F for the fiscal year ended December 31, 2019 (the "2019 Annual Report"). The Company is preparing the related disclosure in and translation of the documents to be filed with the 2019 Annual Report in connection with the definitive agreements. The Compa-ny plans to rely on the 15-day extension period for filing its 2019 Annual Report under Rule 12b-25 and will file the 2019 Annual Report by May 15, 2020 as permitted under rules of the Securities and Exchange Commission.
This press release contains statements that may constitute "forward-looking" statements pursuant to the "safe harbor" provisions of the U.S. Private Securities Litigation Reform Act of 1995. These forward-looking statements can be identified by terminology such as "will," "expects," "anticipates," "aims," "future," "intends," "plans," "believes," "estimates," "likely to" and similar statements. Among other things, quotations from management in this announcement, as well as NIO's strategic and operational plans, contain forward-looking statements. NIO may also make written or oral forward-looking statements in its periodic reports to the U.S. Securities and Exchange Commission (the "SEC"), in its annual report to shareholders, in press releases and other written materials and in oral statements made by its officers, directors or employees to third parties. Statements that are not historical facts, including statements about NIO's beliefs, plans and expectations, are forward-looking statements. Forward-looking statements involve inherent risks and uncertainties. A number of factors could cause actual results to differ materially from those contained in any forward-looking statement, including but not limited to the following: NIO's strategies; NIO's future business development, financial condition and results of operations; NIO's ability to develop and manufacture a car of sufficient quality and appeal to customers on schedule and on a large scale; its ability to grow manufacturing in collaboration with partners; its ability to provide convenient charging solutions to its customers; its ability to satisfy the mandated safety standards relating to motor vehicles; its ability to secure supply of raw materials or other components used in its vehicles; its ability to secure sufficient reservations and sales of the ES8 and ES6; its ability to control costs associated with its operations; its ability to build the NIO brand; general economic and business conditions globally and in China and assumptions underlying or related to any of the foregoing. Further information regarding these and other risks is included in NIO's filings with the SEC. All information provided in this press release is as of the date of this press release, and NIO does not undertake any obligation to update any forward-looking statement, except as required under applicable law.