NIO celebrates 100,000-unit production milestone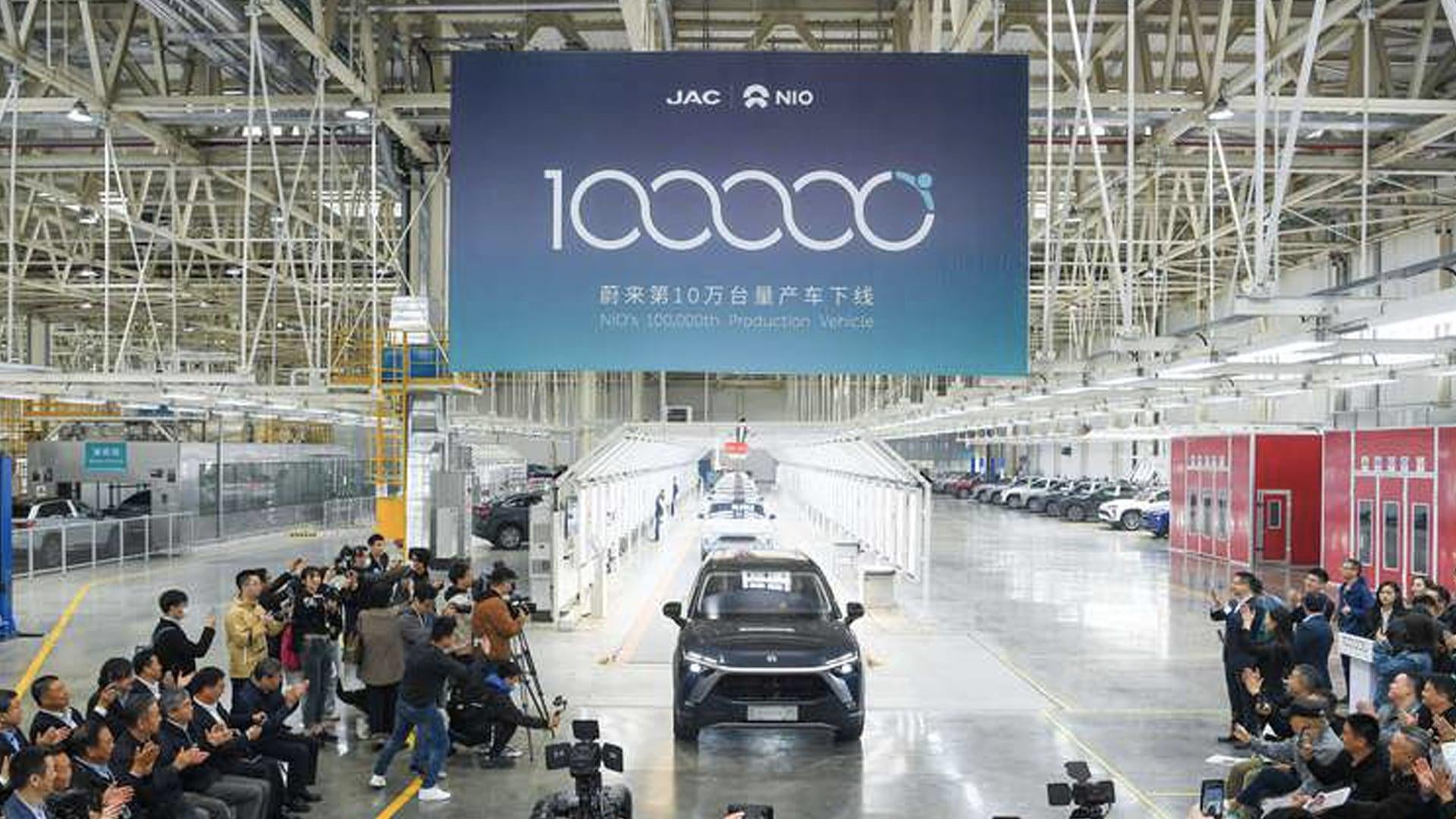 Shanghai/Hefei - NIO, a pioneer in the global premium electric vehicle market, has reached another milestone in its corporate history by producing its 100,000th production vehicle on April 7th, 2021.
Exactly 1,046 days on from NIO's flagship ES8 SUV starting serial production, the 100,000th NIO car – the latest ES8 – rolled off the production line at the JAC-NIO manufacturing centre in Hefei, China. NIO users of the first generation ES8, ES6 and EC6 joined staff to celebrate this moment together.
It was only in July 2020 that NIO celebrated the production of its 50,000th premium SUV. Less than nine months later, NIO has reached the 100,000 mark.
NIO secures further sales record, delivering 7,257 vehicles in March
This achievement was preceded by another record for NIO: in March 2021, the company delivered 7,257 vehicles, setting a new monthly record with a strong 373 per cent year-on-year growth. The deliveries comprised: 1,529 ES8s, the company's six- and seven-seat premium smart electric SUV; 3,152 ES6s, NIO's five-seat high-performance long-range electric SUV; and 2,576 EC6s, the five-seat smart electric coupé SUV.
In the first quarter of 2021, NIO increased its deliveries by 423 per cent year-on-year and set a new quarterly record with 20,060 vehicles delivered. By 31 March 2021, cumulative deliveries of the ES8, ES6 and EC6 reached 95,701 vehicles.
Press Contact NIO Europe:
Florian Otto
Florian.Otto@nio.com
+49 (0) 162 2071652
Felix Buchner
Felix.Buchner@nio.com
+49 (0) 171 6816372

About NIO Inc.
NIO Inc. is a global smart electric vehicle company. Founded in November 2014, NIO's mission is to shape a joyful lifestyle by offering high-performance smart electric vehicles and being the best user enterprise. NIO has established R&D centers and manufacturing facilities in Shanghai, Hefei, Beijing, San Jose, Munich, Oxford and other places, and has initially set up the user service network with nationwide coverage in China.
In 2015, NIO Formula E team won the inaugural FIA Formula E Drivers' Championship; in 2016, NIO launched EP9, one of the world's fastest electric vehicles, which broke lap records and the world's autonomous driving records in global-famous tracks like the Nürburgring Nordschleife; in 2017, NIO unveiled the vision car EVE. On June 28, 2018, NIO began deliveries of the ES8, a 7-seater high-performance smart electric flagship SUV, in China. On September 12, 2018, NIO went public on NYSE. NIO officially launched the ES6, a 5-seater all-round smart electric SUV, on December 15, 2018 and started its deliveries on June 18, 2019. In December 2019, NIO officially launched the EC6, a smart electric Coupe SUV, and the all-new ES8, a fully elevated smart electric flagship SUV. On April 19, 2020, NIO began the first deliveries of the all-new ES8. On April 29, 2020, NIO China established its headquarters in Hefei Economic and Technological Development Area. On July 24, 2020, NIO officially launched the EC6, a smart electric Coupe SUV, and began deliveries of the EC6 in September 2020. On January 9, 2021, NIO ET7, the smart electric flagship sedan with autonomous driving capability, was officially launched.

Safe Harbor Statement
This press release is not an exhaustive summary of the terms of the definitive agreements. Further information regarding the investments and the terms of the definitive agreements will be included in NIO's subsequent filings with the SEC, including its annual report on Form 20-F for the fiscal year ended December 31, 2019 (the "2019 Annual Report"). The Company is preparing the related disclosure in and translation of the documents to be filed with the 2019 Annual Report in connection with the definitive agreements. The Company plans to rely on the 15-day extension period for filing its 2019 Annual Report under Rule 12b-25 and will file the 2019 Annual Report by May 15, 2020 as permitted under rules of the Securities and Exchange Commission.
This press release contains statements that may constitute "forward-looking" statements pursuant to the "safe harbor" provisions of the U.S. Private Securities Litigation Reform Act of 1995. These forward-looking statements can be identified by terminology such as "will," "expects," "anticipates," "aims," "future," "intends," "plans," "believes," "estimates," "likely to" and similar statements. Among other things, quotations from management in this announcement, as well as NIO's strategic and operational plans, contain forward-looking statements. NIO may also make written or oral forward-looking statements in its periodic reports to the U.S. Securities and Exchange Commission (the "SEC"), in its annual report to shareholders, in press releases and other written materials and in oral statements made by its officers, directors or employees to third parties. Statements that are not historical facts, including statements about NIO's beliefs, plans and expectations, are forward-looking statements. Forward-looking statements involve inherent risks and uncertainties. A number of factors could cause actual results to differ materially from those contained in any forward-looking statement, including but not limited to the following: NIO's strategies; NIO's future business development, financial condition and results of operations; NIO's ability to develop and manufacture a car of sufficient quality and appeal to customers on schedule and on a large scale; its ability to grow manufacturing in collaboration with partners; its ability to provide convenient charging solutions to its customers; its ability to satisfy the mandated safety standards relating to motor vehicles; its ability to secure supply of raw materials or other components used in its vehicles; its ability to secure sufficient reservations and sales of the ES8 and ES6; its ability to control costs associated with its operations; its ability to build the NIO brand; general economic and business conditions globally and in China and assumptions underlying or related to any of the foregoing. Further information regarding these and other risks is included in NIO's filings with the SEC. All information provided in this press release is as of the date of this press release, and NIO does not undertake any obligation to update any forward-looking statement, except as required under applicable law.