Newsroom
Pressemitteilungen
10/10/2016 18:08
Hong Kong ePrix Report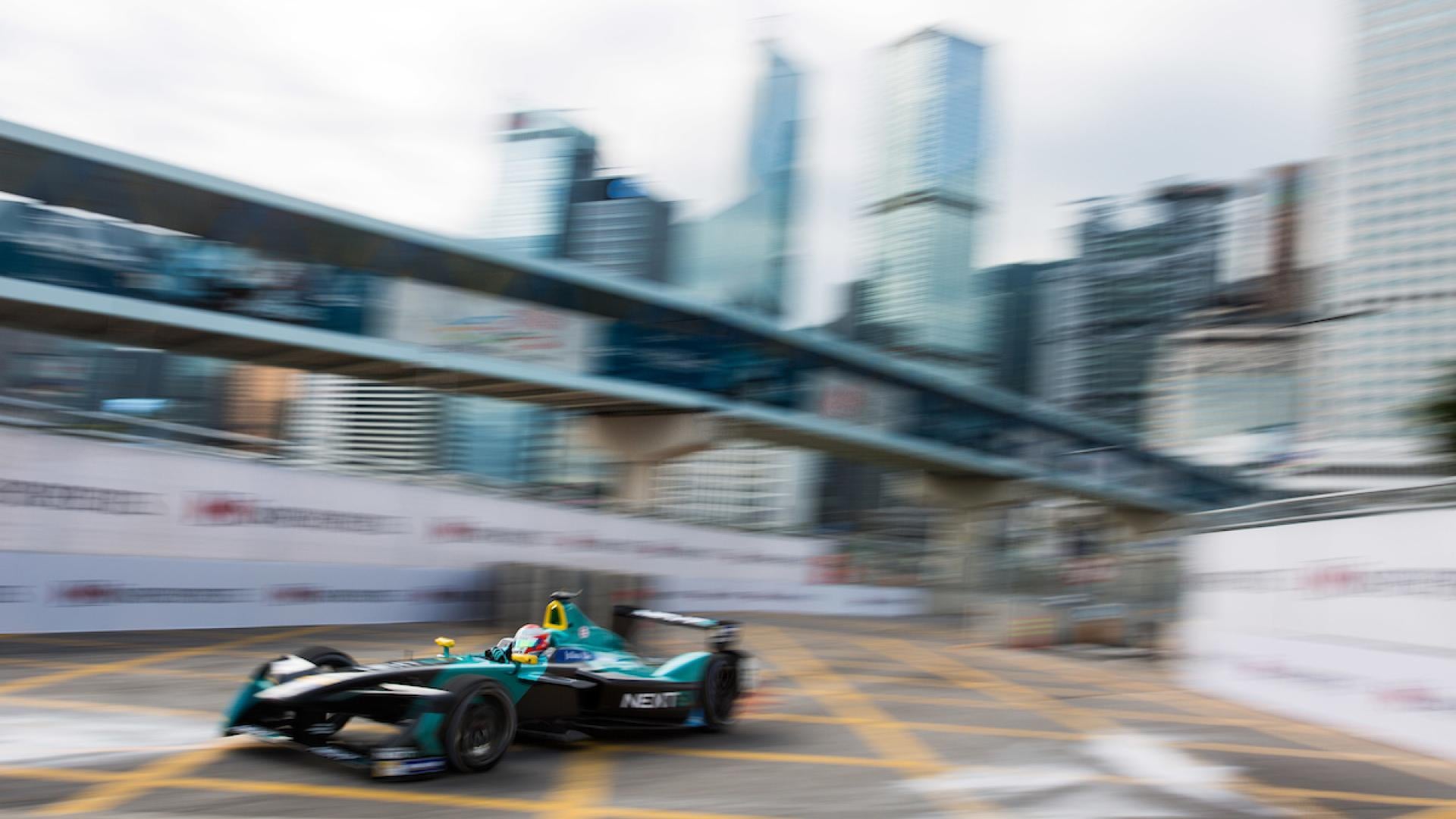 ,
The NextEV Formula E Team began its 2016/17 FIA Formula E Championship campaign today on the streets of Hong Kong. The driver pairing of Nelson Piquet Jr and Oliver Turvey got off to the best possible start, with a front row lock-out in qualifying.  Piquet Jr secured pole position, and the team's first points of the season with three points for pole, whilst Turvey qualified in second place.
An action-packed race in the sweltering Hong Kong heat ensued. Piquet Jr held a strong lead for the opening 17 laps, until he was forced to take evasive action to avoid Lopez who had hit the wall. This enabled Bird and Buemi to pass, with Piquet Jr pushed down into third. Piquet Jr pitted on lap 22, but with the safety car period having come to an end he lost positions to drivers who had pitted under the safety car, emerging in ninth.  He conceded three more places before the end of the race, and crossed the finish line in P11.
Turvey had a solid start and maintained second place until lap six when Bird and Buemi passed him, putting him into fourth place. He pitted during a safety car period on lap 21 after losing time in the previous stint being blocked by Jean-Eric Vergne and, once all drivers had made their mandatory pitstop, he was running in fifth position. In the final stages of the race, Turvey dropped a further three places down the field, finishing the race in eighth place and securing four Championship points.
Nelson Piquet Jr (Car #3) – finished 11th
"It was obviously a mixed day for us. The qualifying result was great for both Oliver and myself, but the race result is disappointing. The start went well and I was able to create a good gap but then I had nowhere to go to avoid Lopez – it could have happened to anyone though. We were all bunched up under the safety car and we simply made the pitstop on the wrong lap. For us, we have to concentrate on working on maximising what we can get out of the car and strategy. I think looking forward to Marrakech we will qualify well and we just have to work hard to prepare for the race as a team. The whole team has been working so hard, and we are going to keep pushing."
Oliver Turvey (Car #88) – finished 8th
"NextEV have put a huge effort into the car and it felt great to nail my qualifying lap and be on the front row. We clearly have good pace in qualifying, which is encouraging, but we need to look at our efficiency and how we can save more energy over the race. We have both come away with points from this race, which is a positive start. Now we must work on building on the points in Marrakech."
Gerry Hughes, Chief Race Engineer, NextEV Formula E Team
"Whilst qualifying was obviously very good, with Nelson on pole and Oliver starting from second, the race this afternoon clearly didn't pan out as we would have liked from a team perspective. We now have to go away and analyse our weaknesses to ensure that we can convert our qualifying pace into podiums positions come the end of the day. Nelson's race strategy was compromised with the delay in pitting him under the safety car, whilst Oliver lost time in the pit stop itself. Essentially, it's the team's first race and whilst there are many positives to take from it we have a lot of homework ahead of Marrakech."