Newsroom
Pressemitteilungen
03/12/2017 16:05
NIO Formula E Team: Hong Kong E-Prix Report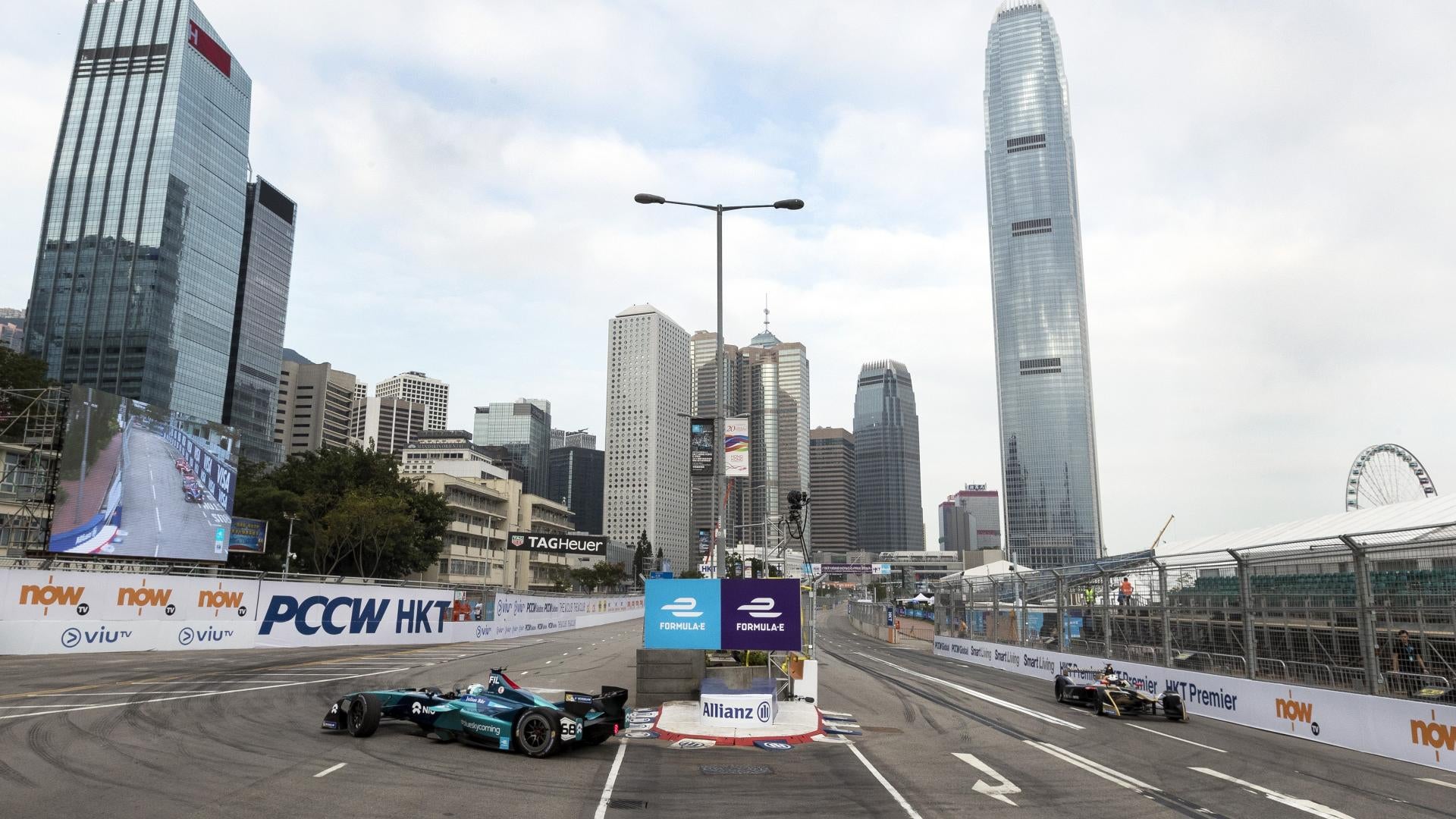 ,
Track: Hong Kong Central Harbourfront Circuit
Number of turns: 10
Track length: 1.85 kilometres
Rounds: 1 and 2, 2017/18 FIA Formula E Championship
3rd December 2017: The opening double-header event of the 2017/18 FIA Formula E Championship took place at the stunning central harbourfront location in Hong Kong. NIO Formula E Team drivers Oliver Turvey and Luca Filippi were behind the wheels of the four NextEV NIO 003 challengers for Saturday's 43-lap and Sunday's 45-lap events. The team leaves Hong Kong not only as the recipient of a double Fanboost win courtesy of Luca and the team's supporters, but also with nine championship points from Luca's tenth place finish on Saturday and Oliver's sixth position today.
Following the success of the inaugural Hong Kong E-Prix in Season Three, this year's event was expanded to two races, making Hong Kong the first Asian city to host a double-header. The 1.15 miles long circuit raced around the streets of the Hong Kong's Central Harbourfront, with landmarks such as the International Finance Centre, Hong Kong Observation Wheel and Hong Kong City Hall providing a spectacular backdrop.
On Saturday, Oliver qualified in seventh and finished the race in 17th, while Formula E rookie Luca qualified in 15th and took the chequered flag in tenth to collect one championship point on his electric racing debut. Today, Oliver qualified in eighth, with team-mate Luca alongside him in ninth on the starting grid. In the race Oliver collected eight valuable points from a respectable sixth place finish, while Luca fell victim to a lap one incident which effectively ended his race before it had truly begun.
The championship continues in the new year on 13th January 2018 when it returns to the Circuit International Automobile Moulay El Hassan in Marrakesh.
Oliver Turvey (Car #16)
"Saturday was frustrating as it started with a red flag in my qualifying session that affected my flying lap. I got an amazing start to the race from P7; down to turn one I was able to overtake three people on entry and cut back and gain another position on the exit; it was definitely one of the best starts I've had in Formula E! We were in a really good position after a red flag re-start and I felt very comfortable in the car, but with eight laps to go before the pit stop I had an issue and lost power. I managed to roll the car back to the pits, but it did mean that I had a very long second stint which made it difficult to manage energy. It's frustrating having a technical issue when you're in a good racing position and I feel that we lost the potential to score a lot of points and a podium finish yesterday.
"We were quick again in practice and qualifying today. I started the race in eighth, which was obviously a good place to fight for the points, but it's a shame it was behind the safety car as I was hoping to make up a few places going in to turn one again! Compared to last year I think we have made a good step in terms of pace and certainly I felt that we were able to race (remove - a bit more) this weekend. It was a well-executed race by everyone and it was great to come home in the points for the team."
Luca Filippi (Car #68)
"There was a lot going on in race one right from the start and we had very good pace. I had a drive through penalty and lost some time there and this is why we were not higher up in the points. But for the rest we had a strong car, strong pace and showed that we have potential, so that at least is very promising.
The second race was potentially good; unfortunately, I got hit on the very first lap and the front suspension was bent, so obviously I was compromised and we had to change it. After that we just gained as much experience as we could by finishing the race. It's a shame as it could have been another points finish for us with two cars, but on to Marrakesh."
Gérry Hughes, Team Principal
"Luca coming in and finishing with one point in the end of his first E-Prix was very pleasing for him and good for the team. Oliver was unfortunately blighted with a technical issue with the car in his first stint which effectively took him out of the running for the remainder of the race. All in all it was a difficult qualifying session followed by quite a difficult race for the team yesterday.
"Qualifying for round two brought a much more solid performance from both drivers, lining up on the grid in eighth and ninth positions. That was a great place to start, but unfortunately Luca got involved in a racing incident in the opening lap which took him out of the running, but we decided to keep going on the basis that it would be good experience for him. Oliver had a better race today – it was thankfully an uneventful race for him and we managed to pick up P6. It was a better day all round and the whole weekend has been a learning experience for us. I'm glad we had the opportunity of coming back today and going through it all over again and now we'll go away, reflect on our experiences from Hong Kong and put our best foot forward for Marrakesh."