Newsroom
Pressemitteilungen
30/07/2017 16:22
NIO Formula E Team: Montreal ePrix Report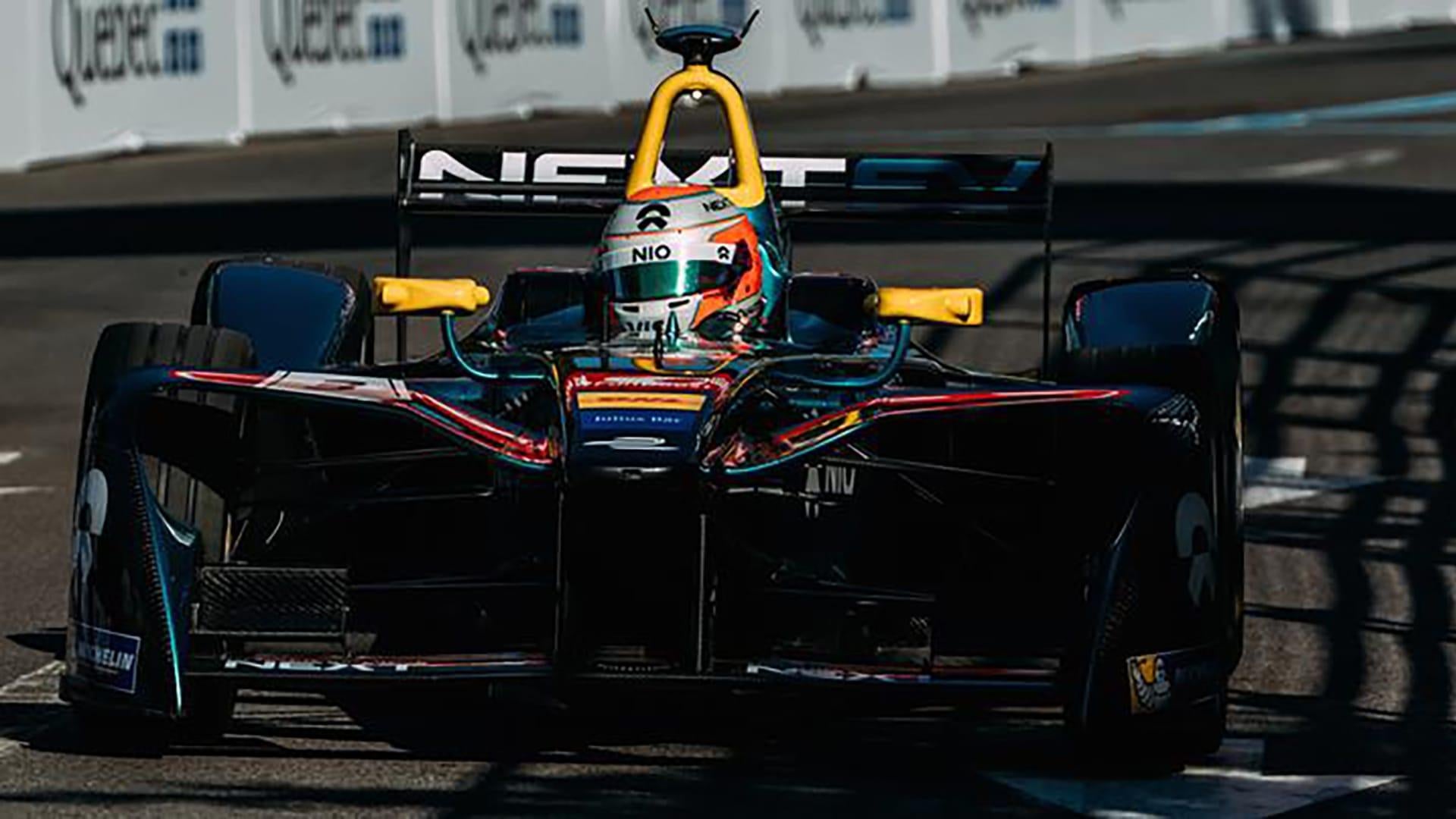 ,
The 2016/17 FIA Formula E Championship concluded today with its final events in Montreal, Canada. Nelson Piquet Jr and Oliver Turvey were in action for the 12th race of the season for the NextEV NIO Formula E Team.
Ahead of today's 37-lap race, Nelson qualified in 8th and Oliver in 16th. In the race, Nelson was forced to avoid an incident at the first corner, which dropped him down the order. Twinned with powertrain issues, he finished the race in 17th. Oliver managed to improve on his starting position initially, but then suffered powertrain issues and crossed the line in 16th. This followed on from Nelson and Oliver finishing in 13th and 15th places respectively in yesterday's 35-lap race.
After another extremely competitive season of Formula E racing, the NextEV NIO Formula E Team finished the year sixth in the Manufacturers' Championship having scored 59 points. Stand-out moments of the season for the team included two pole positions, with Nelson's in Hong Kong and Oliver's in Mexico City, a run of eight Super Pole qualifying results (which is a Formula E record) and a fourth-place finish in Monaco for Nelson. In the Drivers' Championship, Nelson finished 11th with 33 points, with Oliver in 12th in the standings having scored 26 points.
The 2017/18 FIA Formula E Championship will kick off in Hong Kong with a double-header race weekend on 2 and 3 December 2017.
Nelson Piquet Jr (Car #3)
"Obviously we are really disappointed with how the last few races of the season have gone. We hoped to end in a more positive way and were aiming for points this weekend but unfortunately that hasn't happened due to the problems we've had with the car. I was unfortunate to be held up in the first corner incident today and then suffered some thermal issues with the powertrain which meant we had to change our strategy and do a shorter first stint. I was taking some risks in the second stint and it didn't work out. We have had some highs and lows this season; we were very happy with pole in Hong Kong and I was also pleased with the result in Monaco, but we still have a huge amount of work to do in order to fight at the top and that has to be the focus before we return to Hong Kong in December."
Oliver Turvey (Car #88)
"This morning in practice I thought we made a few steps forward with set-up. I felt confident going into qualifying but the track seemed to change and unfortunately I clipped the wall which cost us a lot of time and a potential top ten qualifying. Starting at the back is always hard. I had quite a good start and the pace appeared good in the opening laps but the second stint was much harder and in the end we couldn't keep position. It was a shame to end the season like this but we have to take some positives from the year. I got my first Formula E pole position in Mexico and led a race and to finish sixth in the manufacturers' championship was a step forward from last year, so hopefully we can build on that for next season."
Gérry Hughes, Team Principal
"It's hugely disappointing to leave the final race of the season without scoring points here in Montreal. Nelson qualified in eighth today yet had to take evasive action on the first corner and that ultimately lost him four positions. Oliver was able to make a good start, moving up three places from his starting spot. Both drivers then experienced thermal issues with the powertrain during the race and we could not fight for points. Clearly this season has not been as successful for the NextEV NIO Formula E Team as was originally hoped. However, we have some positives to take away, particularly with our qualifying performances but our weakness has been our race performance. This is something that we will be focusing on in the off-season as we must come to the first race of Season 4 in Hong Kong with an all-round competitive package."