Newsroom
Pressemitteilungen
20/10/2018 11:47
Positive Start to Formula E Pre-Season For NIO in Valencia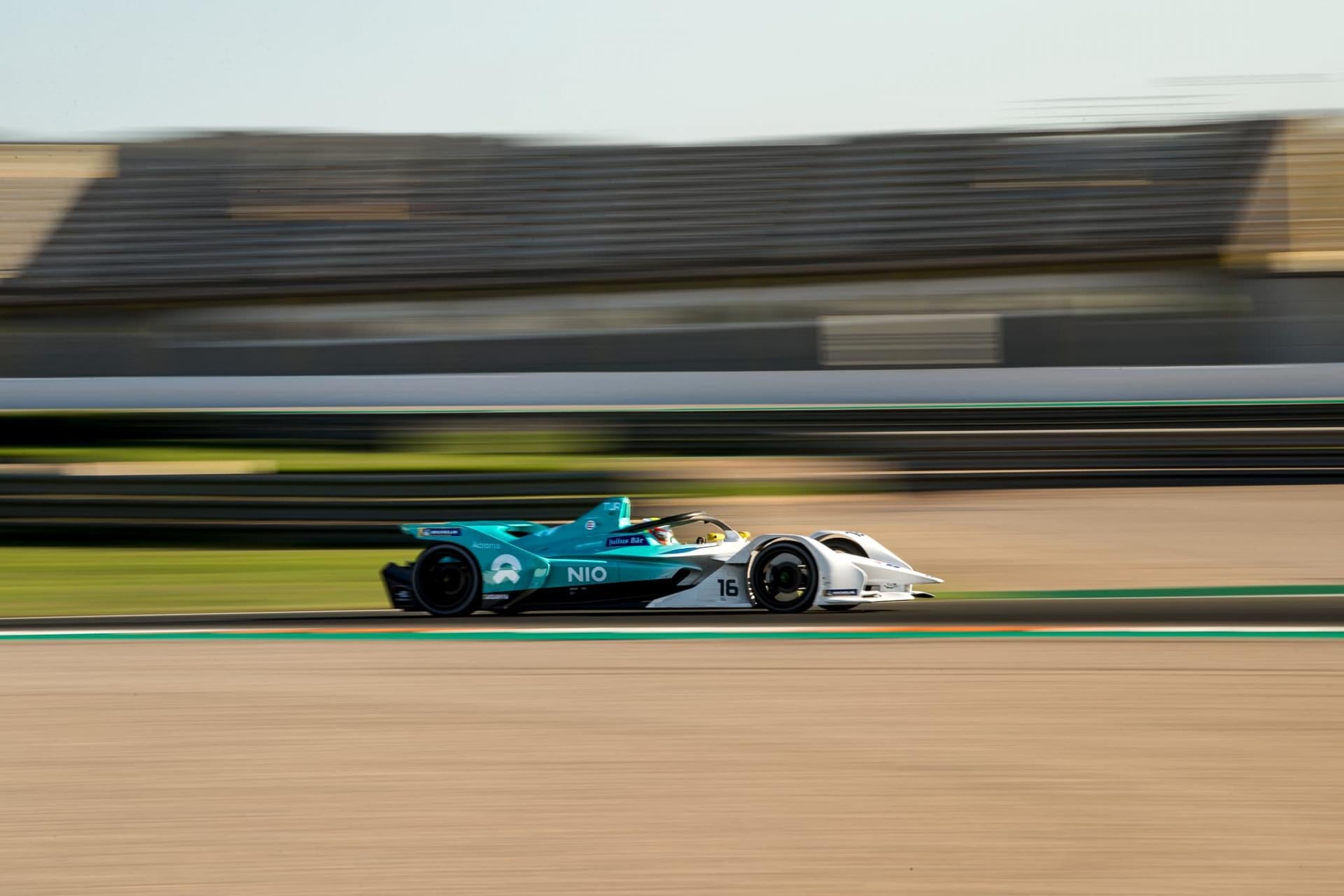 ,
Ricardo Tormo Circuit in Valencia, Spain, provided the venue this week for three intensive and rewarding days of pre-season ABB FIA Formula E Championship testing, where NIO drivers Tom Dillmann and Oliver Turvey enjoyed a positive start to preparations for Season 5.
Making good progress over the course of the test, which took place in the dry on Tuesday, 16th October, and Wednesday, 17th October, ahead of a rain-affected run on Friday, 19th October, the Acronis-backed NIO squad concluded the week satisfied with the development completed in all conditions.
While the Valencia track isn't representative of the street circuit in Riyadh, Saudi Arabia, which will host the opening e-Prix of the season in December, NIO was still able to undertake important race set-up work with the No.8 and No.16 NIO Sport 004 race cars.  
Tom Dillmann, Race Driver, NIO Formula E Team: 
"We did a lot of work and tried many different things. We got some dry running which was good for us. We are not currently at the top of the time sheets, but we have gathered plenty of data to look at which we will analyse so that we can put together a good overall package for the first race."

Oliver Turvey, Race Driver, NIO Formula E Team: 
"It has been good to test on a different track which has many different characteristics with a lot of fast, flowing corners. It was a good test for our new car. To be able to really test our new systems under these conditions has meant that we have made positive progress over the last three days. Obviously, you always want more time to test and to improve especially with a new car. Today the weather was changeable which has given us a chance to try the car in the rain. We ran through a lot of checks and have managed to cover a number of things, so we have plenty of data to help us understand what we need to do to give us the best package for the first race."

Gérry Hughes, Team Principal, NIO Formula E Team: 
"It has been a somewhat challenging week for the NIO Formula E Team, where inclement weather conditions have unfortunately adversely affected our intended run programme for the third and final day of the Valencia test event. However, this has been an extended dress rehearsal for the first round of Season 5 with the all new Generation 2 car and it has been an excellent opportunity for the NIO Formula E Team to work together, alongside our new driver pairing as final preparation for Saudi Arabia."
Ad Diriyah Street Circuit in Riyadh, Saudi Arabia, will be the venue for round one of Season 5 of the ABB FIA Formula E Championship on 15th December.
Connect with the NIO Formula E Team:
@NIOGlobal Twitter, Instagram and Facebook: #BlueSkyComing