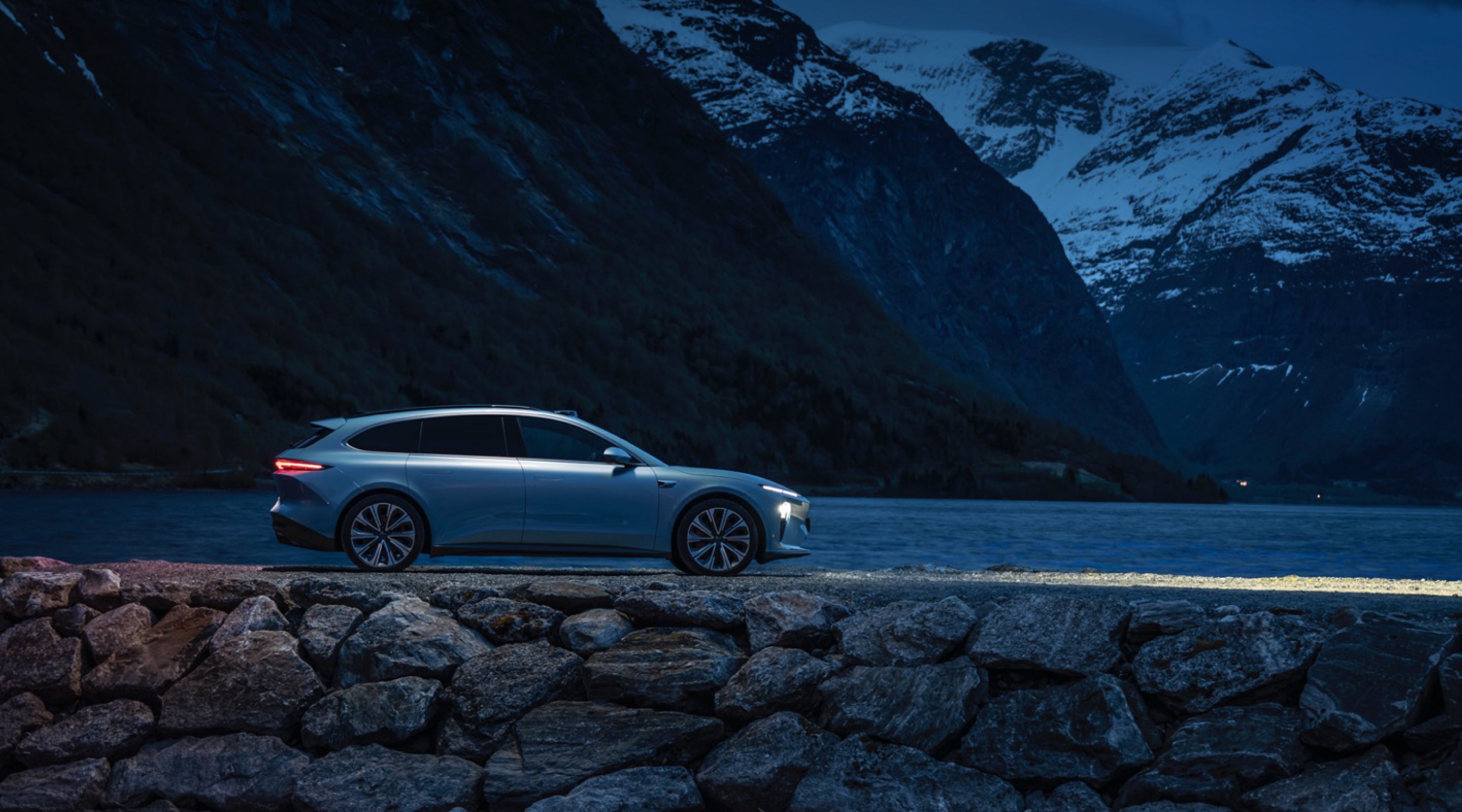 Smart Electric Tourer: ET5T, Journey Ahead.
Indulge your passions, feed your curiosities, be spontaneous. Leave the hustle and bustle of city life behind and embark on adventures to new sceneries and new experiences.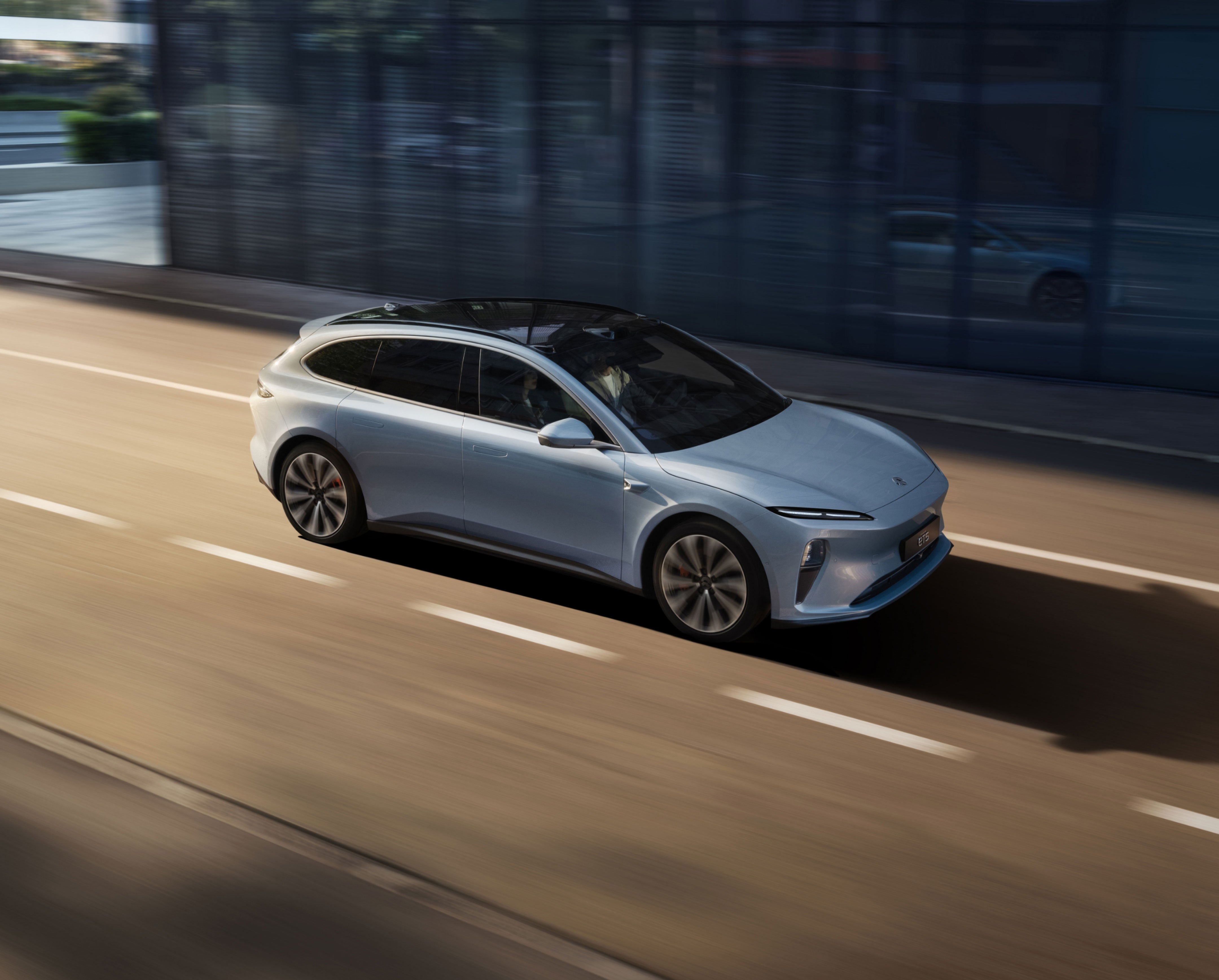 Exterior
Travel In Style
Pure, sophisticated, and progressive, ET5T is the first tourer rendered in NIO's Design for AD philosophy.
Don't Follow the Trend, Be the Trend
Head-turning proportions. A crafted, fluid roofline shaping a gorgeous rear. Designed with purpose, the tourer silhouette has never been so stylish. It doesn't follow any trend. It is the trend.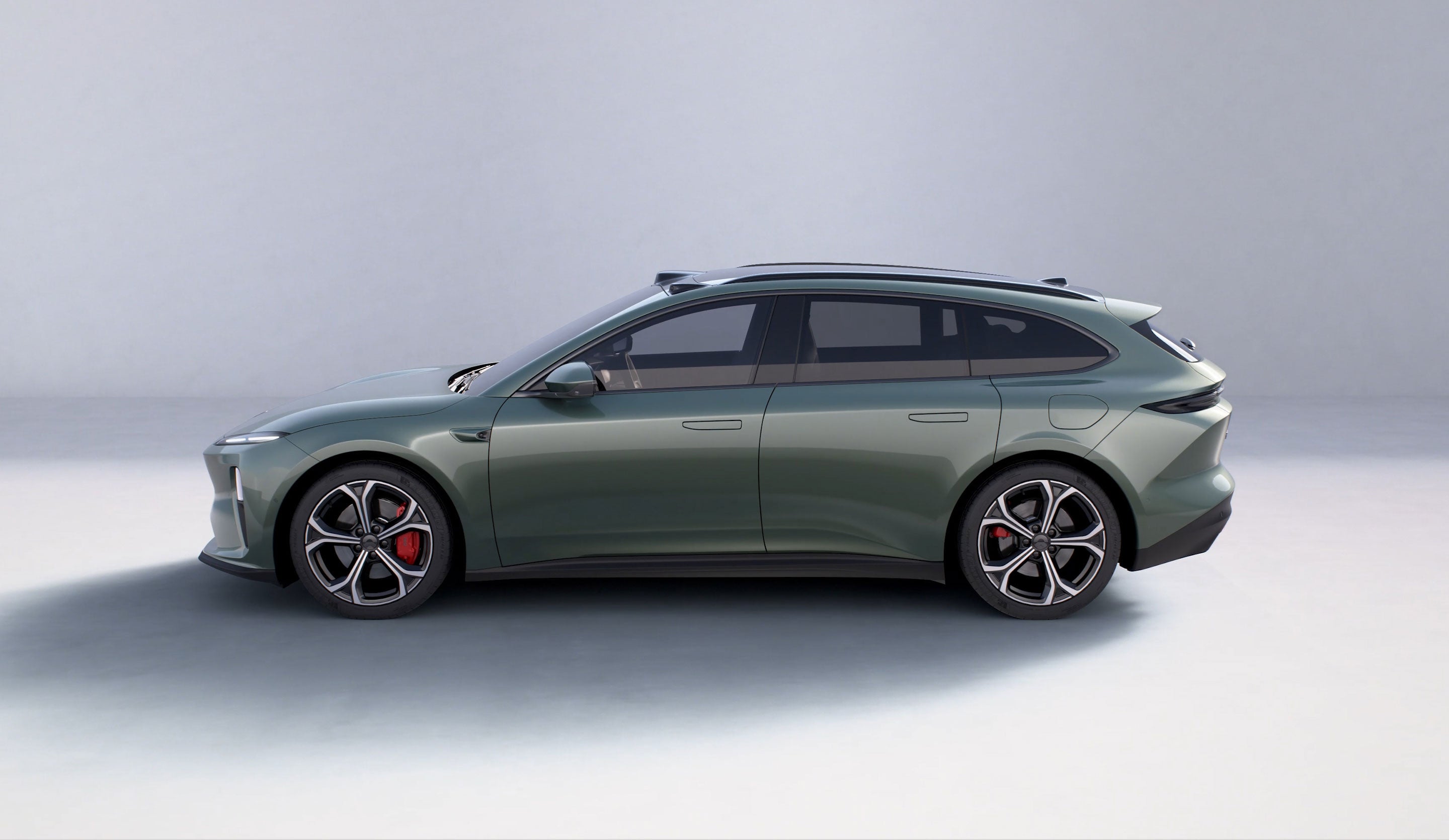 Beauty In Every Detail
Infused throughout are graceful touches and design lines that define the elegance of ET5T.
Front Fascia

Flush
Door Handles
Frameless
Windows

Rear Spoiler

Tapered Roofline
With a crafted watchtower integrated into its roofline complete with LiDAR, the front fascia features a crafted X-Bar design that is synonymous with the NIO design DNA.
Express Yourself in Color
10 exterior colors inspired by the diverse skies worldwide, including the 2023 NIO color of the year, Sunlight Gold.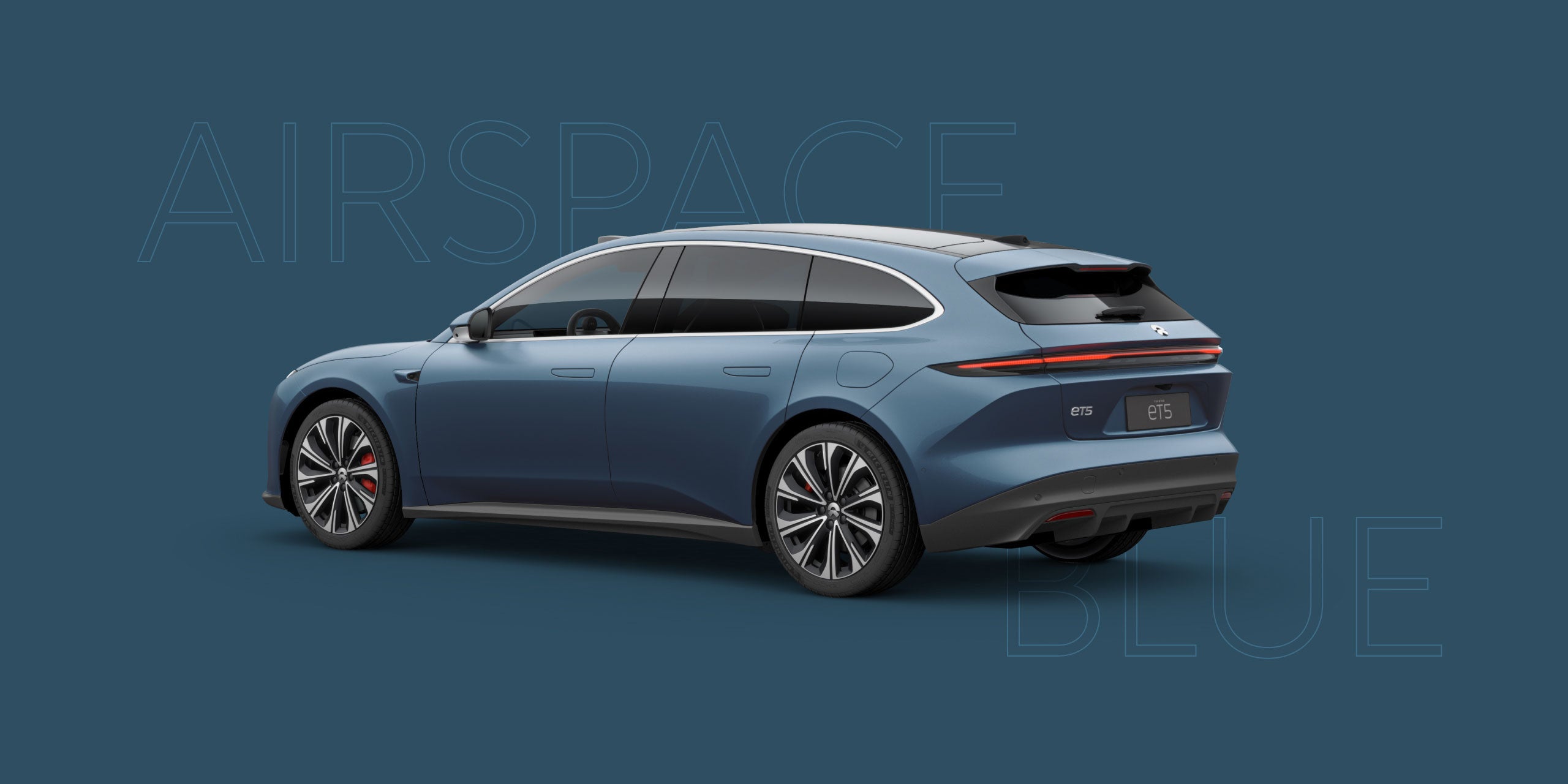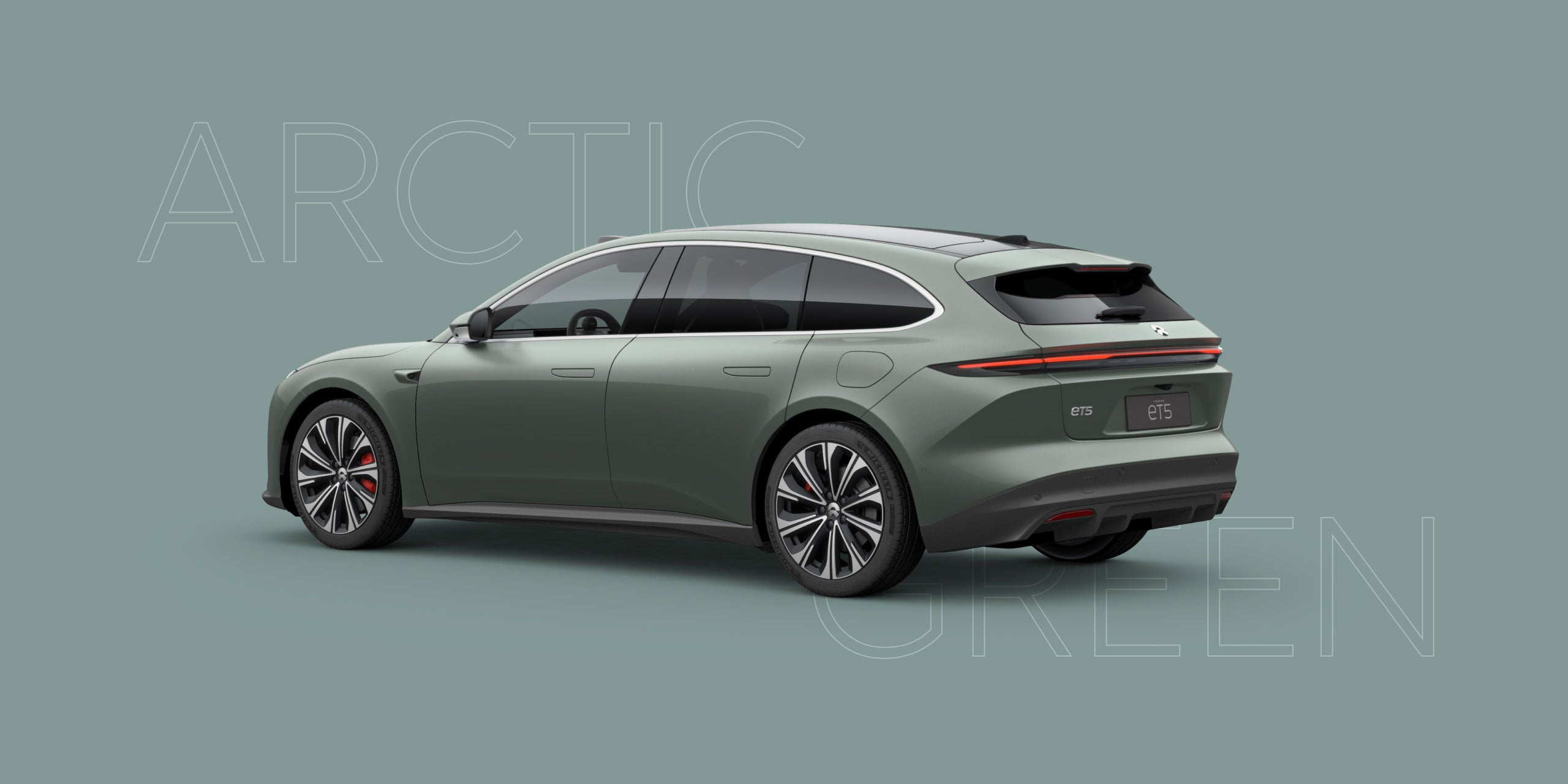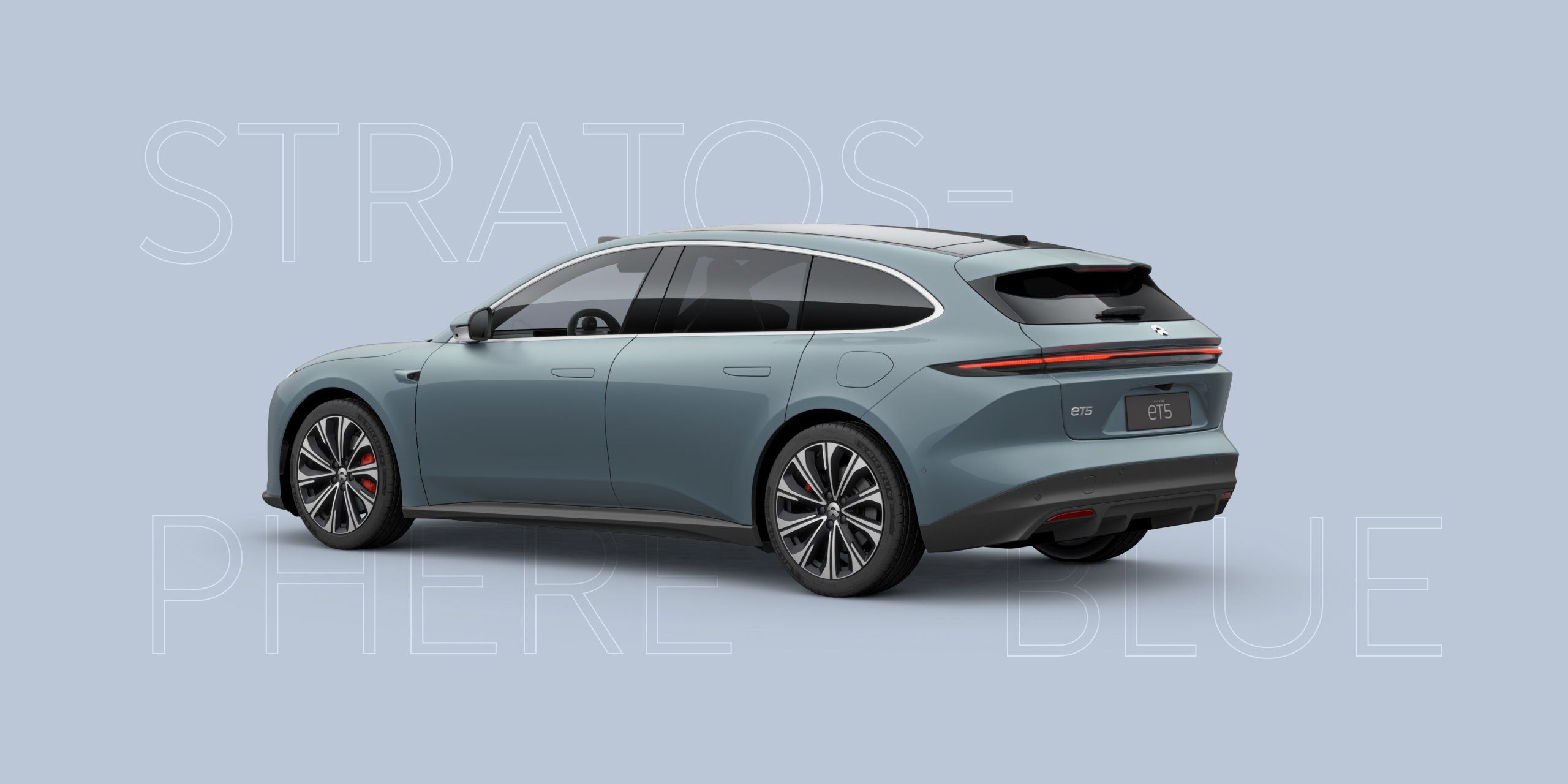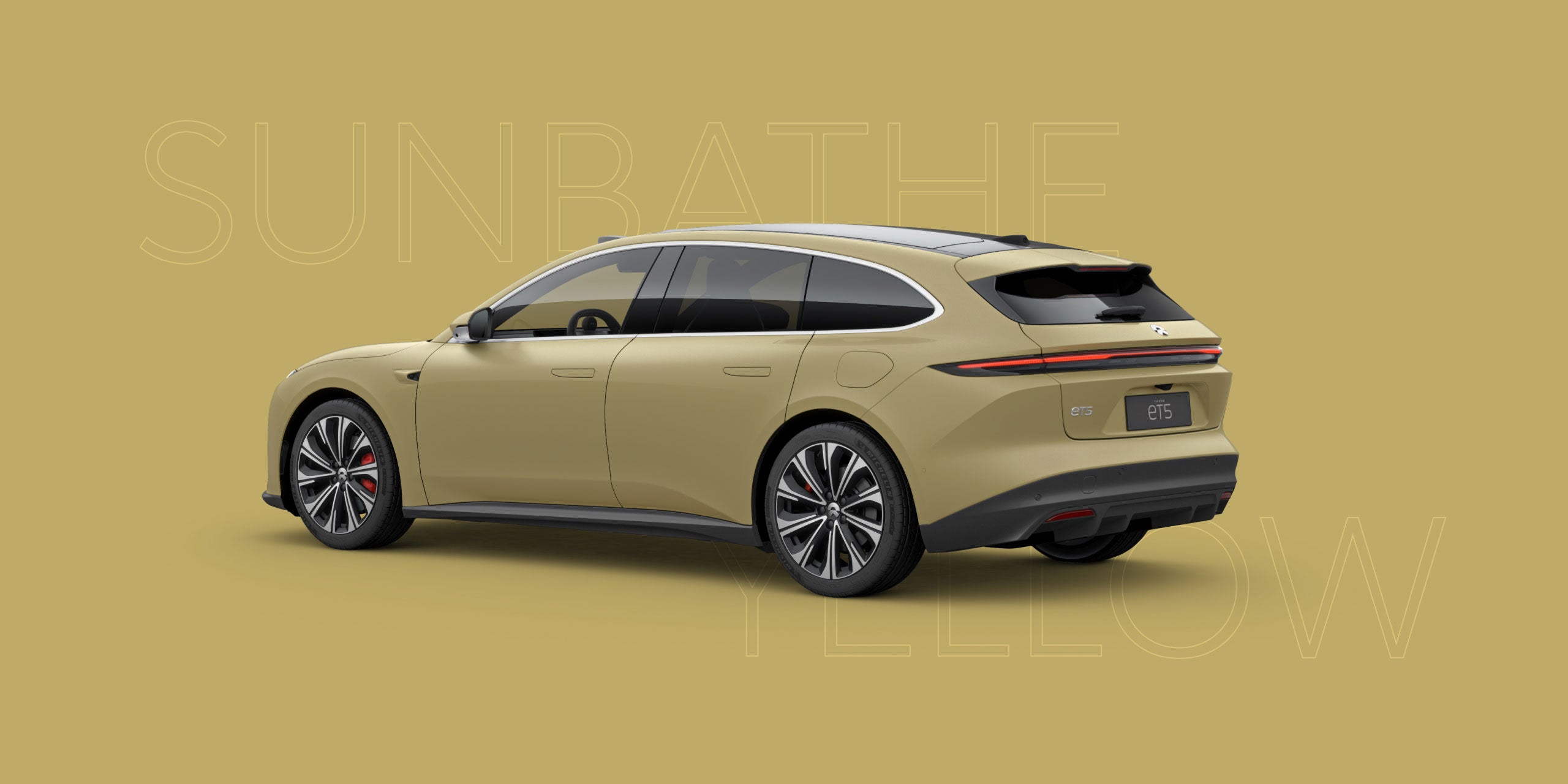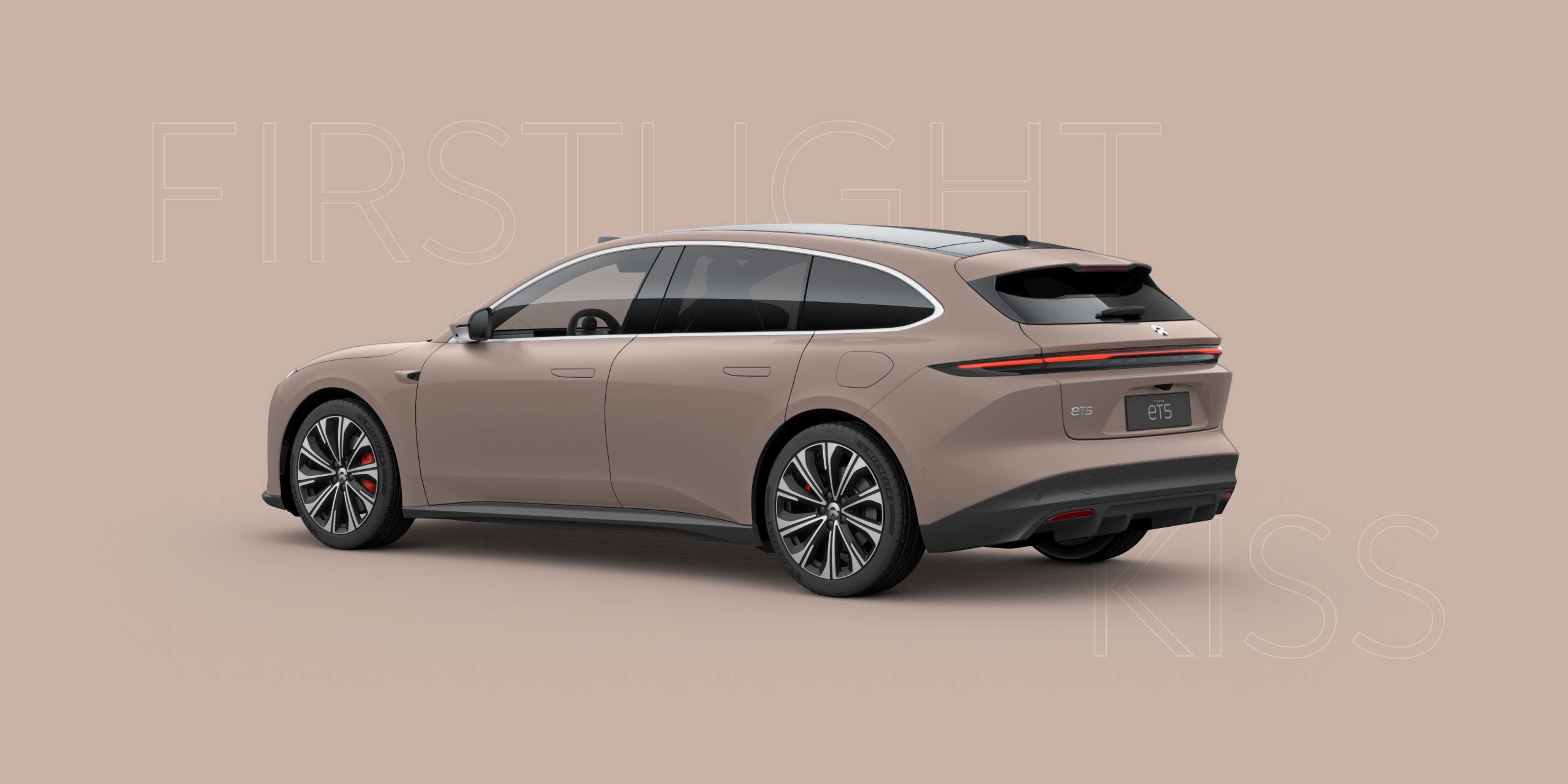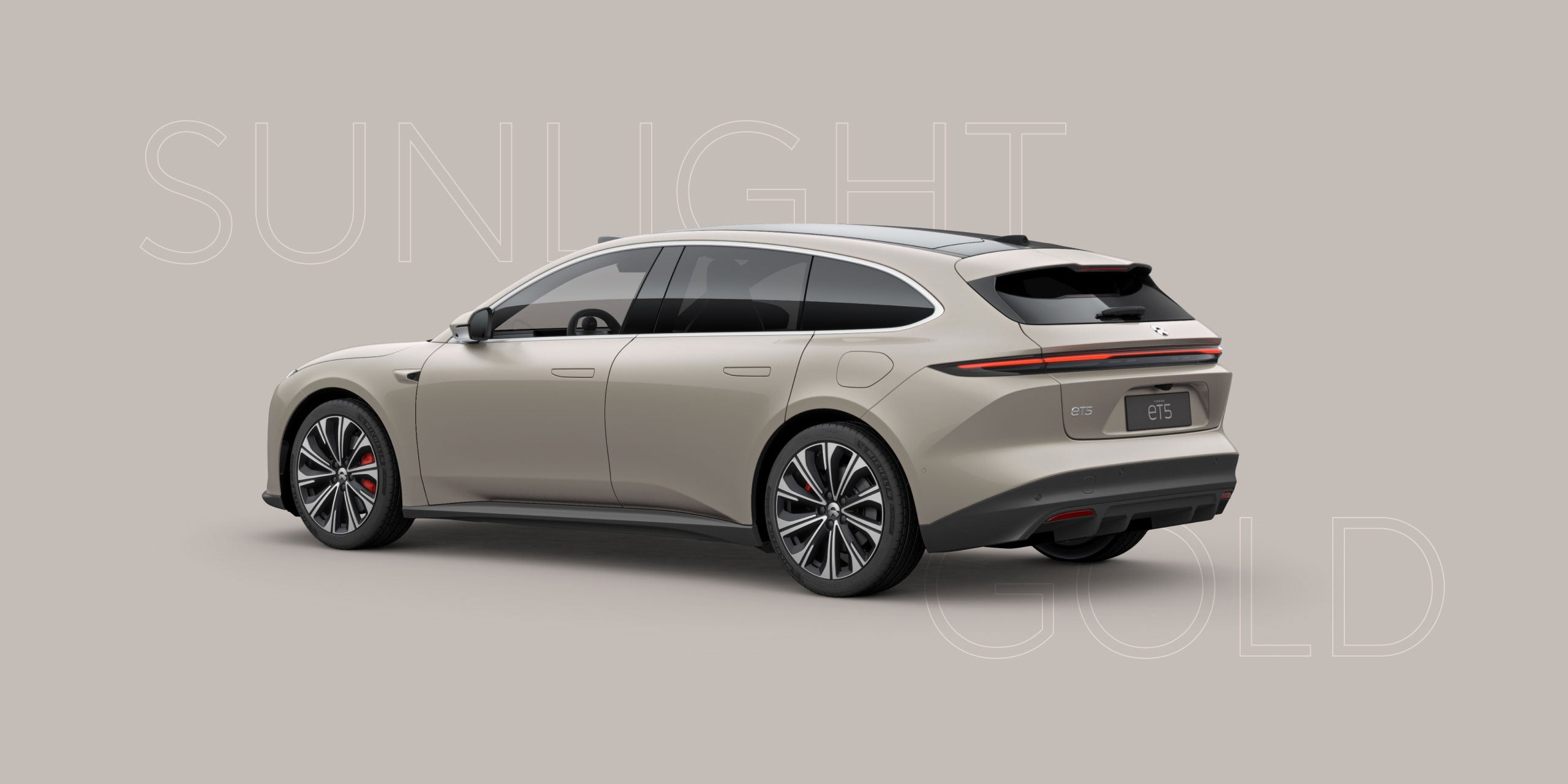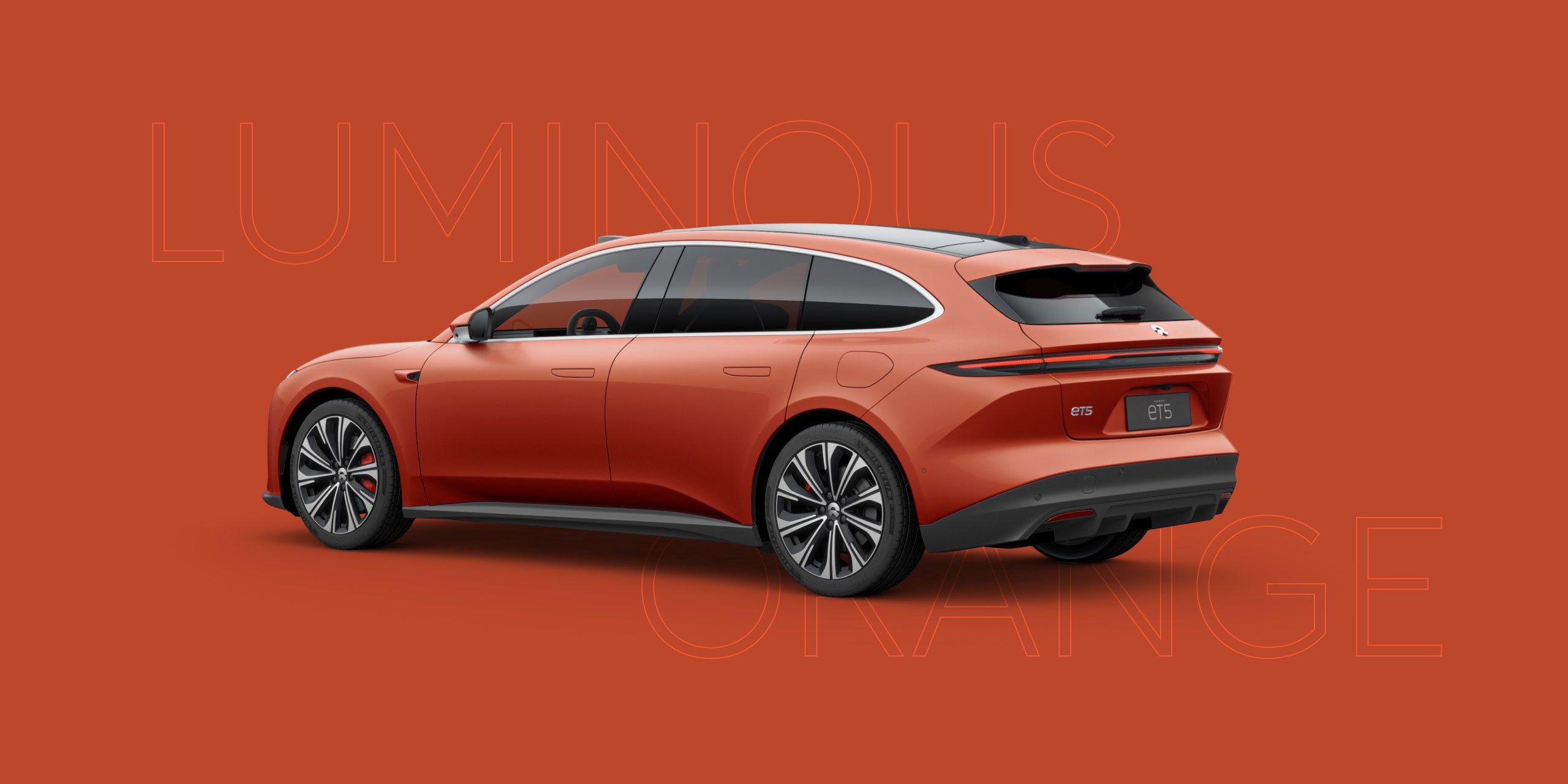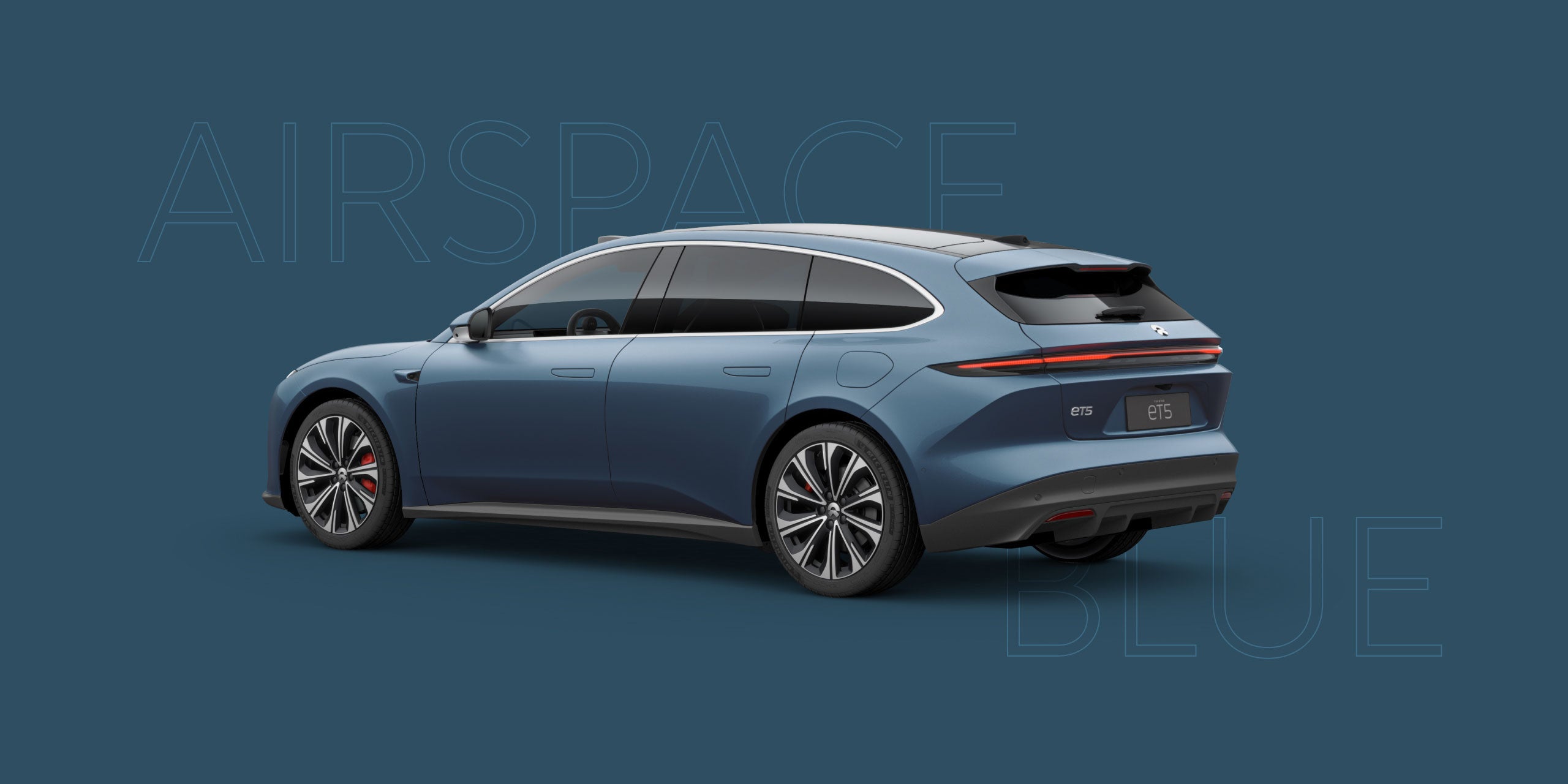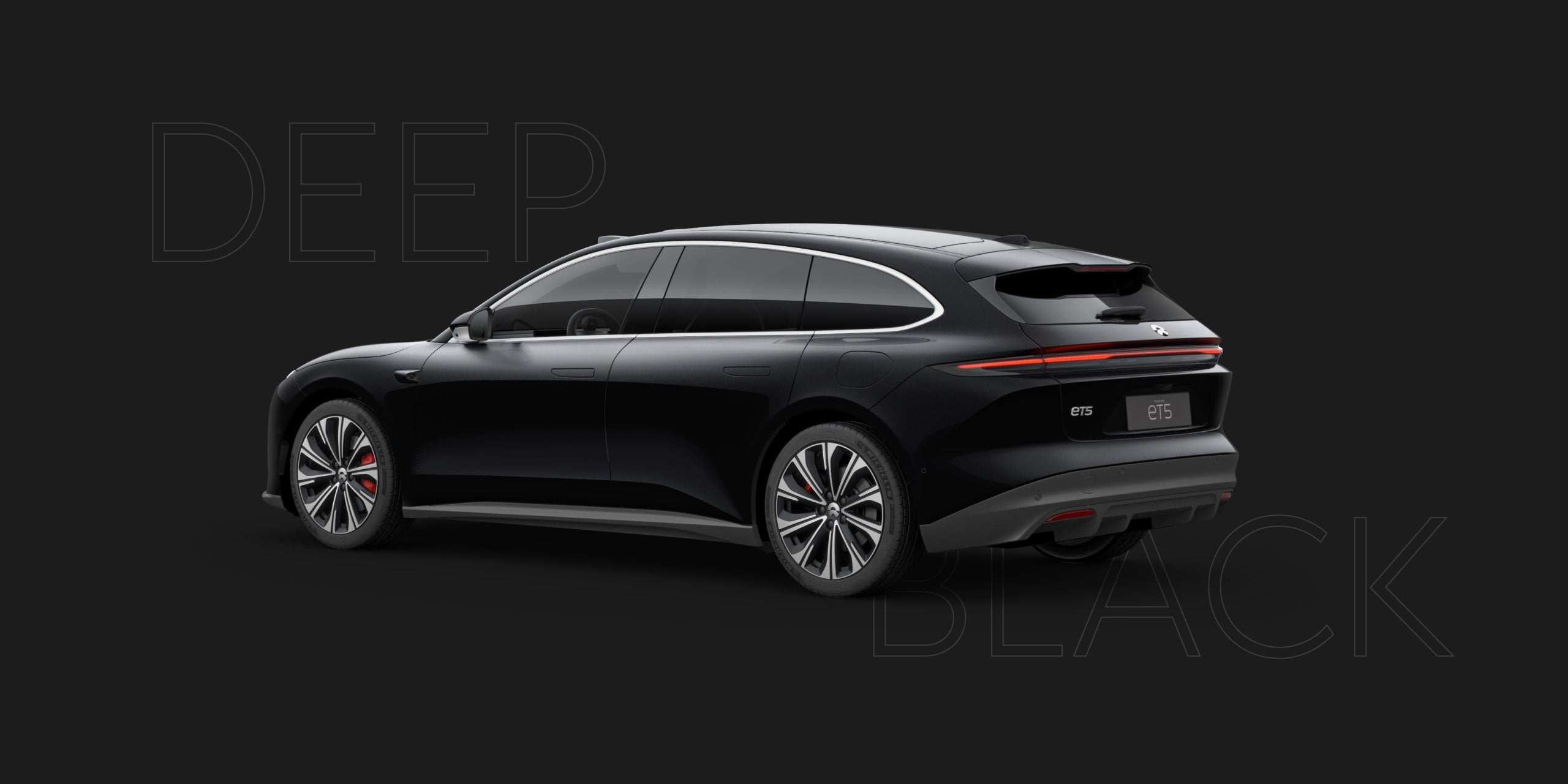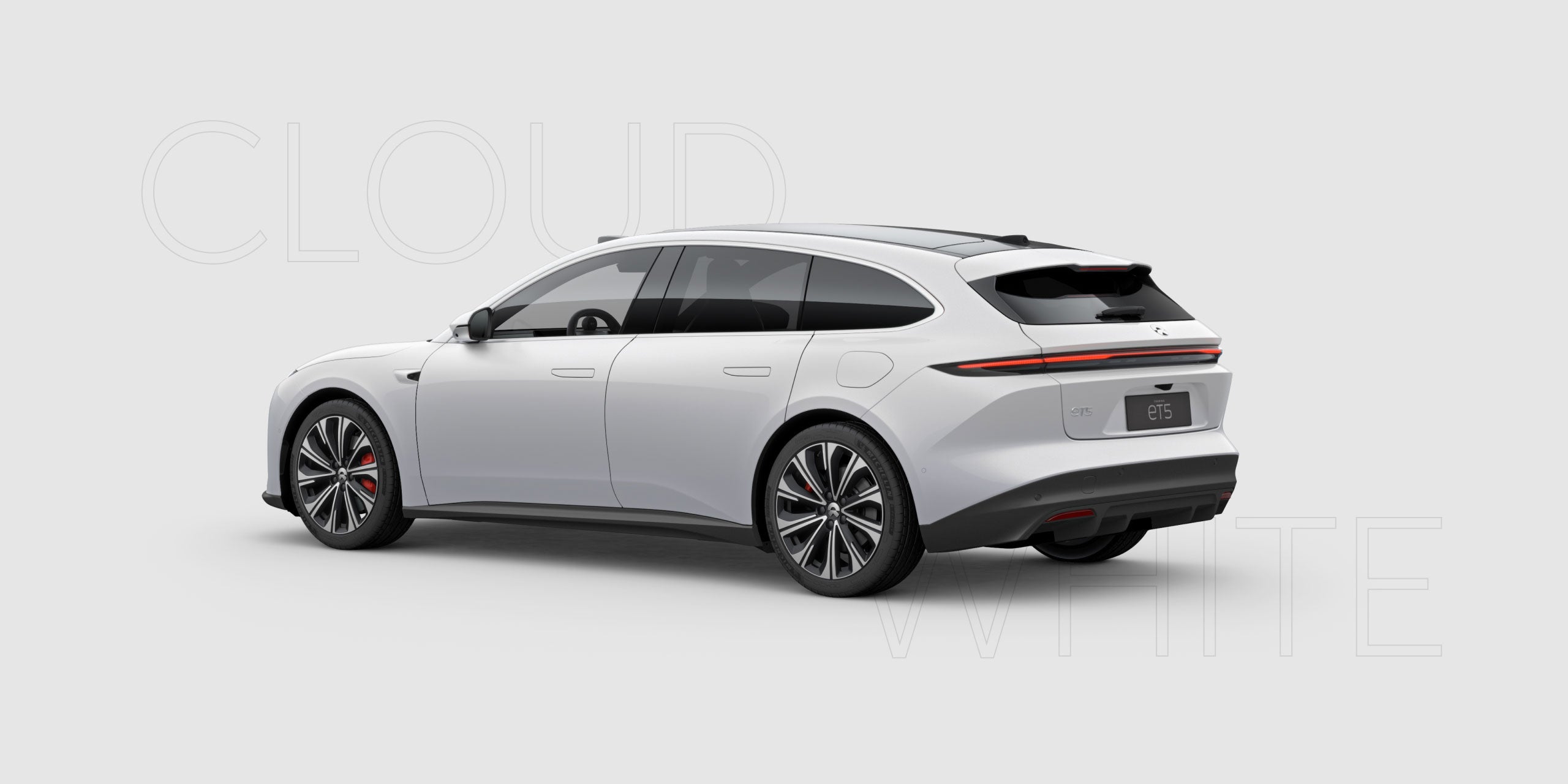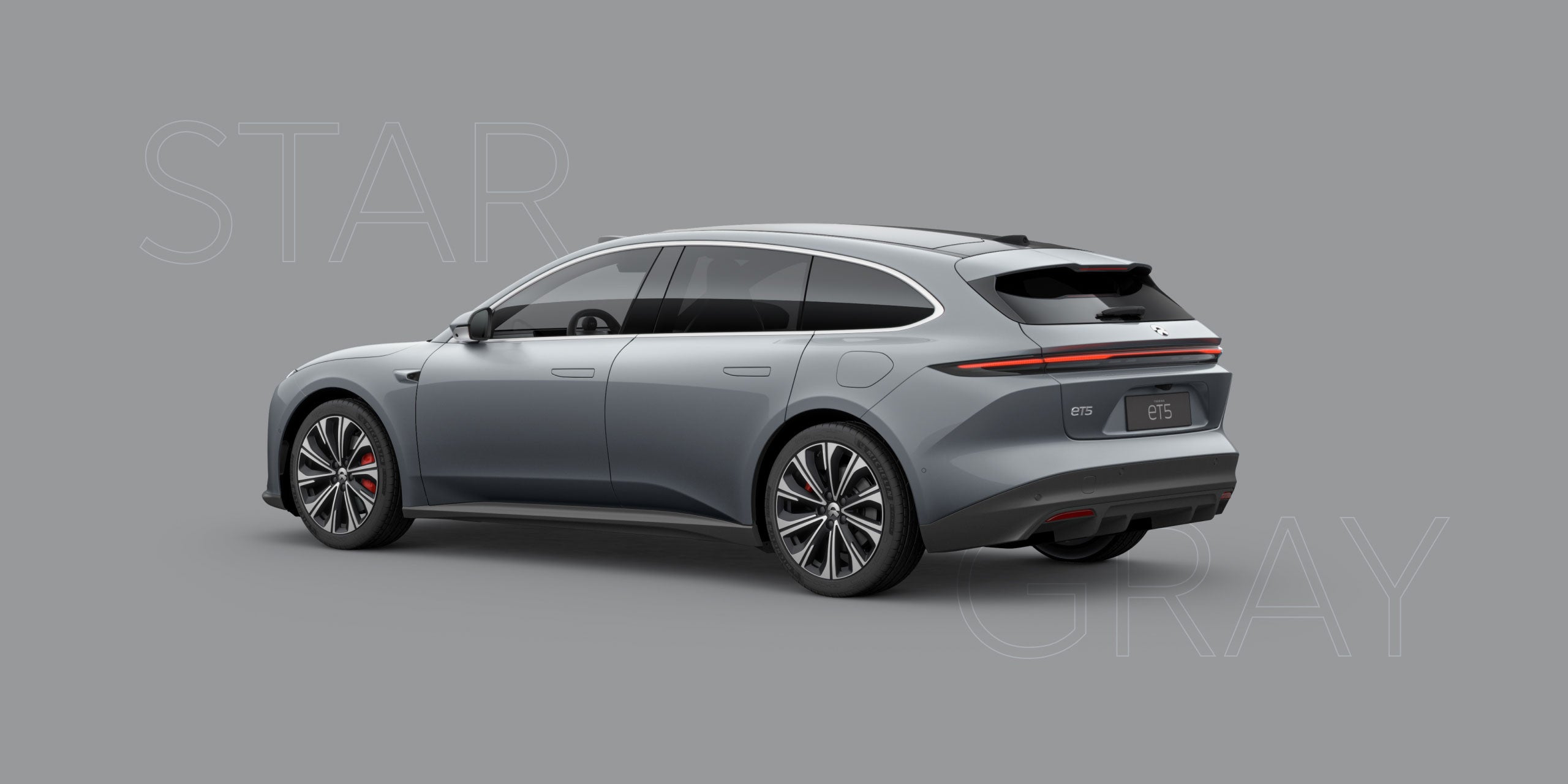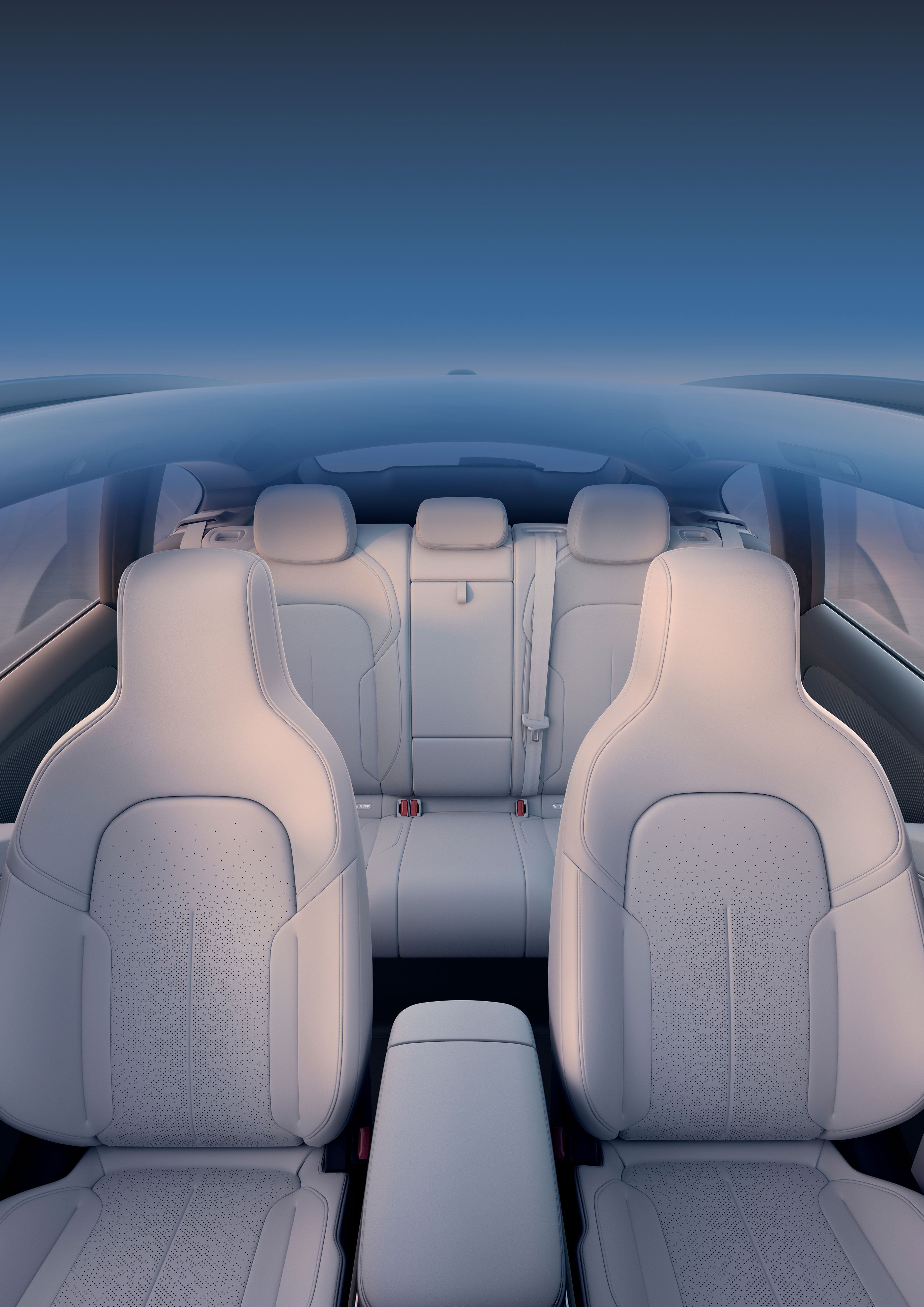 Ultra-Large Glass Roof
The interior is lit up by the expansive panoramic glass sunroof, allowing for an ultra-large daylighting area of 1.35㎡ which brings the outside world into the cabin, helping bringing a sense of light and joy to the journey.
Intelligent Dimming Glass
Interior
Flexible Enough to
Pack Everything You Love
ET5T's exploration into technology and aesthetics is not just on the outside.
Six Interior Earth-Inspired Themes
ET5T features six interior themes, all inspired by natural earth tones.
Hit the Road With Your Loved Ones
Freedom to explore. The spacious rear row ensures everyone travels in supreme comfort. Explore the world, deepen the bond.
Endlessly Configurable, Tailored For You
The front seats feature 12 ways of adjustment allowing the seating experience to be tailored to any need for all heights and body types. Heated as standard, ventilation, massage, cushion extension optional.
Air Cushion
With massage modes for the upper back, the middle back, the lower back and a dynamic mode, ET5T brings comfort and relaxation to every journey.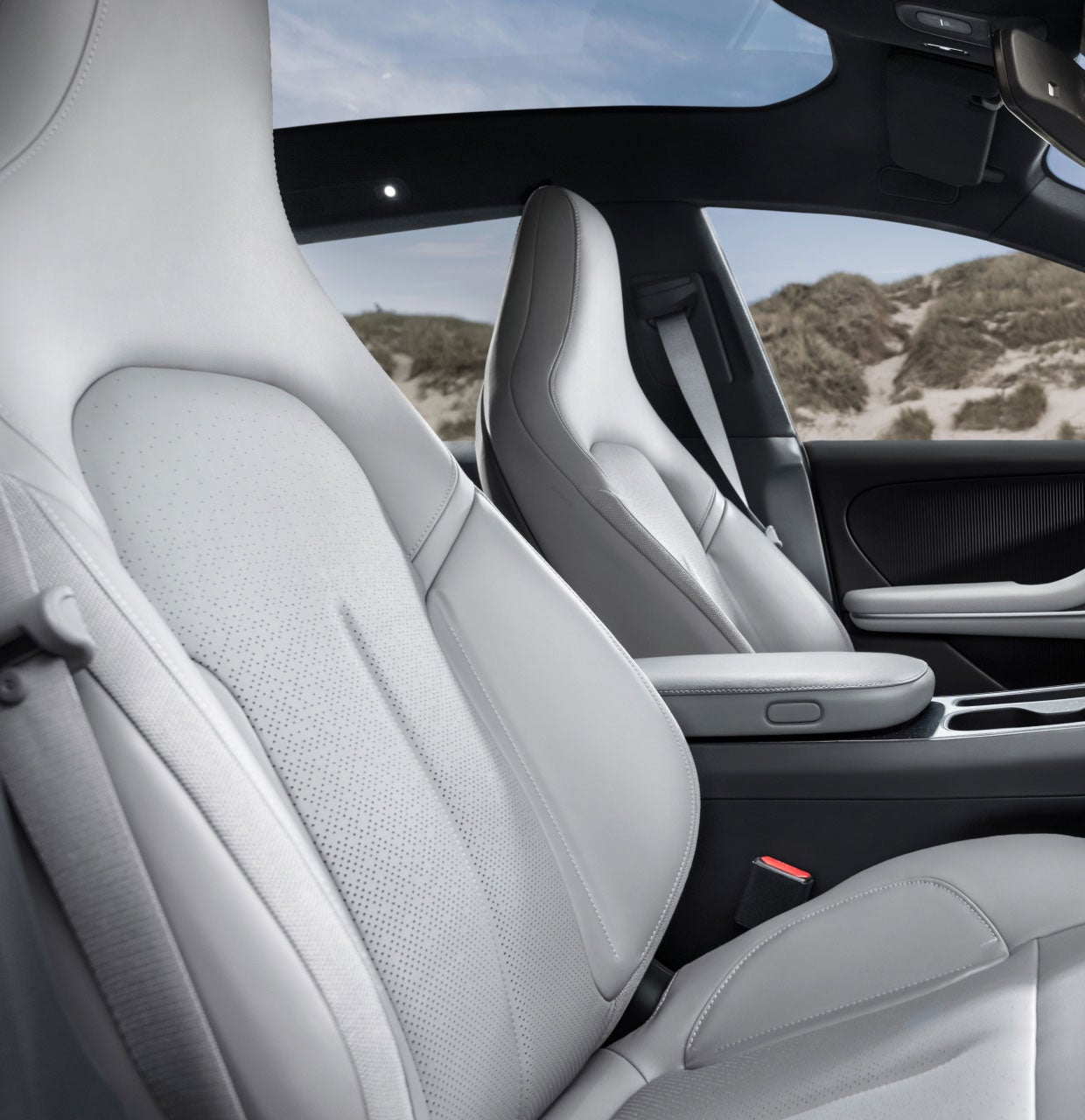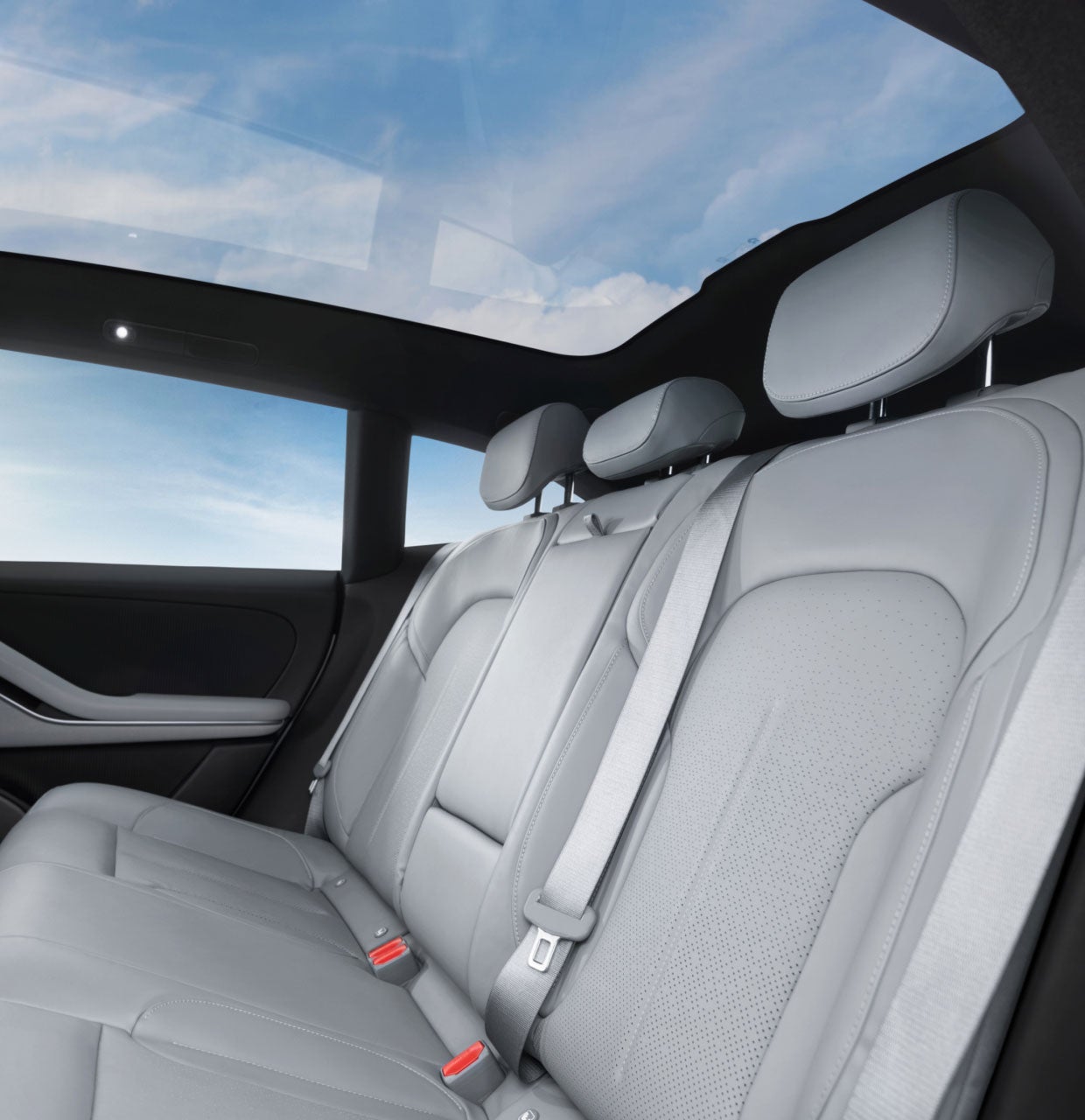 A Magical Space
to Transport it All
With a large cargo capacity, a smart three-layer storage design, storage hooks and plenty of additional nooks and crannies, ET5T is designed to transport it all.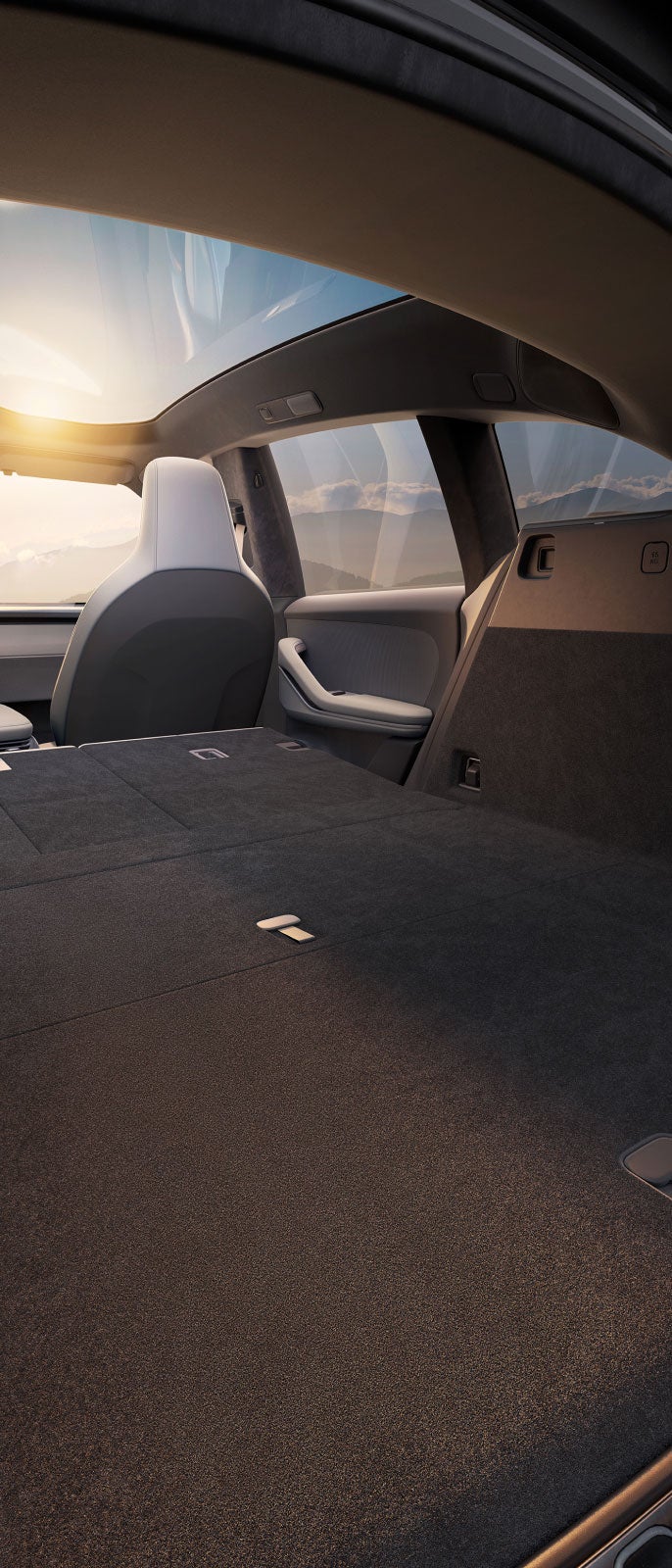 Ultra Large Trunk Space
Seats up the trunk can hold up to 450L. When all rear seats are folded down, the loadspace floor is almost flat allowing for a cavernous storage area of 1,300 litres. So whether it be skis, surfboards or camping gear, it will all fit just right.
4-2-4 Foldable Rear Seats
The rear seats support all folding possibilities, including all down, two down, one down, and middle backrest down.
Extend The Possibilities
Various add-ons brought to life by clever designs. Take your friends and family for a drive and unleash your imagination.
Trailer Mode
With the optional electric tow bar, ET5T can pull trailers weighing up to 1,400kg.
Roof Rails
Roof rails are subtly integrated into the roofline to provide a payload capacity of up to 75kg.
Portable
Flash Light
Removable with a simple click, the flash light illuminates the load space in dark conditions, can be easily hung in your tent or used as ambient lighting for outdoor activities.
Digital Experience
Second-Generation Digital Cockpit
Equipped with Banyan, NIO's Smart Digital System, NIO's second-generation digital cockpit delivers more AI computing power as well as faster graphic and multimedia processing than ever before.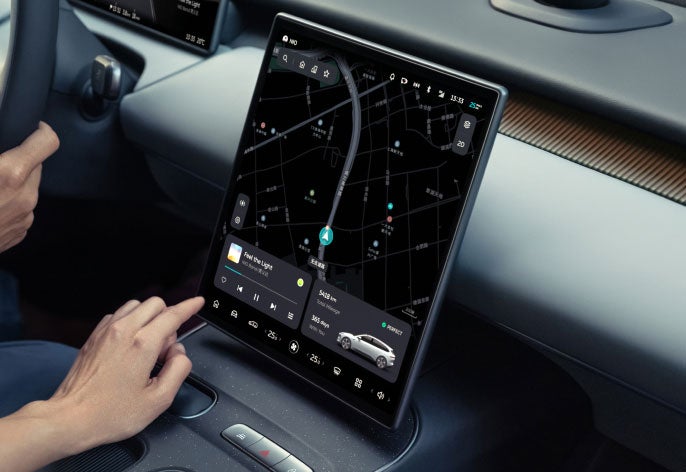 The 12.8-inch AMOLED center display
boasts a 1,728*1,888 resolution, a 100,000:1 contrast ratio, and 100% NTSC display, giving you a premium visual experience.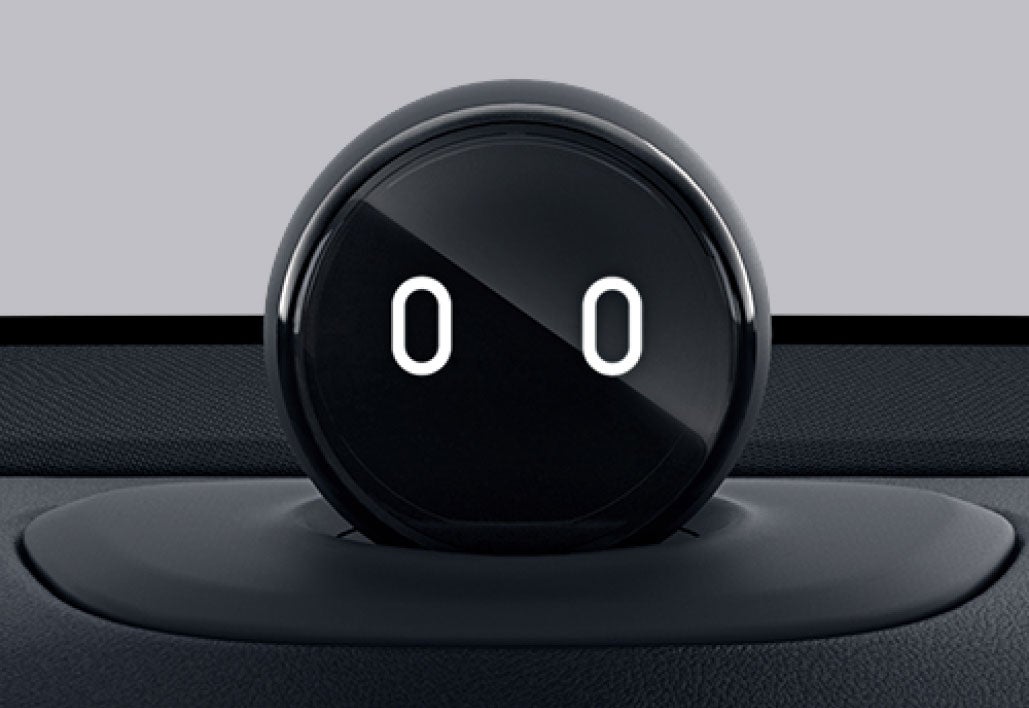 NOMI
is your digital voice assistant. Powered by the powerful in-car computing capabilities, NOMI is constantly learning and growing in its abilities.
PanoCinema
Indulge yourself in an immersive audio and visual experience.
Curtain
Ambient Lighting
The cabin of ET5T is beautifully decorated with soft lighting. Choose from 256 color options and 10 color themes as well as calming rhythmic effects to add tasteful atmosphere to the journey.
Rythmic
Speaker Covers
The rythmic speaker covers offer a visual breathing effect that dance with the music to provide a symphony of senses.
The 7.1.4
Surround Sound System
The surround sound system features 23 speakers with a power output of 1,000 watts, carefully placed through the cabin for a spine tingling sound experience. Dolby Atmos and Dirac Pro sound algorithms elevate the dynamism of the listening experience.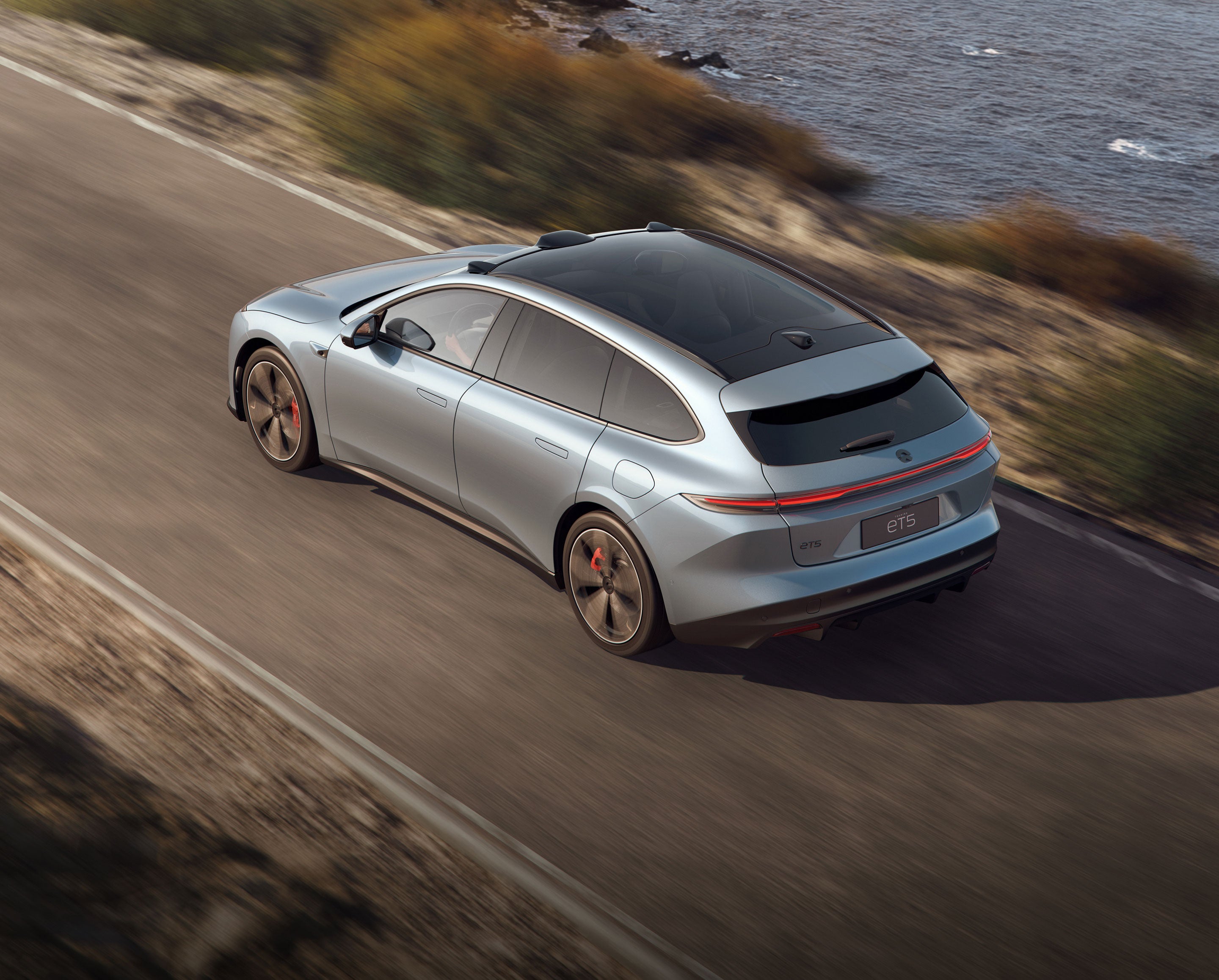 Performance and Security
Nowhere Is Out Of Reach.
Equipped with a SiC power module, NIO's next-generation high-efficiency smart electric drive system has a 150kW induction motor in the front and a 210kW permanent magnet motor at the rear.
*The driving range is an estimate simulated with a 150kWh battery pack pursuant to the China Light-Duty Vehicle Test Cycle (CLTC) standards. Therefore, the range filed in the official documents shall prevail.
**The acceleration and braking specs are based on the engineering test results, which may vary due to different road types, weather and road conditions, battery level, loading, and tires, and are hence for reference only.
High Strength Steel-Aluminum Body Construction
Engineered to meet the five-star C-NCAP and E-NCAP standards, the body in ET5T adopts a high strength steel-aluminum hybrid construction with an excellent torsional rigidity of 32,000N·m/deg. Aluminum mega-casting technology is applied to the rear floor, reducing body mass. This results in a lighter but stronger construction and a bigger space for occupants.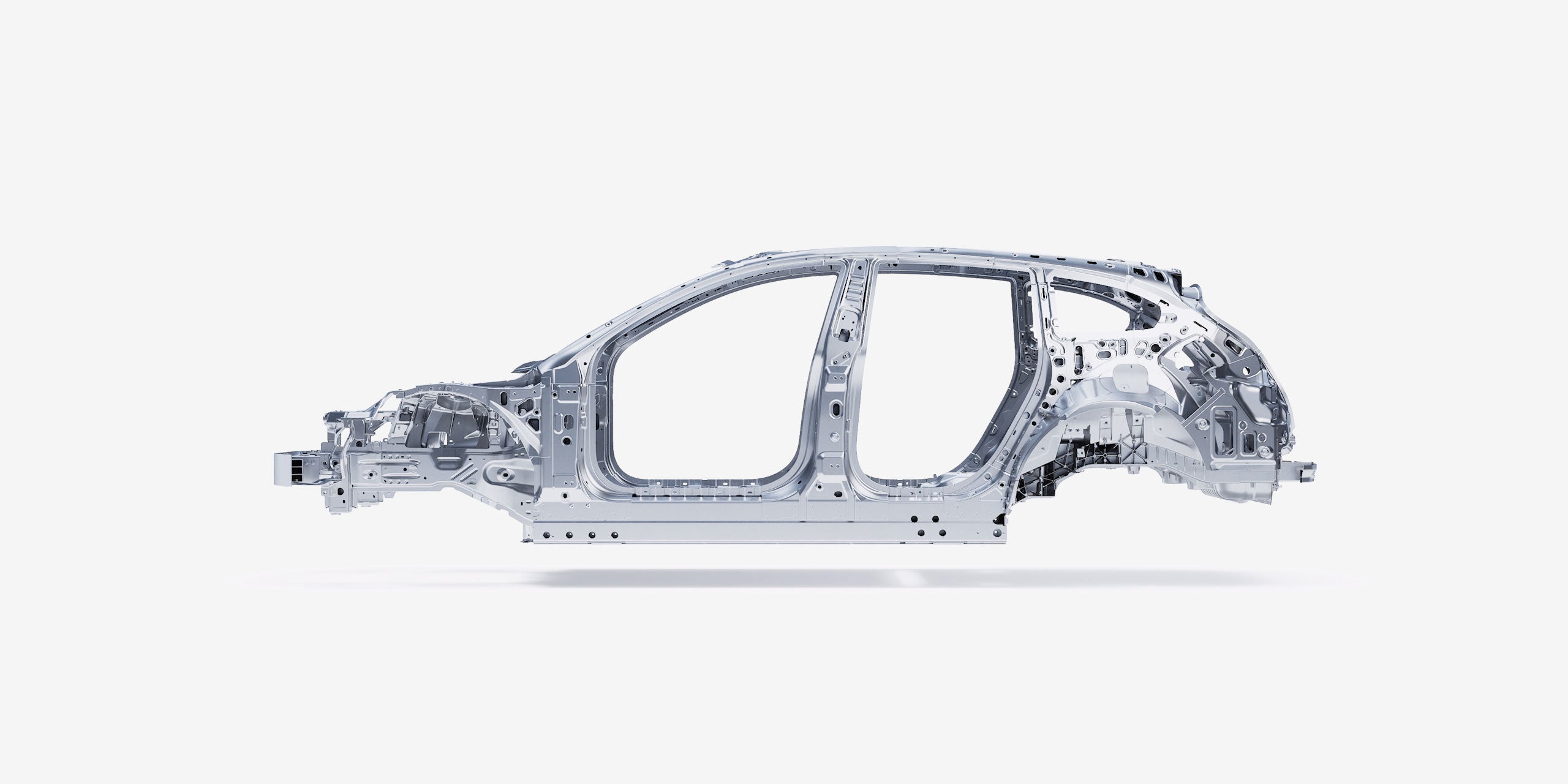 Easy to Handle, Fun to Drive
High-Performance
4-Piston Calipers
Sporty Five-Link
Front and Rear
Suspension
Front Suspension
with Virtual
Kingpin Axis
Front Suspension
Shaft Front
Steering Design
Cast in aluminum, the in-house developed brake calipers are 10% more rigid and 25% lighter with lower unsprung mass, higher brake linearity and faster reaction times. High-Performance 4-Piston Calipers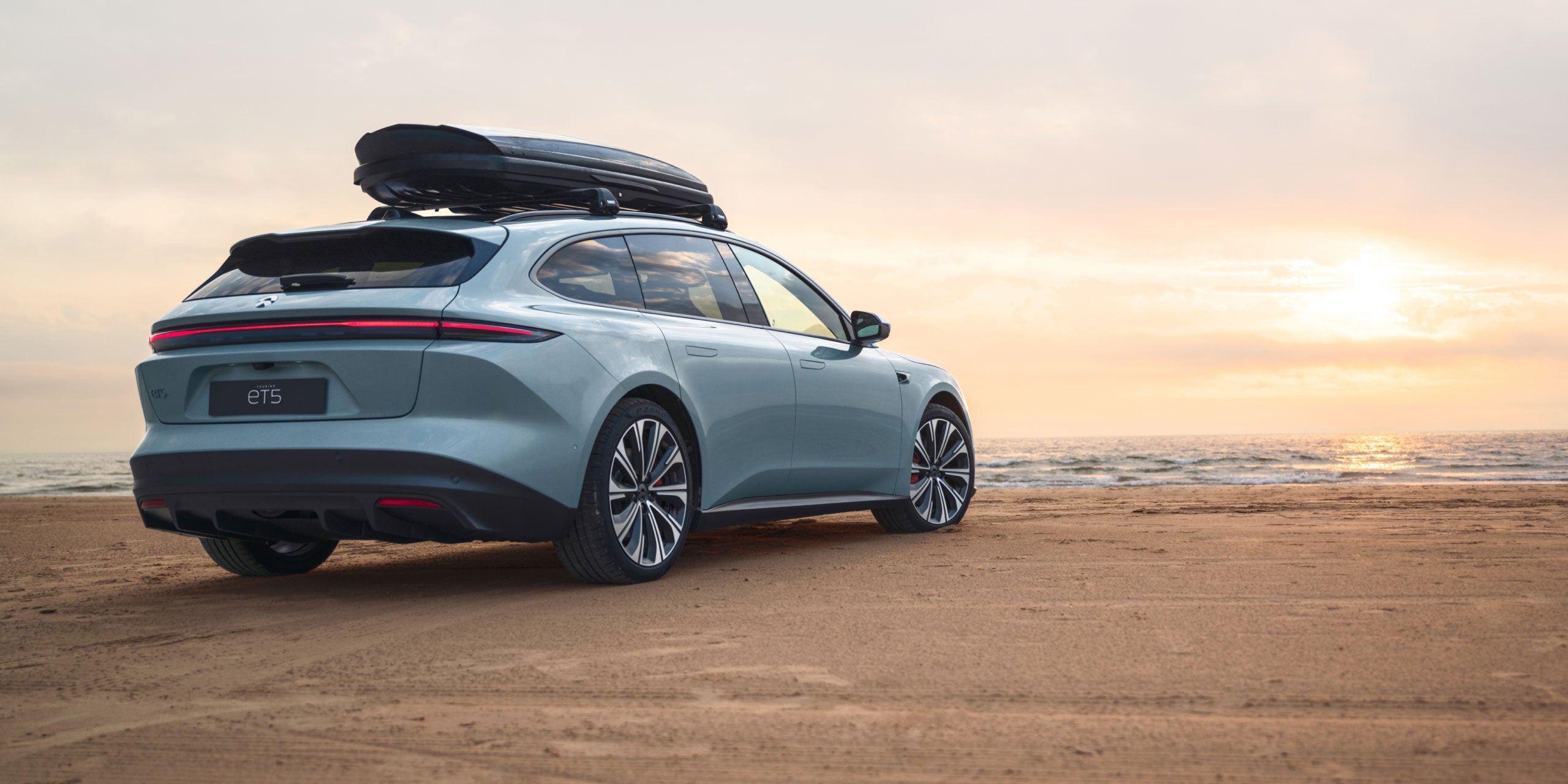 9 Driving Modes
ET5T has 9 driving modes, including 5 basic and 4 scenario-based modes.
Sport+*
The ultimate focus on performance. 0-100 km/h in 4.0 seconds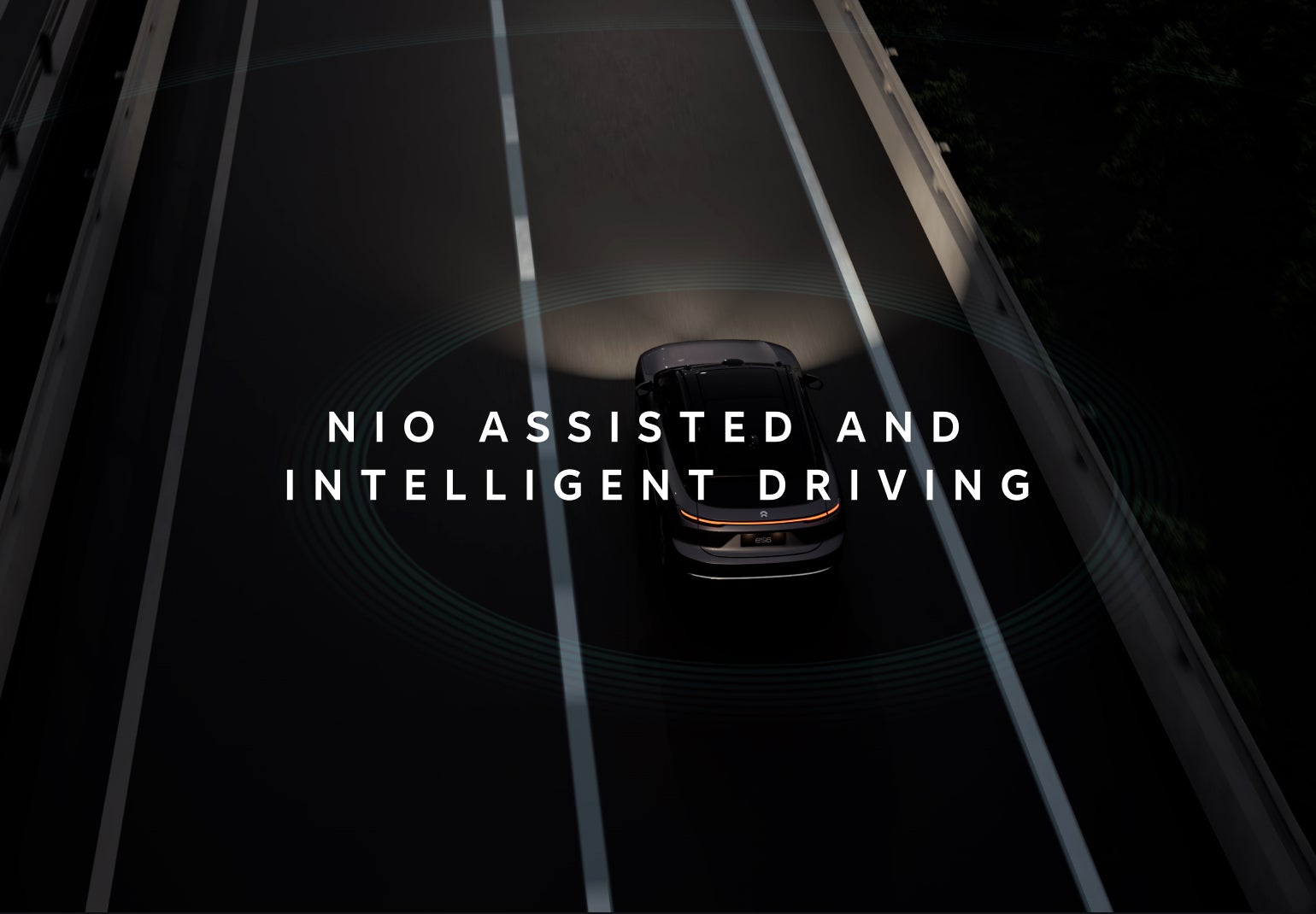 NIO Assisted and Intelligent Driving
Making cars a safe and free mobile living space is our vision. From maps and localization to perception and algorithms, from the low-level system to the control strategy, NIO Intelligent Driving is enabled by NIO's full-stack intelligent driving capabilities. It will gradually cover expressways, urban areas, parking, and battery swapping to free up time and reduce accidents for a safer and more relaxing intelligent driving experience from point A to point B.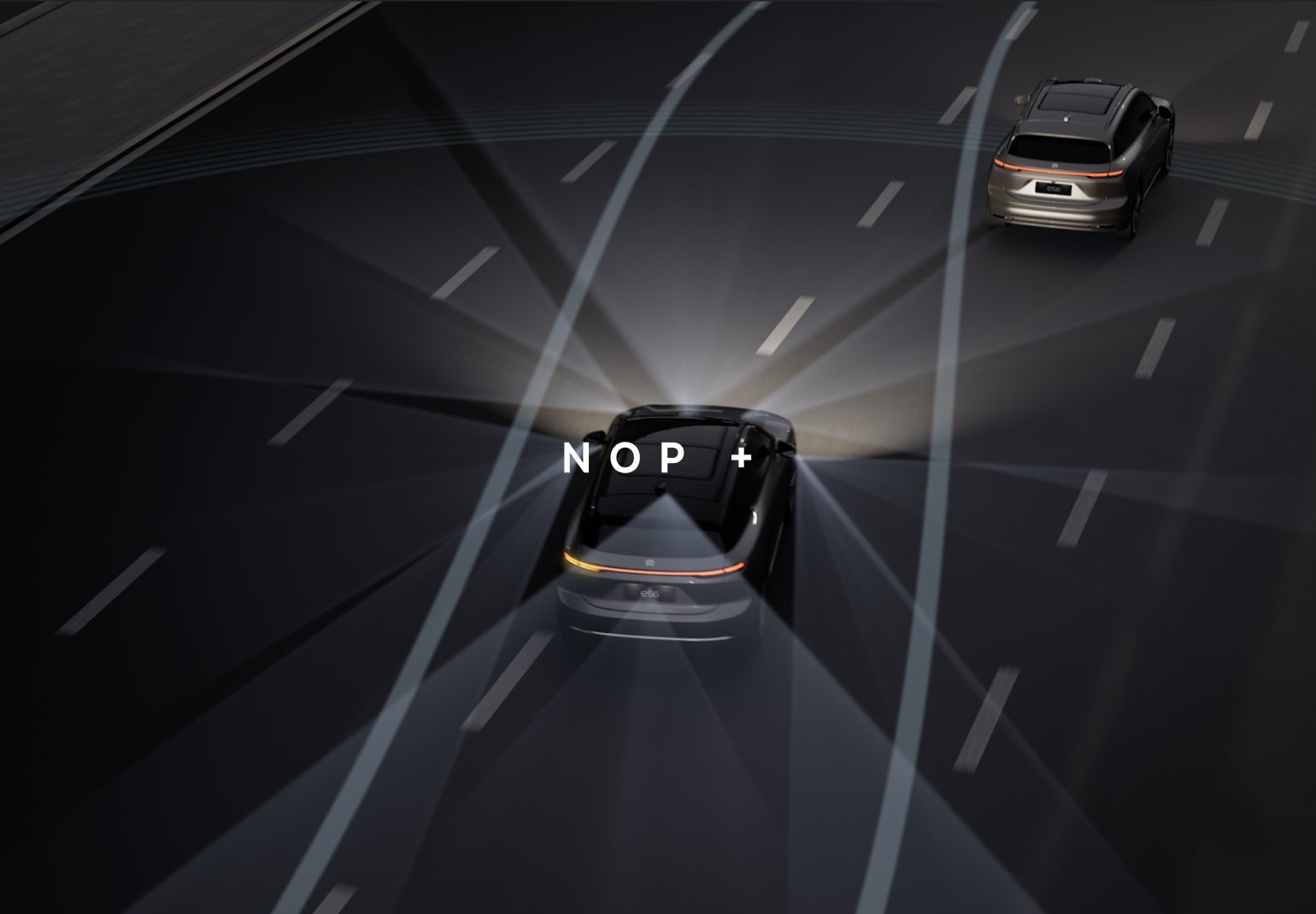 Navigate on Pilot Plus (Beta)
NOP+ (Beta) is a driver assistance feature developed by NIO based on our second-generation technology platform (NT2.0). NOP+ relieves driving fatigue for more relaxing and joyful journeys by assisting with a number of tasks including optimal lane merging, overtaking slower cars and adjusting the speed according to the speed limit regulations.
*1 Subject to different versions of vehicles, some configurations are not equipped or are option on some versions of vehicles and are not standard configurations when the vehicles come off the assembly line.
*2 NIO will constantly optimize the product and its feature. The products shown in promotional images, animations and videos are only in a status of non-final delivered products. The specific feature, function, color and material shall be subject to actual products on sale.
*3 NIO Assisted and Intelligent Driving is designed for driver assistance only and cannot fully replace driver control or handle all possible traffic, weather, and road conditions. The driver must maintain attention as necessary and promptly interfere or take over control based on the external environment. NIO Assisted and Intelligent Driving should be used with caution in complex traffic conditions, bad weather, or special road conditions. NIO Assisted and Intelligent Driving functions may vary depending on country-specific regulations.
*4 The acceleration and braking specs are based on the engineering test results, which may vary due to different road types, weather and road conditions, battery level, loading, and tires, and are hence for reference only.