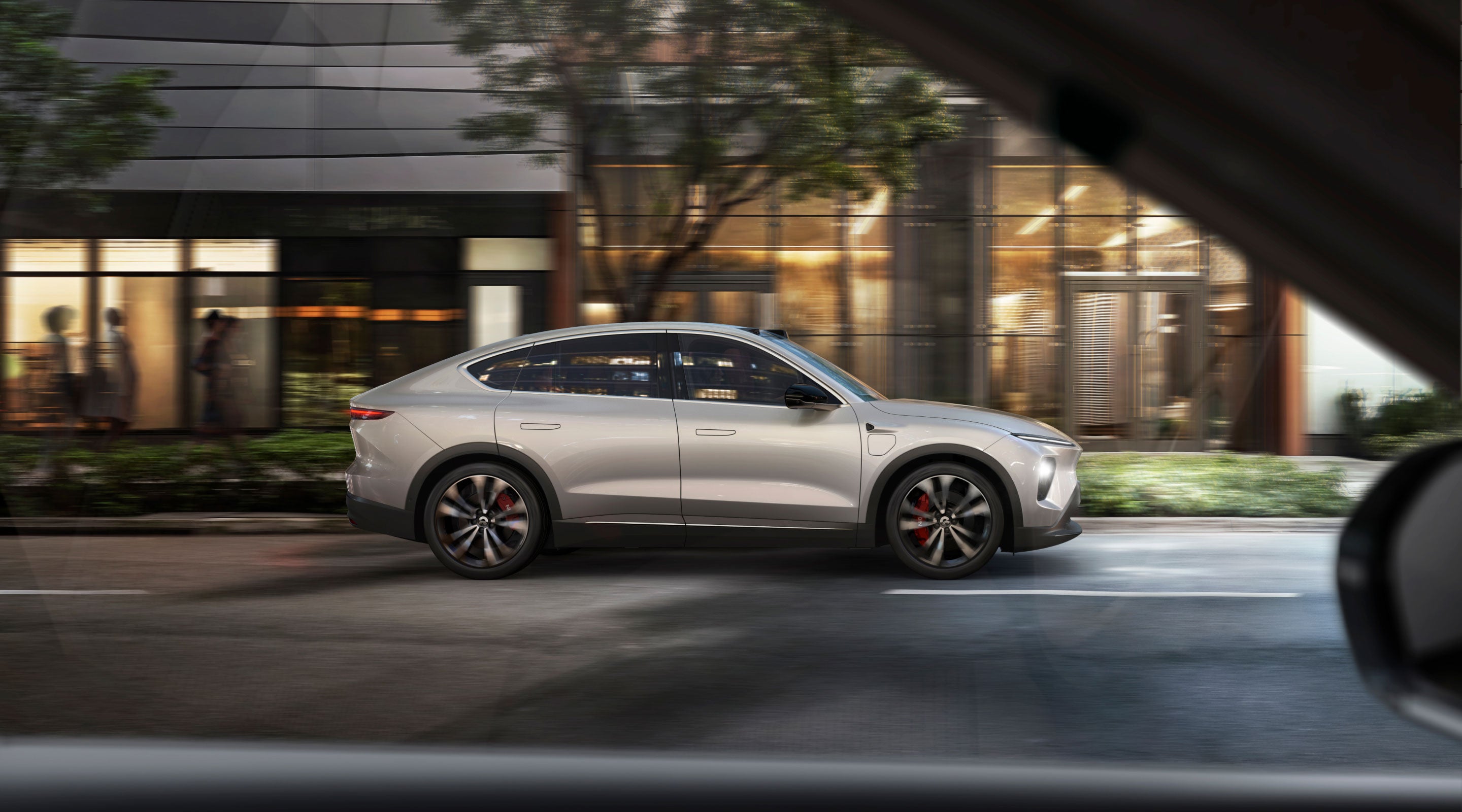 Flagship Coupe SUV
Elegance is Power

NIO EC7 is a state-of-the-art coupé SUV.
Every perspective and every detail is an interpretation of elegance.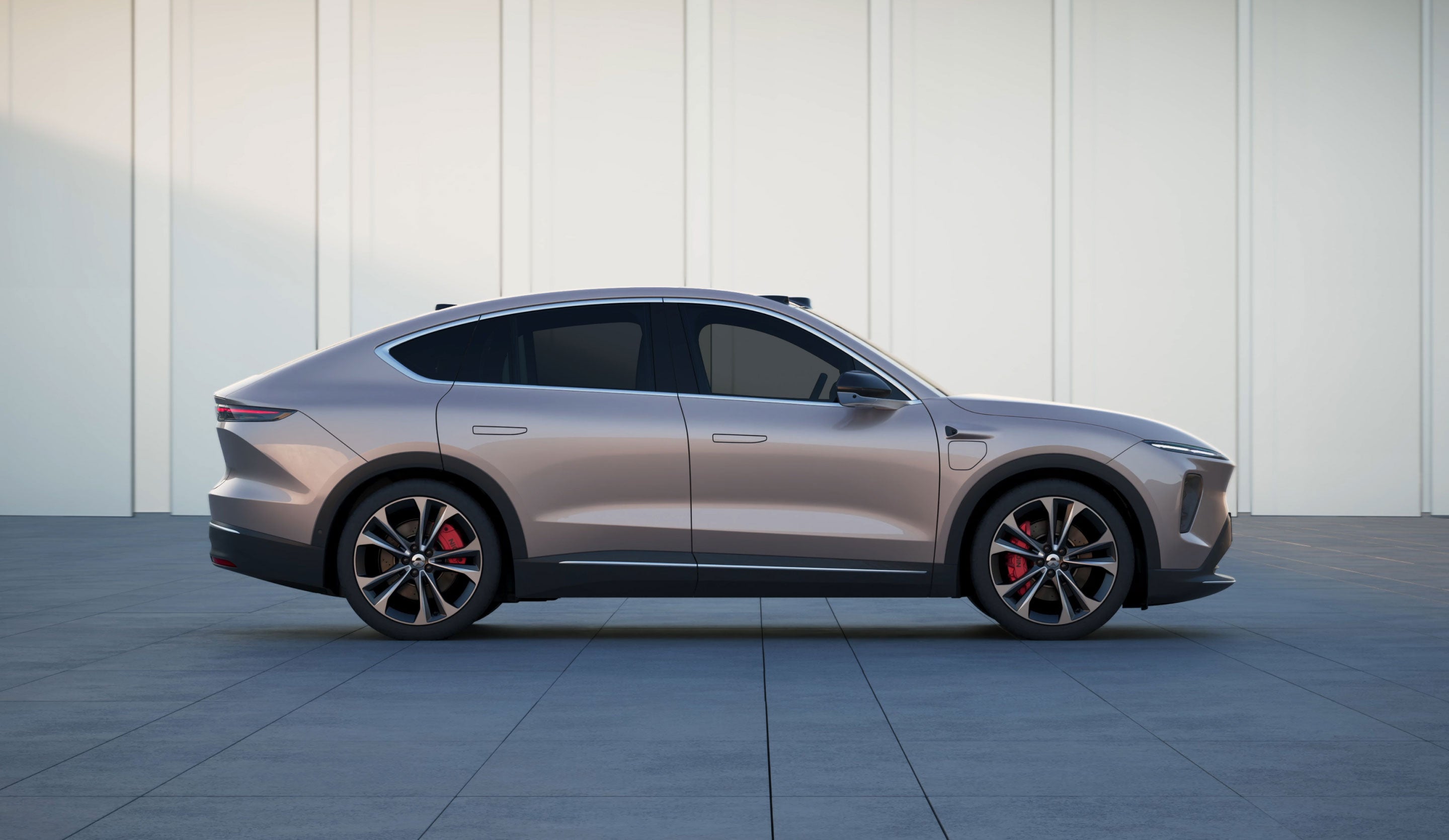 Exterior
The Beauty of Balancing Elegance and Power
Elegance comes from its perfect dimensions, proportion, and posture.
A proportion delivers a strikingly fluid fastback silhouette while ensuring a spacious rear row.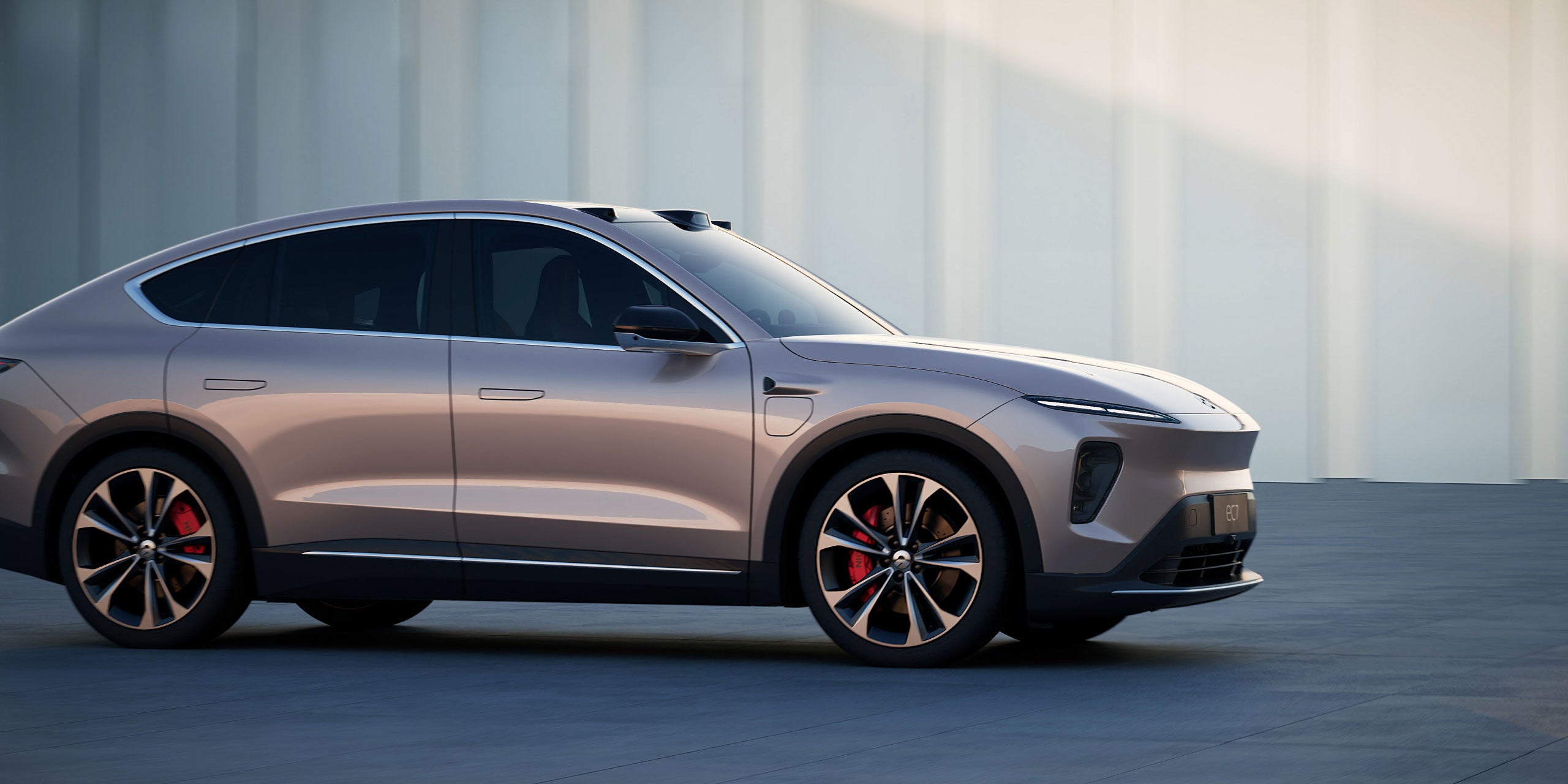 Sportier and Expressive, Crush at First Sight
The impressive lower body, high-rising beltline, pronounced wheel arches, and outsized wheels outline an imposing and robust profile, making the EC7 sportier than ever.
Puristic Beauty
The EC7 gives off a sense of natural beauty with nothing but pure surfaces. Let light and shadow sculpt its silhouette.
Center Brake
Light
Side Mirror
Turn Signals
Flush Door
Handles

Flush Windows
Crafted with 5 mm-wide photonic crystals and Super Red technology, the delicate and distinctive horizon light is ready.
Ultra-slim light strip underneath the holistic mirror housing delivers homogeneous light with sophistication and distinction.
Unlock the door effortlessly with a gentle touch on the capacitive door handle.
Side windows flush with B and C pillars create a continuous and pure surface.
Progressive Aesthetic
The EC7 features next-level design purity integrated with advanced technologies. A real eye-catcher with perfected practicality, placing you in the spotlight wherever you go.
Design for AD
The watchtower sensor layout puts LiDAR and front-looking cameras on the roof in an unmatched design that leads the trend of the intelligent driving era. Higher placement enables further detection. In addition, the seamless integration into the body adds to its progressive attributes.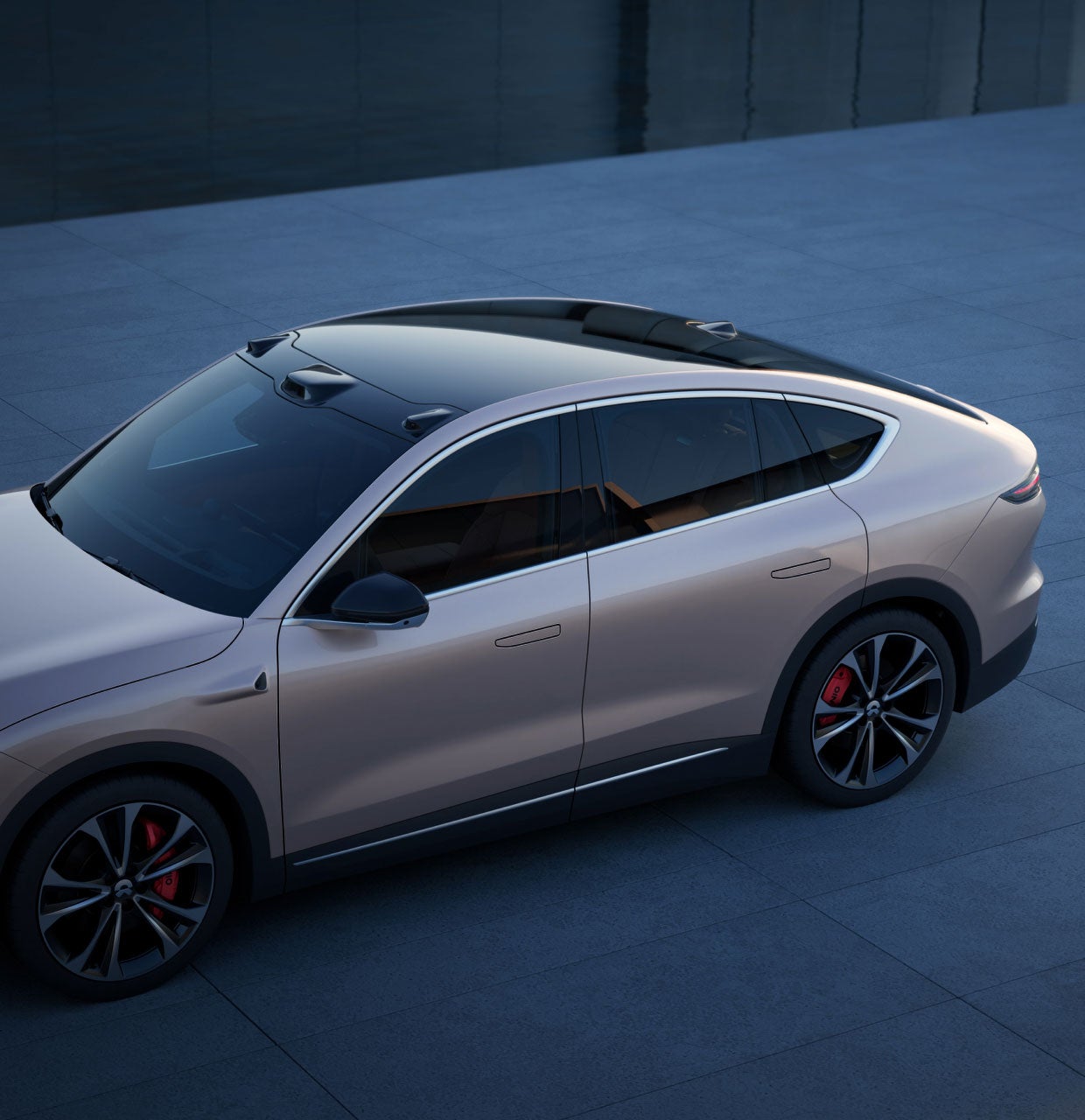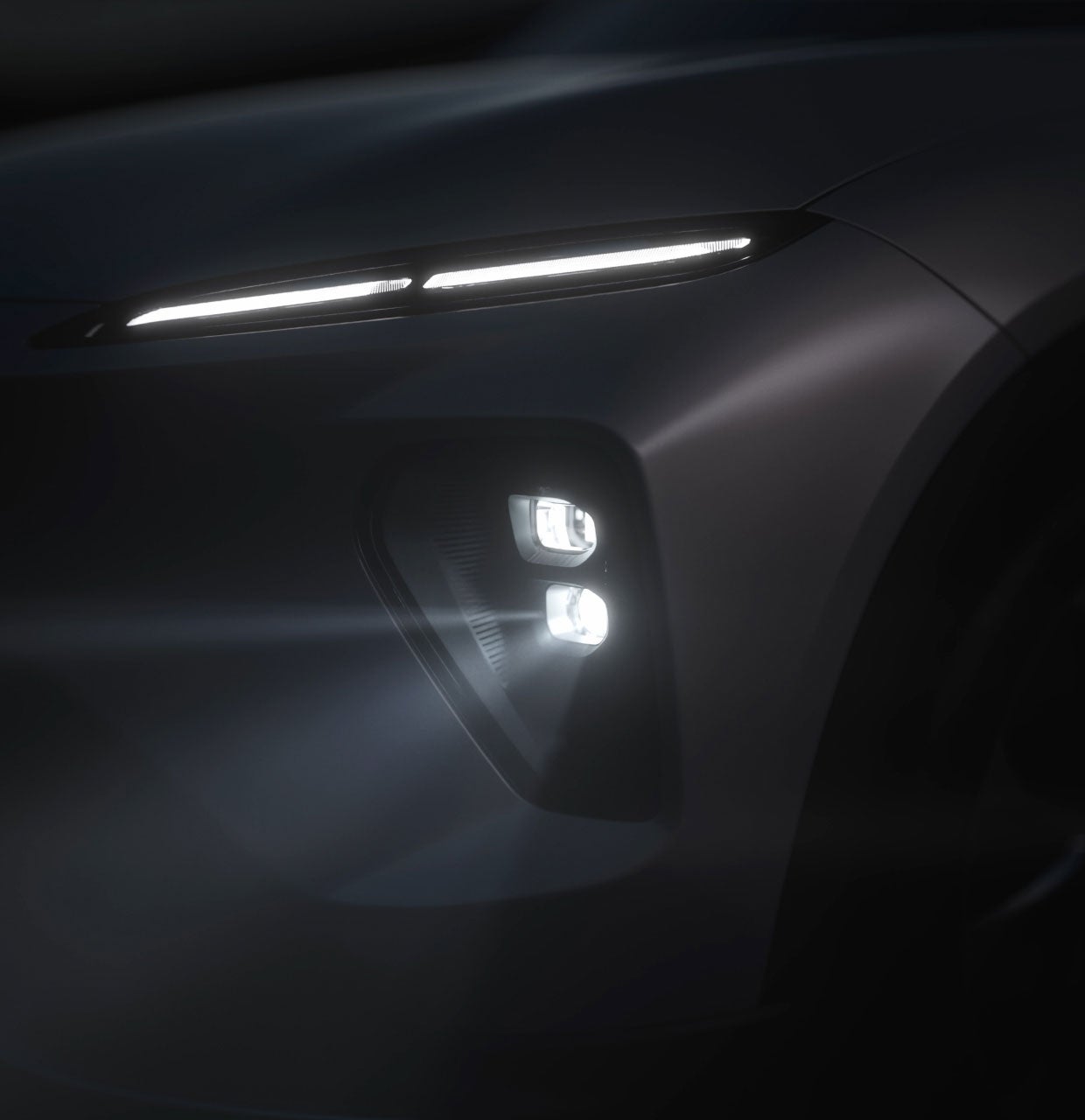 Smart Matrix LED Headlights + LiDAR
Beneath the concise and pure lens is the smart matrix headlight, integrating many micron-size high-brightness LEDs, each controlled independently and precisely. Enhanced by LiDAR and other sensors, the headlights can automatically detect road conditions, making it the best-in-class illumination solution.
The refined active spoiler advances sportiness and aerodynamics to a new height—an elegant rendering of the racing DNA from EP9.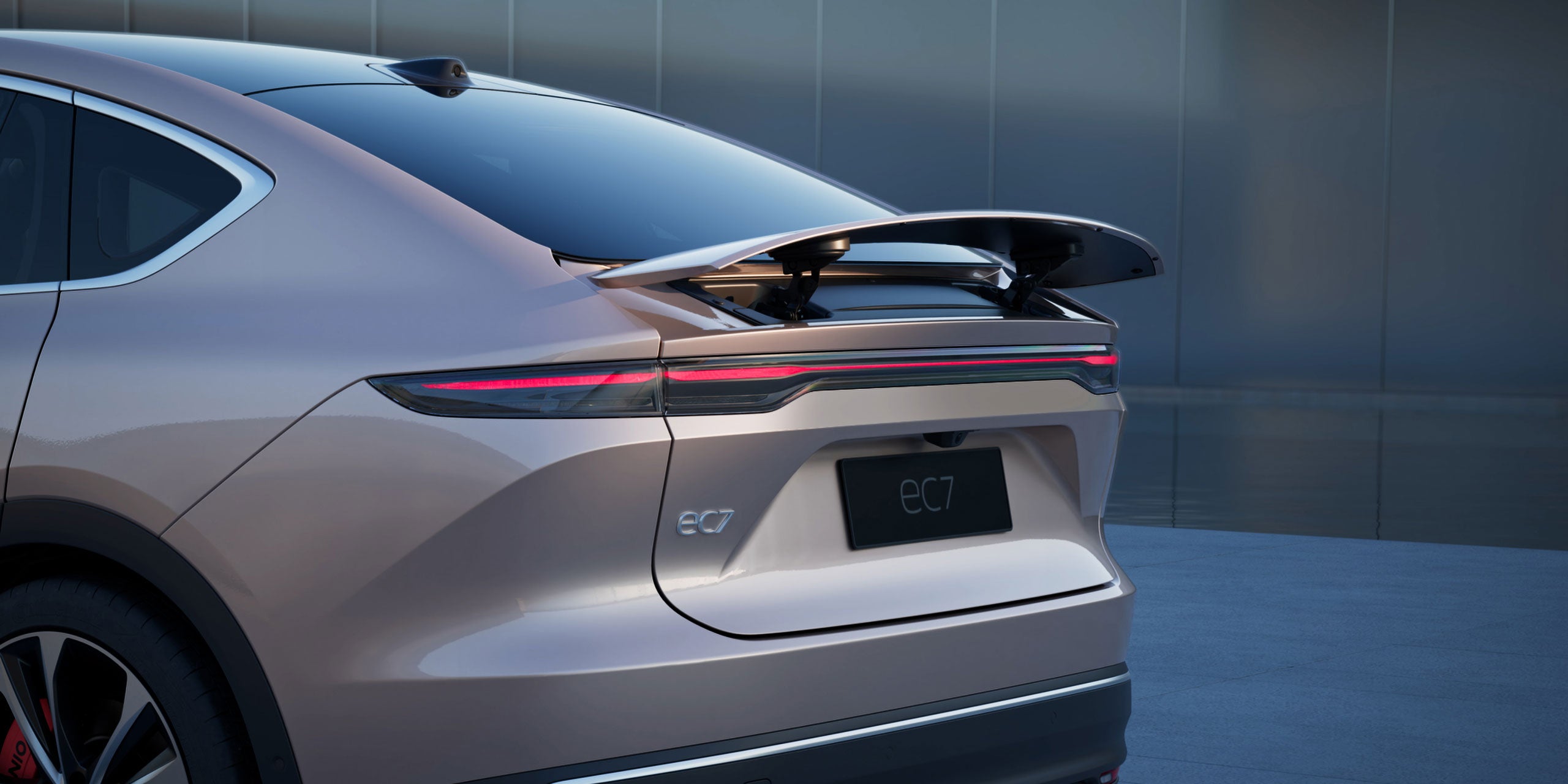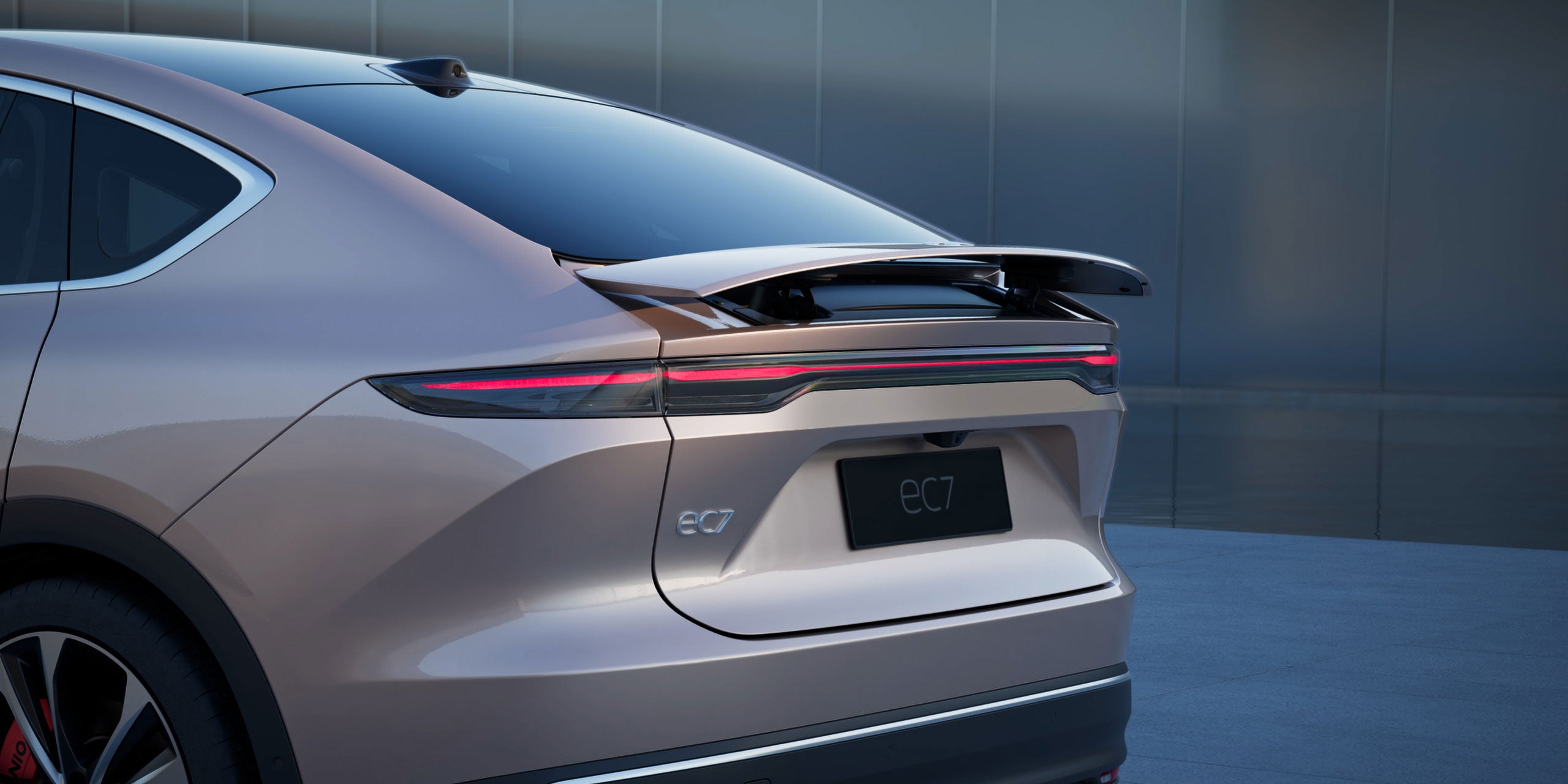 Sport
Improving downforce and offsetting the lift at the rear caused by high-speed airflow.
Vibrant Colors for Your Personality
Eight body colors inspired by enchanting skies across the world.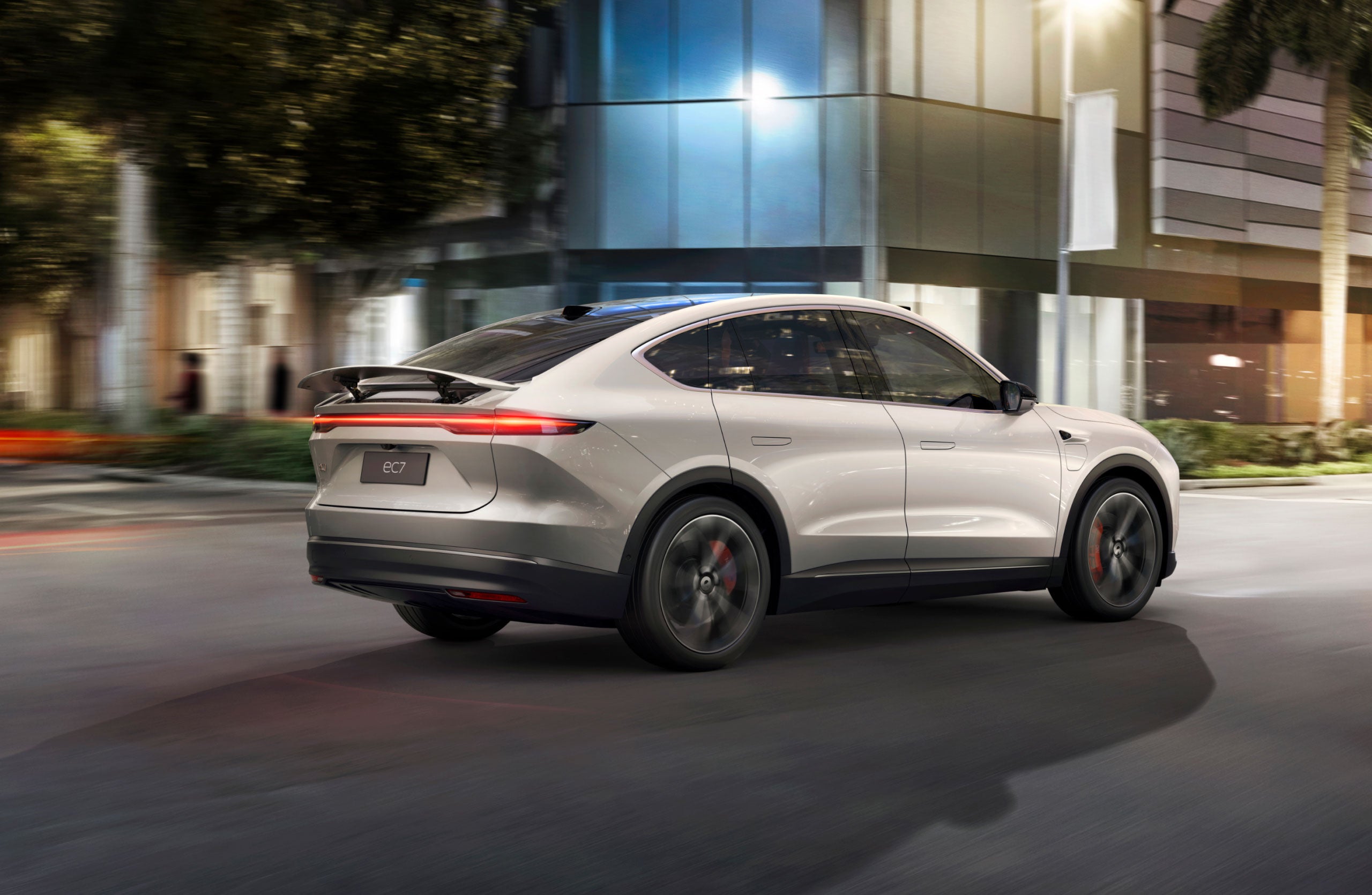 Sunlight Gold
NIO Color of 2023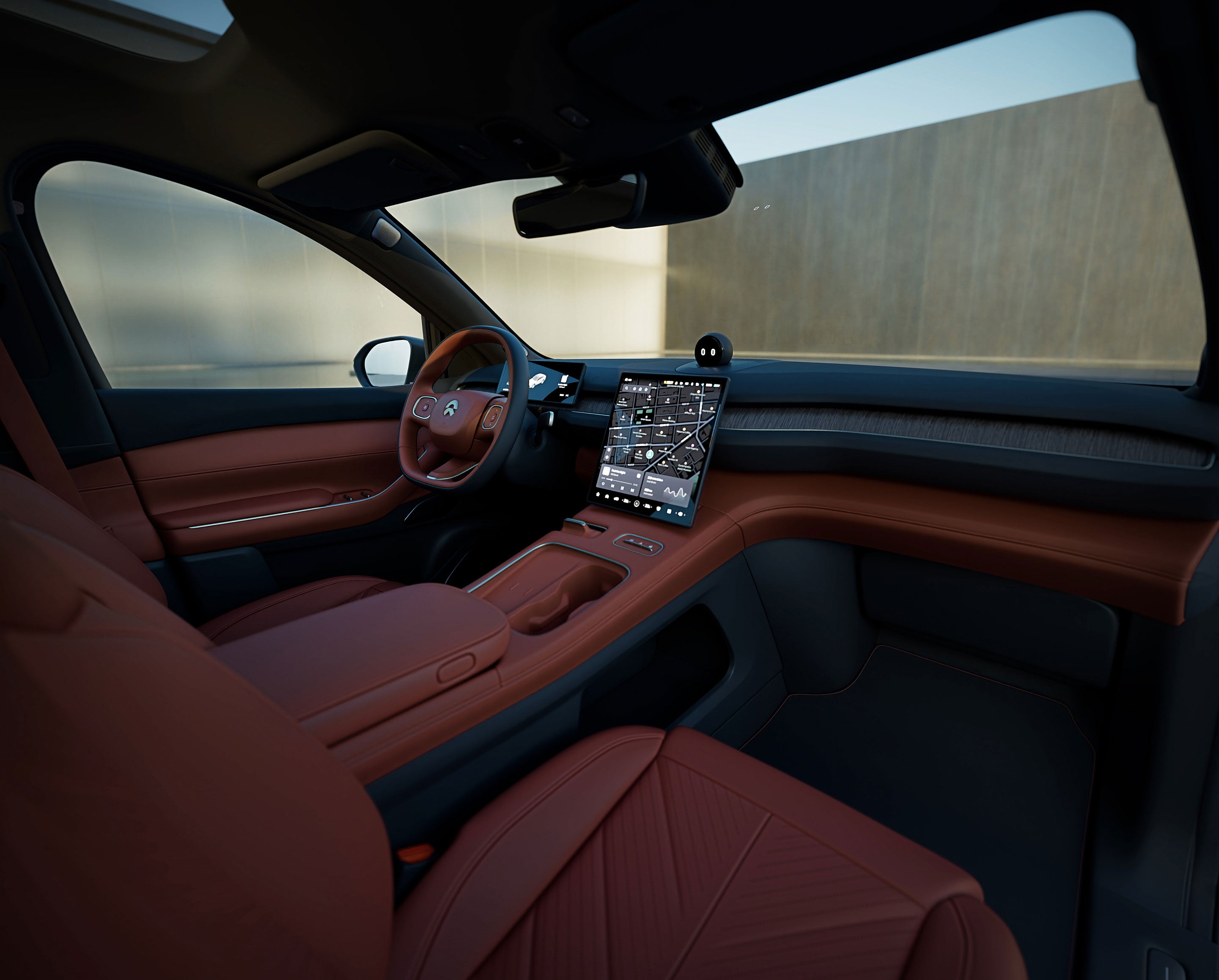 Elegant on the outside, passionate on the inside. Step into the EC7 to be embraced by this open, sophisticated, and vibrant space.
Interior
Symphony of Light and Shadow
Sun rays shine through the unobstructed panoramic glass roof and light up the generous cabin, performing a cheerful symphony of curated materials, patterns, textures, and colors.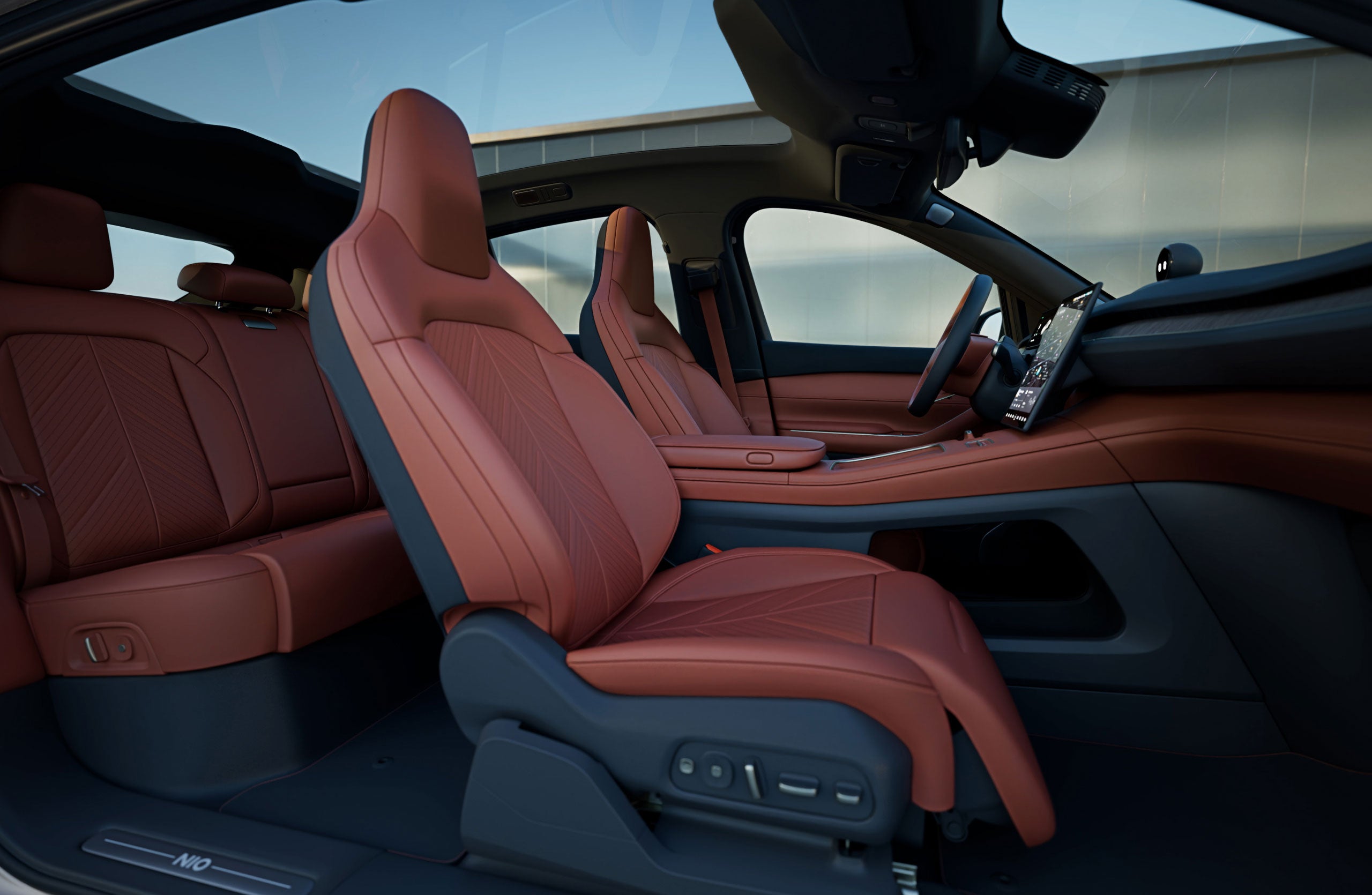 More low-carbon, environmentally-friendly and sustainable materials
Explore Clean+
Smart Electrochromic Glass
Enabled by the third-generation flexible electrochromic materials, the glass tinted in neutral dark gray is applied for the first time. It lowers total solar transmittance by 13.7% and can adapt its transmittance according to the environment.
+13.7%
Transmittance of Total Solar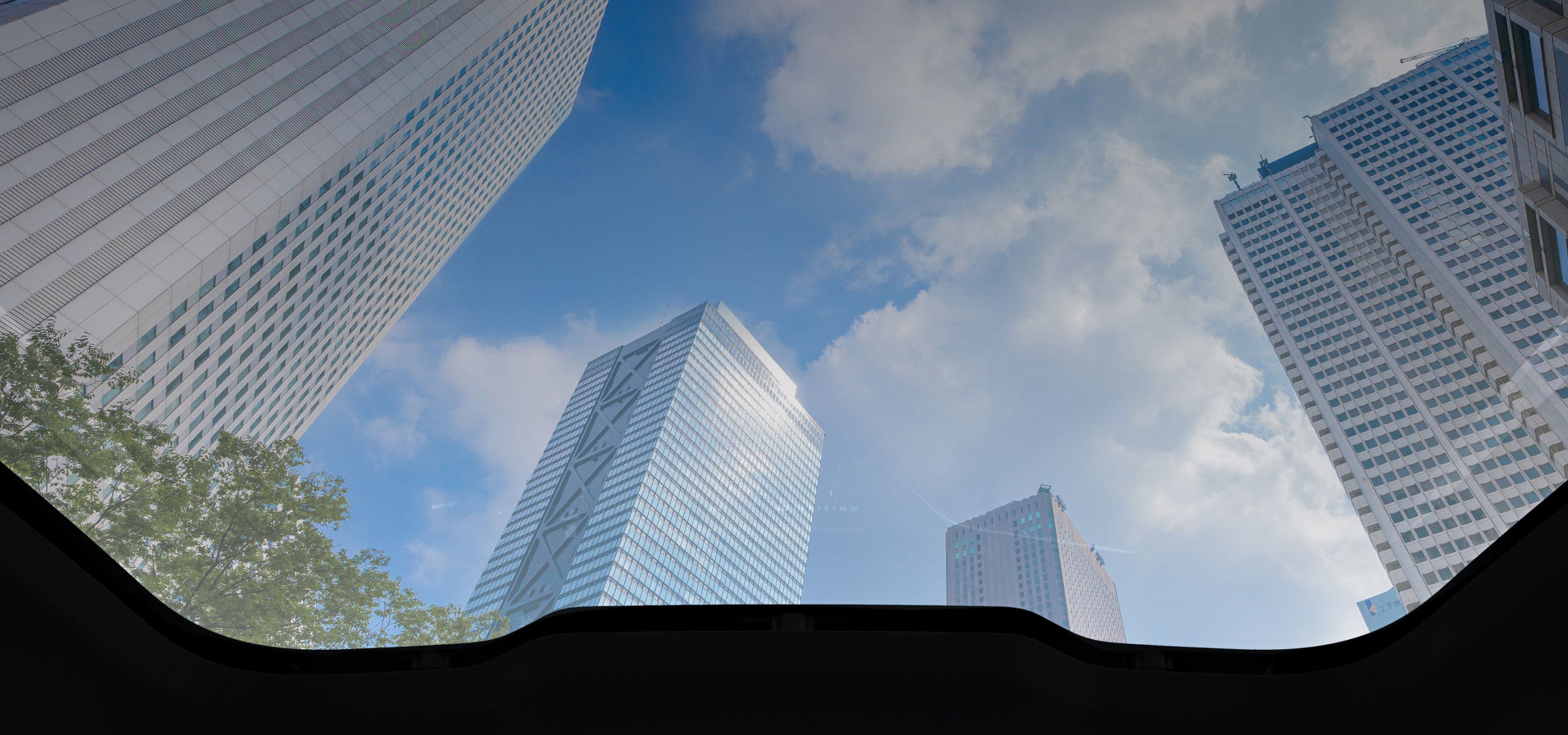 Sport Seat with Integral Headrest
The front seats feature the high-strength, lightweight structure developed in-house and the high-rising bolsters to better support and wrap around the occupants for a confident and composed corner exit.
Cushioned by flexible foam, the curved seats provide natural ergonomic support, bringing comfort to the next level.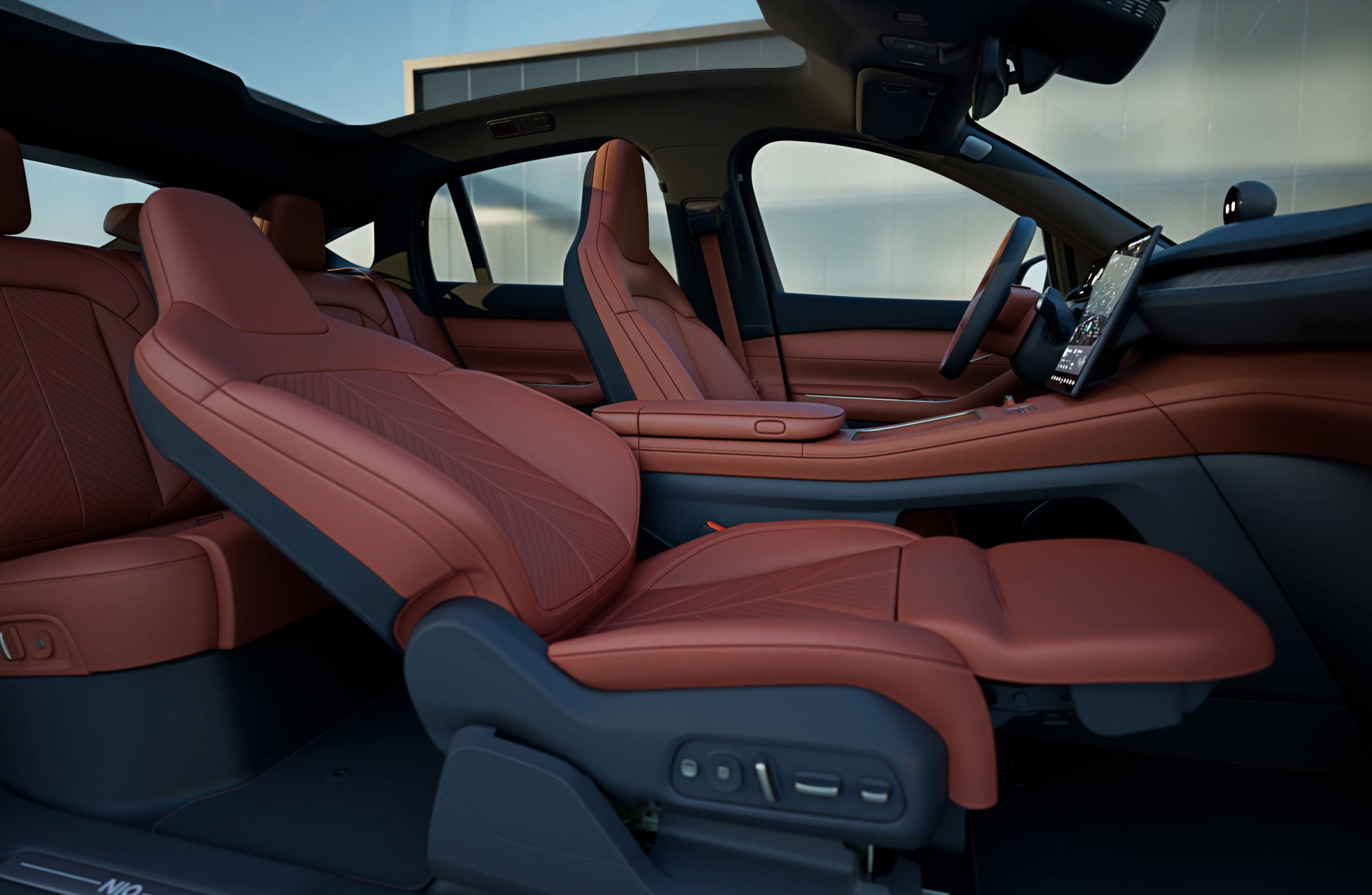 The new Lounge Seat can switch to zero-gravity mode with a single touch. In addition, heated leg support makes the spot a real lounge for relaxation.
Explore Seats
Digital Cockpit
Second-Generation Digital Cockpit
The EC7 runs on NIO Smart System Banyan, featuring industry-leading hardware and brand-new software that deliver experiences beyond expectations. In addition, NIO's second-generation digital cockpit represents a comprehensive upgrade in computing, graphics processing, and multimedia processing capabilities.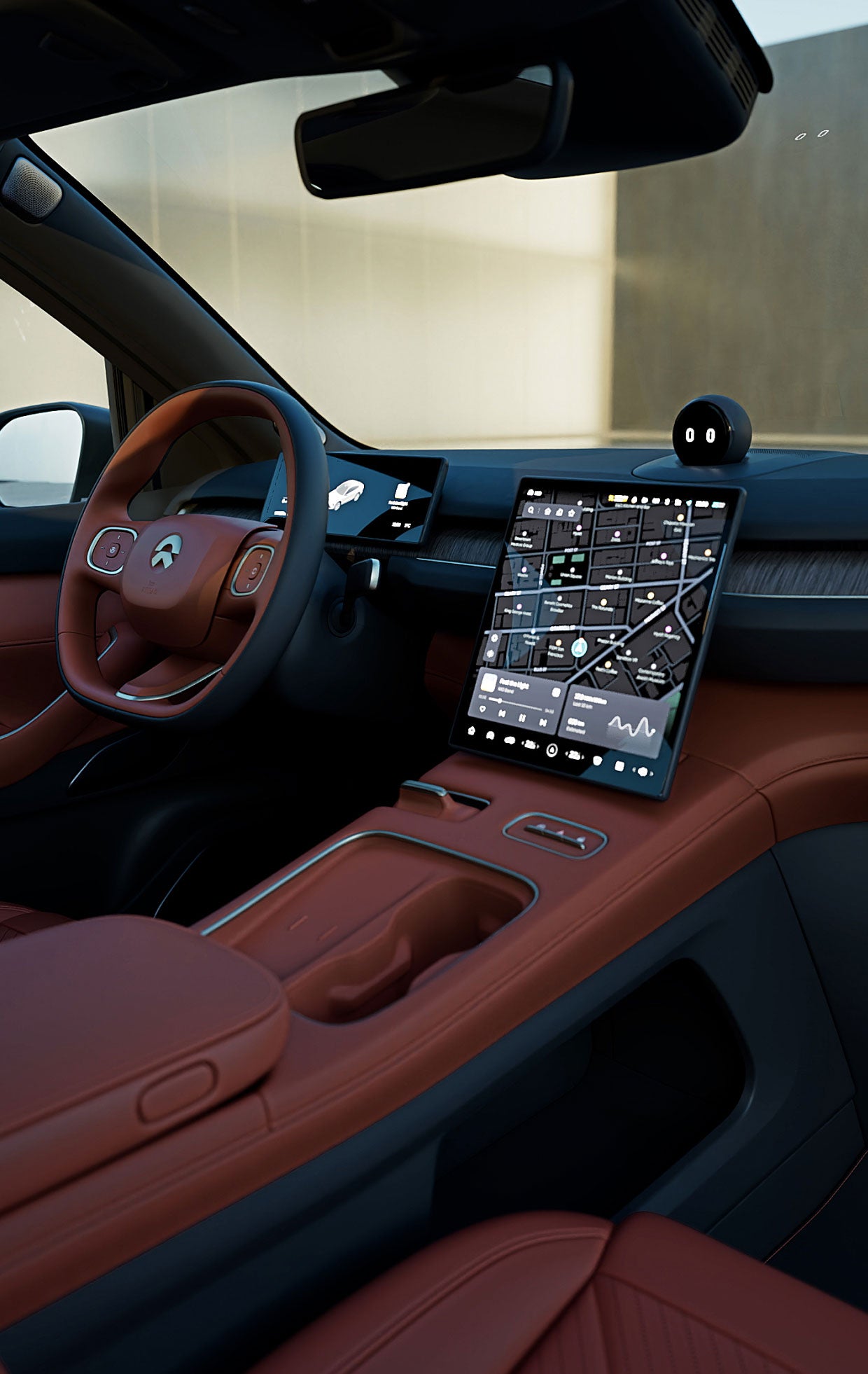 The 12.8-inch high-resolution AMOLED center display boasts high contrast ratio and a wide color gamut for detailed clarity and vivid colors. Designed to be airy and thin, the floating display with its ultra-slim frame perfectly fits into the puristic interior.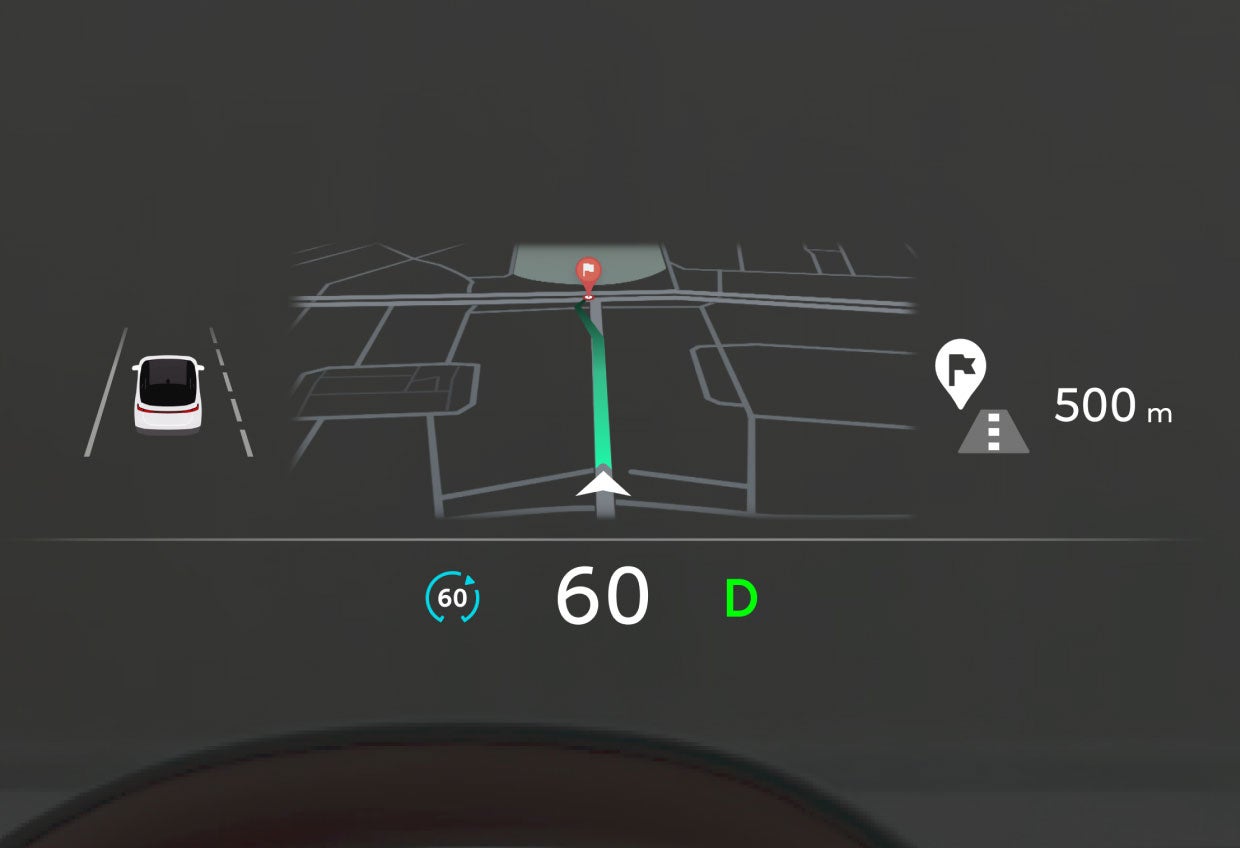 The enhanced HUD on the EC7 has a 16-inch screen, more sophisticated image quality, and a 260,000-color display. It also supports automatic brightness and height adjustment.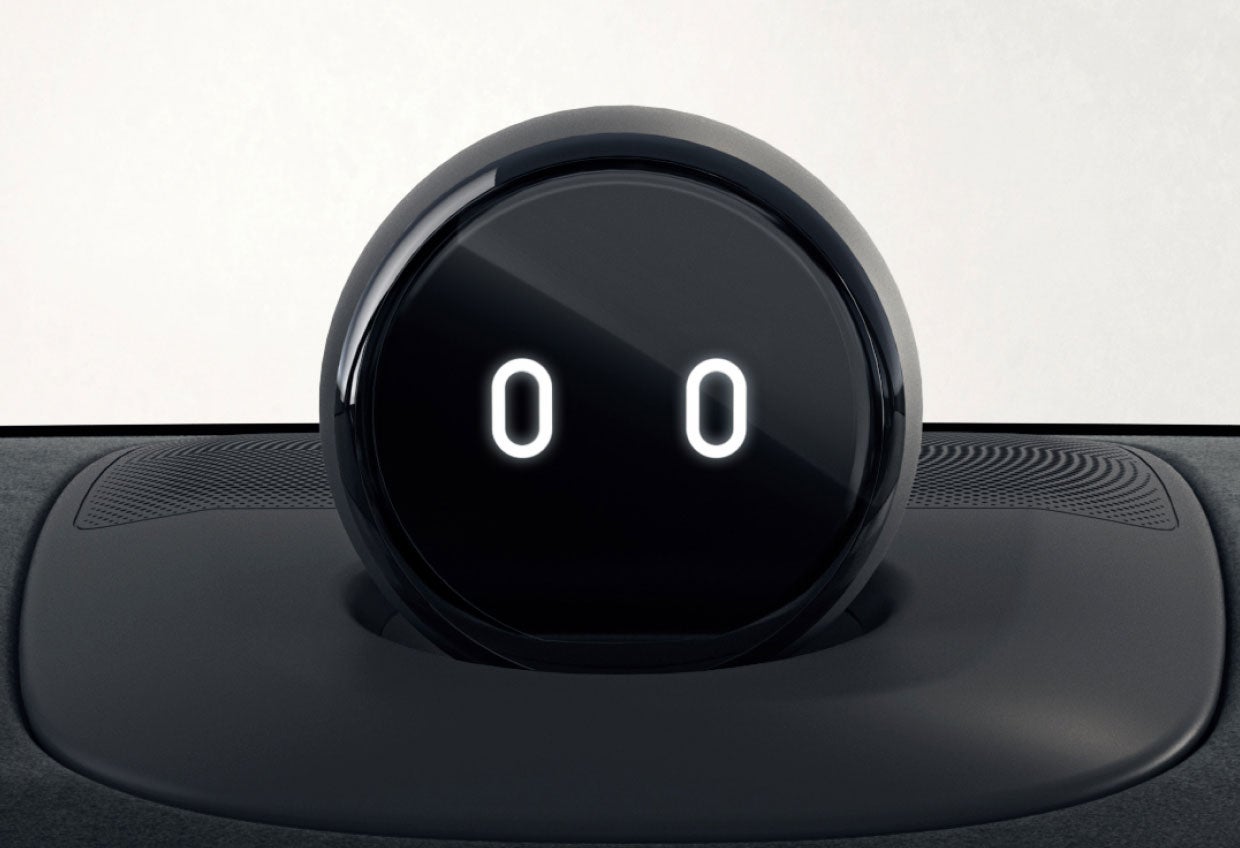 NOMI is becoming smarter and more knowledgeable. Based on the robust on-board and cloud computing platform, it integrates voice interaction and smart emotion engine, capable of continuous learning and growth.
PanoCinema
An immersive audio and visual experience exclusively tuned for you.
Waterfall
LightingAmbient
7.1.4
Sound SystemSurround

N-BOX
The diffused reflection of ambient lighting softens the elegant curves and surfaces in the cabin, accentuating a relaxing atmosphere. Apart from the 256-color gradation and 10 ambiance themes, it has breathing and rhythmic effects.
Powered by Dolby Atmos and the leading Dirac Pro spatial audio algorithms, the system delivers real-to-life sound through its 23 speakers with a power output of up to 1,000 watts.
As the enhanced brain of the immersive PanoCinema, N-BOX enhanced infotainment console has robust computing and video encoding and decoding capabilities and supports multiple I/O.
Performance and security
Born With High Performance
The EC7 has only a 0.230 drag coefficient, the lowest among SUVs. Shark Nose, front spoiler, all-glass roof, side mirrors, shoulder lines, and rear aero edges have been polished at the millisecond level. In addition, the EC7 comes standard with an active grille shutter and active spoiler, further excelling at aerodynamic performance.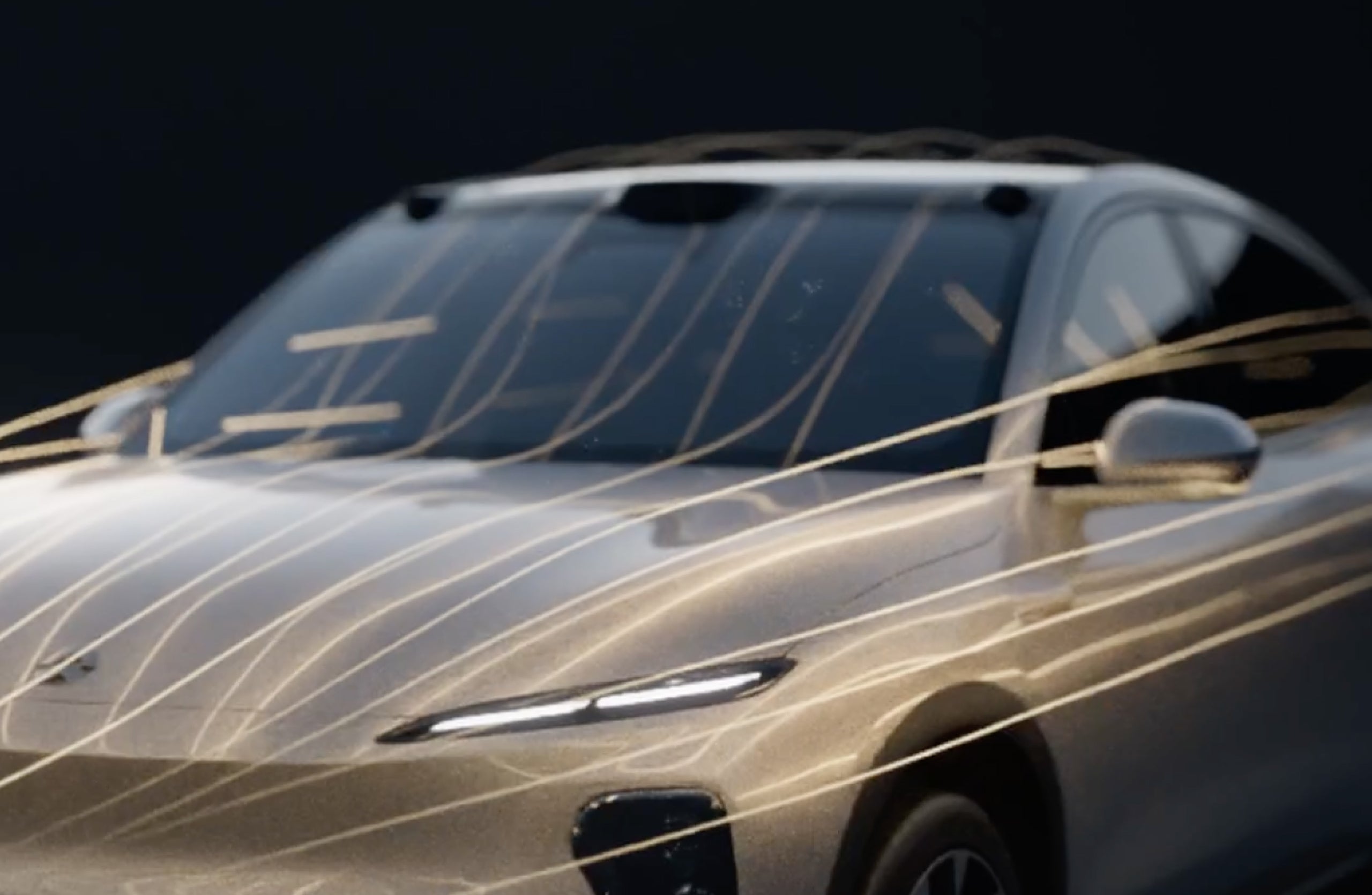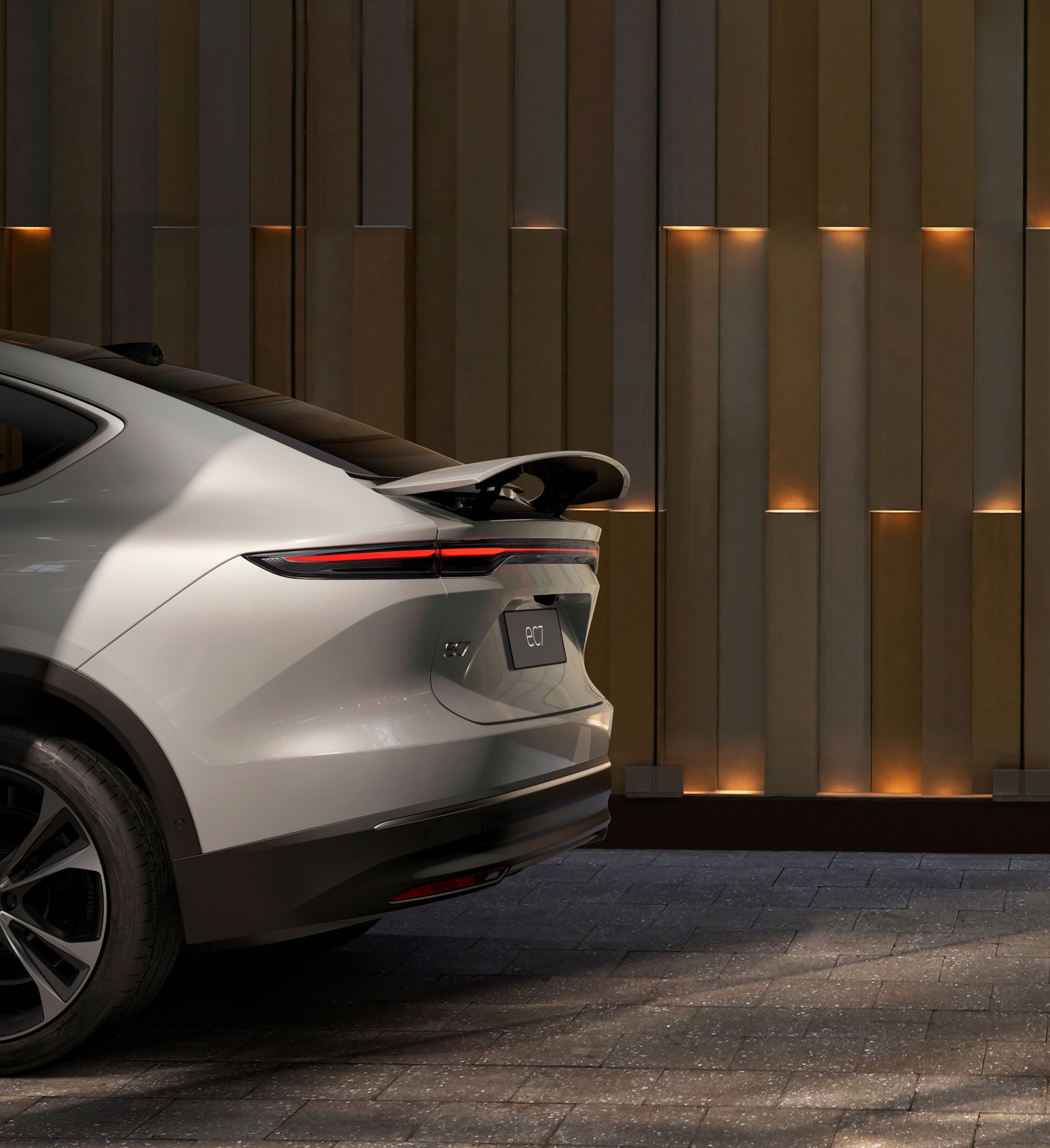 SiC power module further optimizes the EC7's energy use. With NIO's chargeable, swappable, and upgradable battery, and the full-fledged charging and swapping network, the car is free of range anxiety.
940km

CLTC est.

3.8s

0-100 km/h

33.9m

100-0 km/h
*The driving range is an estimate simulated pursuant to the China Light-Duty Vehicle Test Cycle (CLTC) standards. Therefore, the range filed in the official documents shall prevail.
*The acceleration and braking specs are based on the engineering test results, which may vary due to different road types, weather and road conditions, battery level, loading, and tires, and are hence for reference only.
Next-Generation High-Efficiency Electric Drive System
The EC7 adopts NIO's latest electric drive technology featuring the dual-motor AWD system and SiC power module, delivering a peak power of 480 kW and a maximum torque of 850N·m.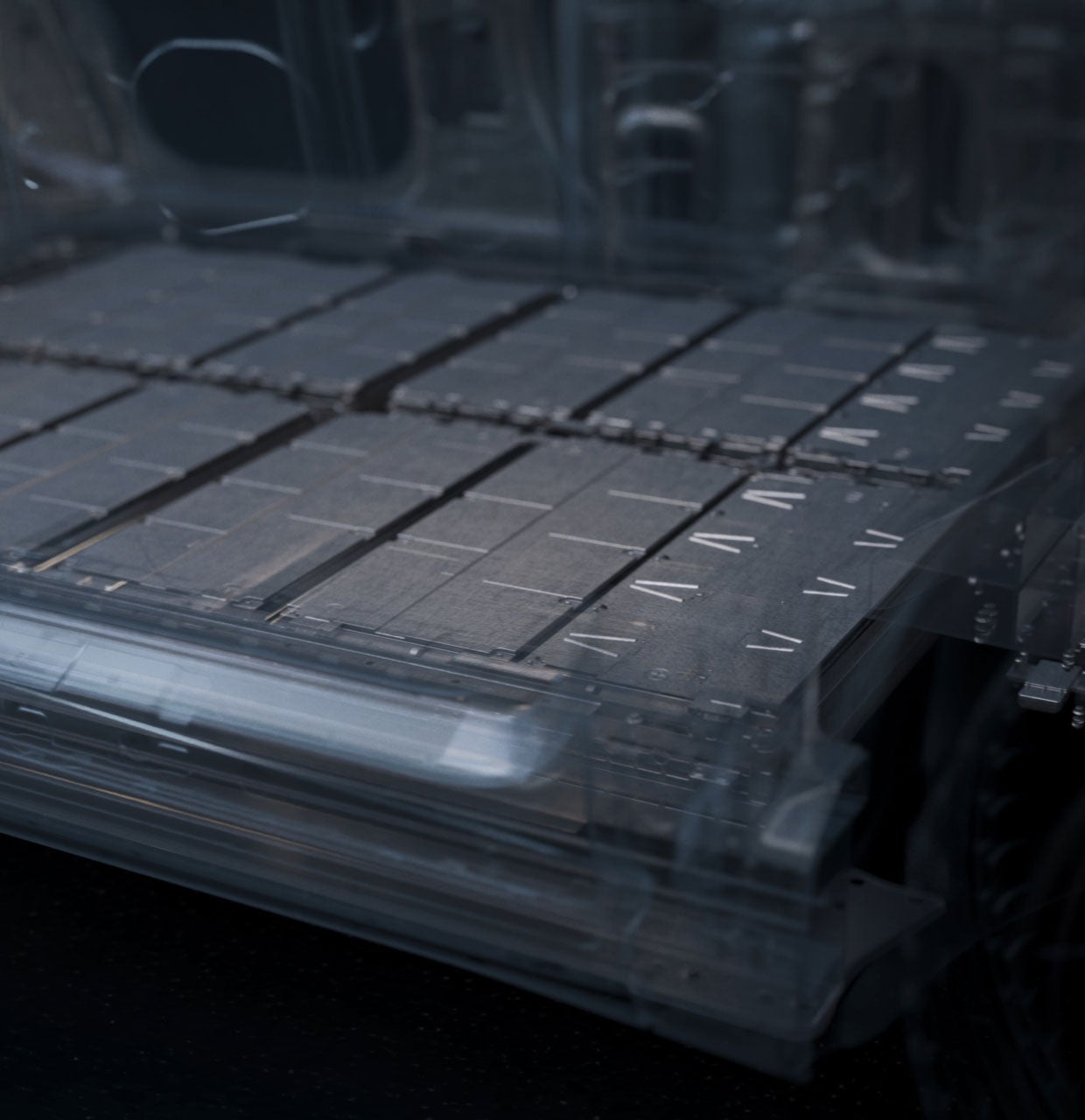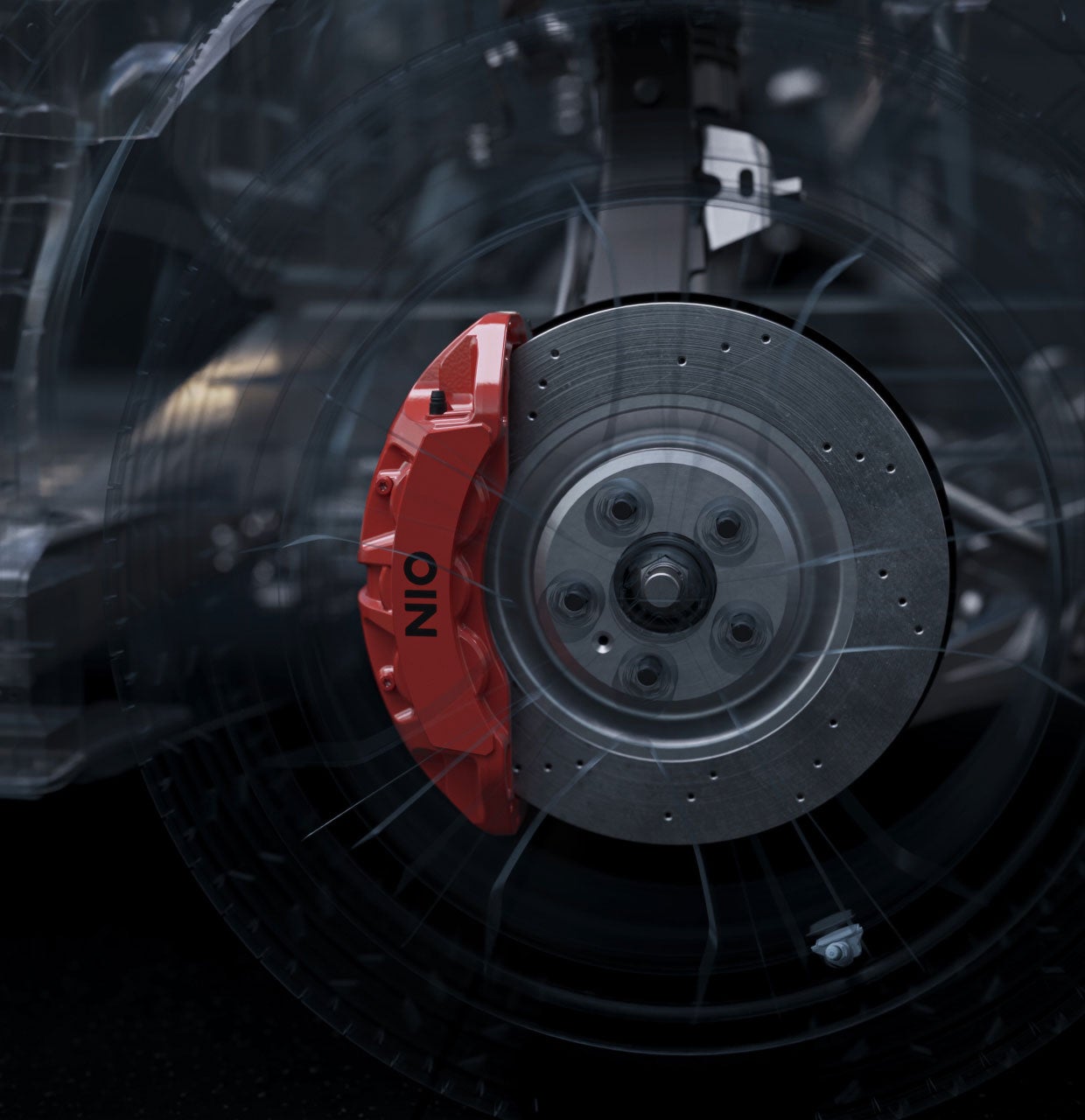 Brembo 6-Piston Calipers and 380mm Vented Brake Discs
Thermally stable: Floor the pedals to sprint from 0 to 135 km/h and then to a full stop. After 10 rounds, the braking performance is still robust. The vibrant Airglow Orange calipers match perfectly with different rim designs, illustrating passion and power.
Lightweight All-Aluminum Body
50:50 Weight Distribution Ratio
High-Performance Suspension
Engineered according to the five-star safety standards in China and Europe, the EC7 has an industry-leading body structure made of high-strength aluminum, boasting a torsional stiffness of 40,200Nm/deg.
Even weight distribution between the front and the rear axles makes its steady handling possible.
The double front wishbone and rear H-arm multi-link suspensions exclusive to luxury vehicles strike a balance between sportiness and comfort. In addition, air suspension with Continuous Damping Control and NIO's self-developed chassis controller make driving and riding fun.
Intelligent Four-Wheel Drive
10 Drive Modes
The EC7 supports 10 driving modes that cover all complicated driving scenarios and meet users' personalized driving demands.
Trailer
Exclusive tuning for towing scenarios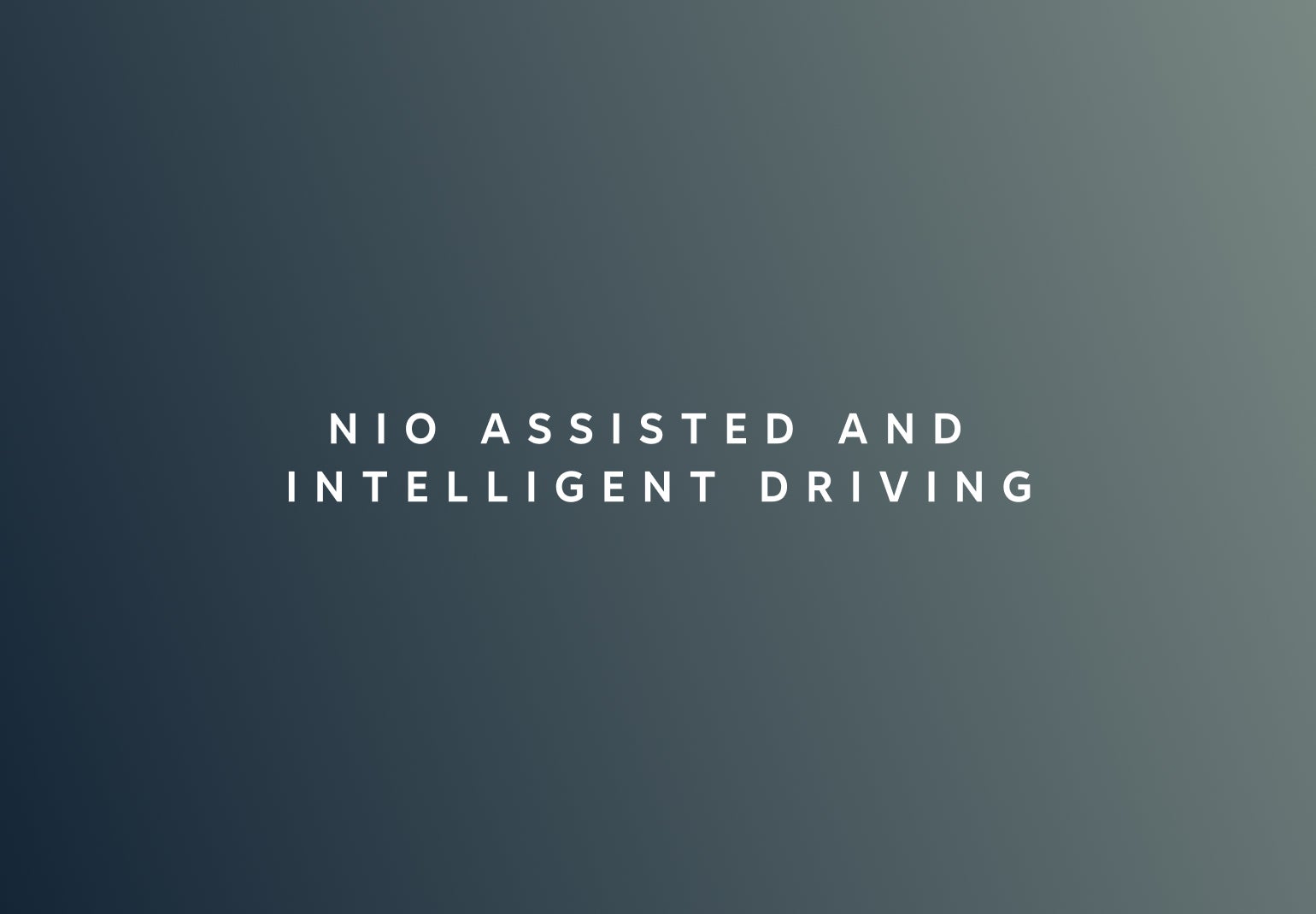 NIO Assisted and Intelligent Driving
Making cars a safe and free mobile living space is our vision. From maps and localization to perception and algorithms, from the low-level system to the control strategy, NIO Intelligent Driving is enabled by NIO's full-stack intelligent driving capabilities. It will gradually cover expressways, urban areas, parking, and battery swapping to free up time and reduce accidents for a safer and more relaxing intelligent driving experience from point A to point B.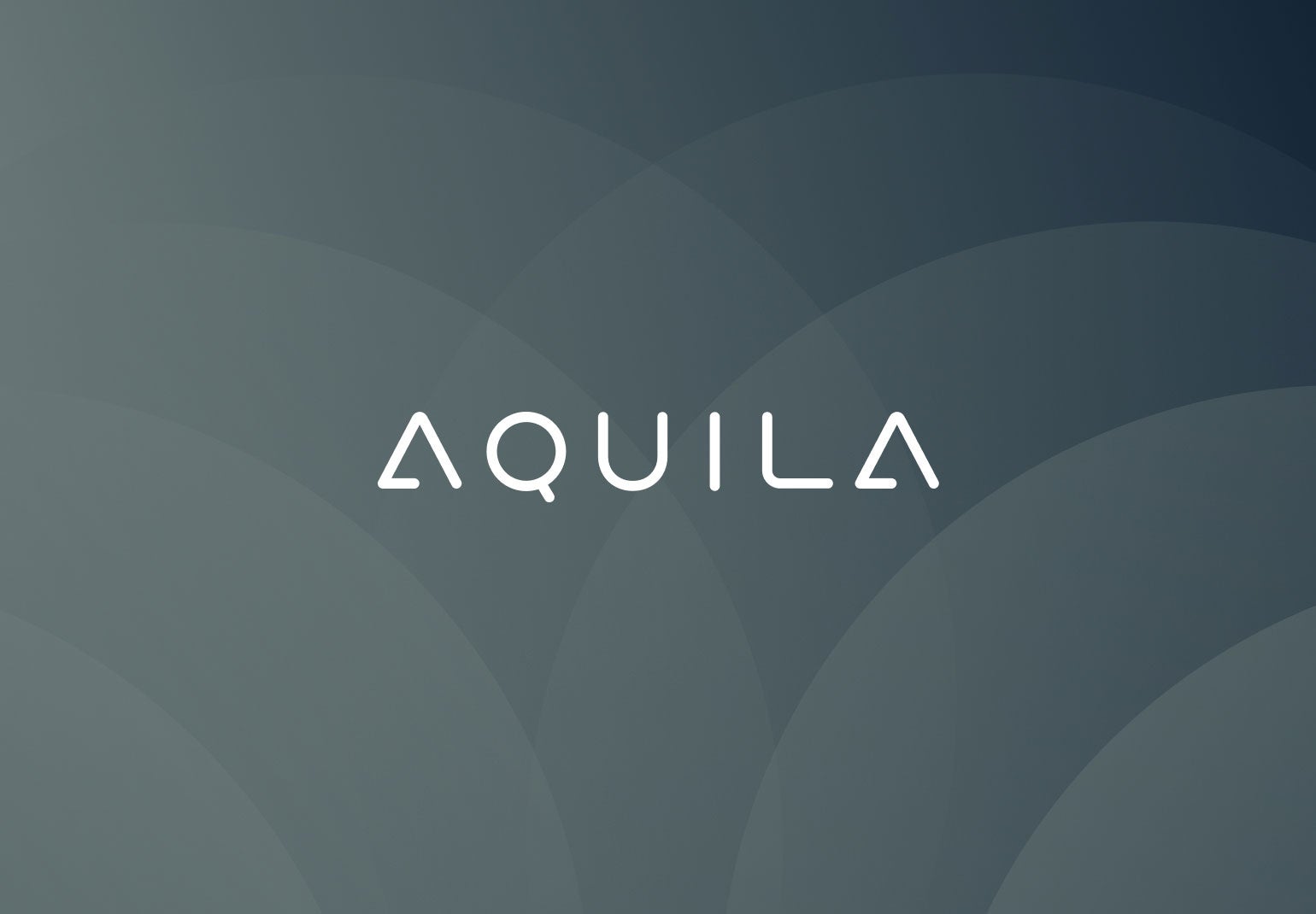 AQUILA
With 33 high-precision sensors, including a long-range, high-resolution LiDAR, seven 8MP high-resolution cameras, four 3MP enhanced cameras for surround view, one ADMS (Advanced Driver Monitoring System), five millimeter-wave radars, 12 ultrasonic sensors, redundant high-precision positioning units, and V2X, it realizes perception fusion. As a result, it redefines the standard of intelligent driving sensing systems on production models.
*1. The descriptions are based on the fully loaded version of the EC7. Due to version differences, some configurations may not be available on certain versions or may be provided as options.
*2. Some configurations are not standard and are available as options.NIO will constantly optimize the product and its feature. The products shown in promotional images, animations and videos are only in a status of non-final delivered products. The specific feature, function, color and material shall be subject to actual products on sale.
*3. Some features may not be available upon vehicle delivery. However, these features will be released over time via FOTA (firmware over-the-air) updates.
*4. The actual production vehicle may vary from the above-mentioned configurations and pictures. Therefore, information published upon order confirmation shall prevail.
*5. NIO Assisted and Intelligent Driving is designed to assist drivers in driving only. It cannot replace a human driver or handle all traffic, weather, and road conditions. The driver must pay close attention to the road and traffic conditions, hold the steering wheel and be prepared to take over the control of the vehicle at all times. In complicated traffic conditions, bad weather, or special road conditions, NIO Assisted and Intelligent Driving should be used with great caution.