Newsroom
Press Release
07/12/2023
NIO ET5 and EL7 Achieves Five-Star Rating in Euro NCAP
• NIO ET5 and EL7, both on sale in Europe now, are amongst safest vehicles in their classes
• NIO ET5 and NIO EL7 achieve outstanding performance with 2023 Euro NCAP testing standards
• Since the implementation of the new 2023 protocol, NIO became the first automotive brand to achieve a five-star safety rating
July 12, 2023 – The NIO ET5 smart electric mid-size sedan and NIO EL7 smart electric mid-large SUV have both been awarded the maximum five-star safety ratings in the latest 2023 Euro NCAP safety tests.
As one of the most authoritative safety testing organizations in the automotive industry, Euro NCAP has rigorous and comprehensive testing standards. The updated 2023 Euro NCAP protocols are much more stringent than ever before. More than 100 active safety scenarios have been added, including motorcycles as a road target type, which has greatly increased the complexity of road traffic scenarios. New vulnerable road user and passive safety tests, vehicle submergence and Advanced eCall tests have also been added to assessment protocols. Since the implementation of the new protocol, NIO became the first automotive brand to achieve a five-star safety rating.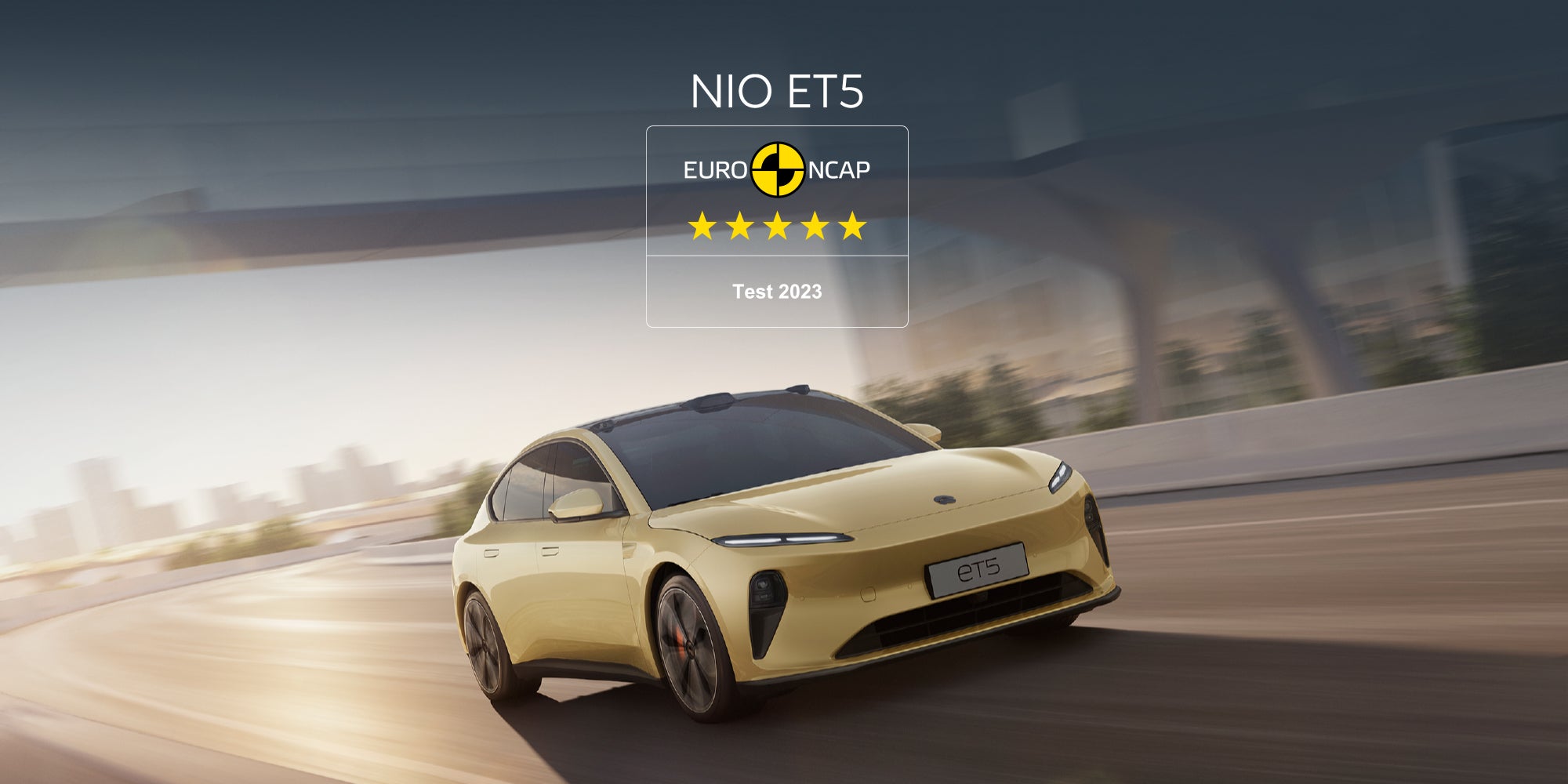 The NIO ET5 scored 96% in adult occupant safety, 85% in child occupant safety, 83% in vulnerable road user safety, and 81% in safety assist tests. Furthermore, it scored full marks in two lateral impact tests: the side mobile barrier and side pole tests.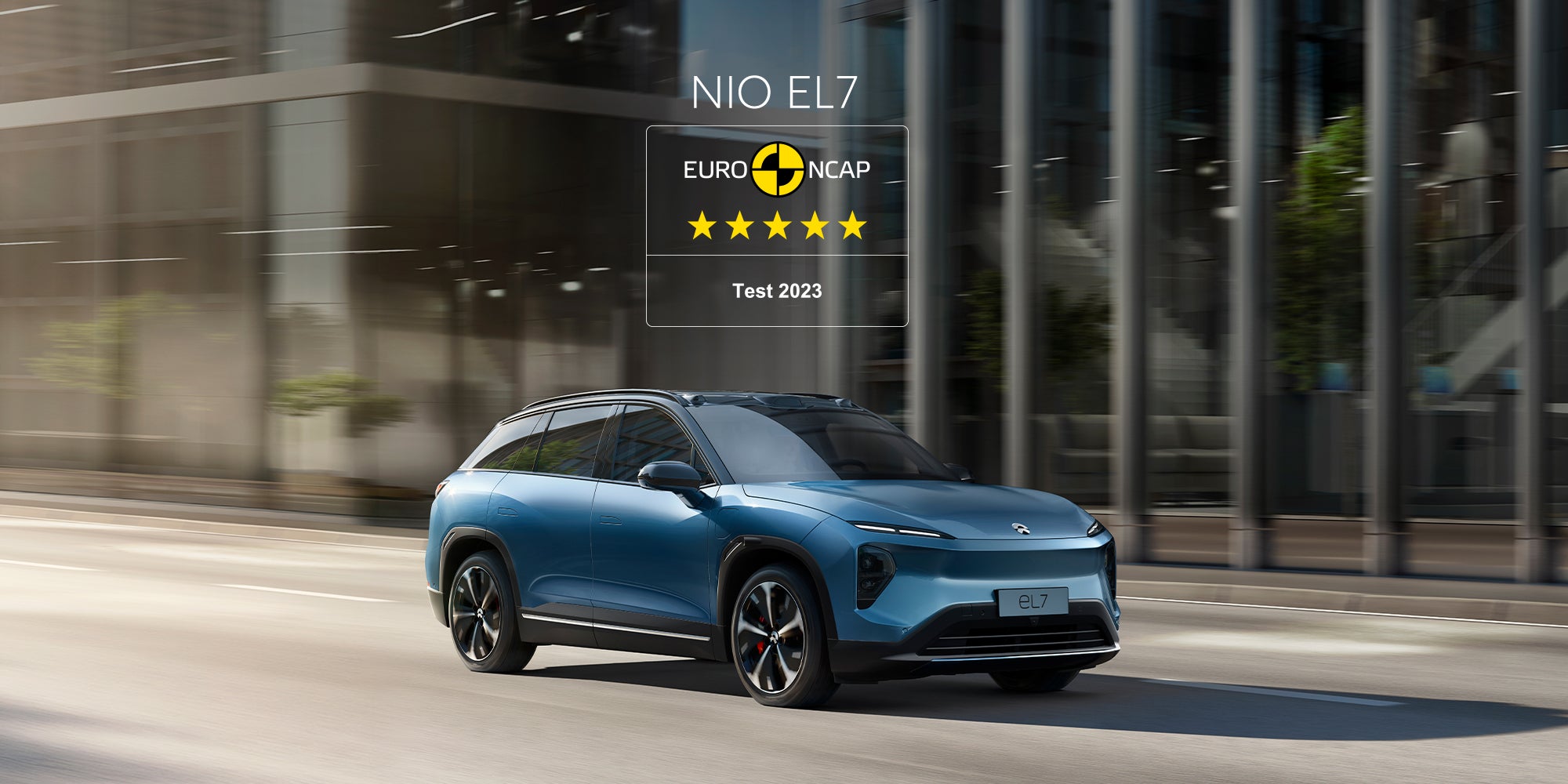 Meanwhile, the NIO EL7 scored 93% in adult occupant safety, 85% in child occupant safety, 80% in vulnerable road user safety, and 79% in safety assist tests. The EL7 earned full marks in three tests: frontal impact full width rigid barrier testing, and lateral impact side mobile barrier and side pole tests.
"Providing users with the utmost peace of mind is crucial for the NIO user experience," says Danilo Teobaldi, Principal Chief Engineer of Vehicle engineering at NIO. "We have invested in a powerful research and development capability that has enabled NIO to set high safety standards and strategies for our second-generation technology platform. This strength in R&D is the reason behind ET5 and EL7 being able to achieve the Euro NCAP five-star safety rating: every safety improvement is worth every effort."
Both NIO's ET5 and EL7 feature autonomous emergency braking (AEB) systems that performed well in tests with other vehicles and road users, demonstrating good or adequate performance in tests involving vulnerable road users, such as pedestrians, cyclists, and motorcycles. Both vehicles are also able to apply brakes after a collision to avoid a secondary impact.
Aligned with Euro NCAP's new flood testing, both the ET5 and EL7 can maintain door and window functions long enough for occupants to escape in the event of the vehicle being submerged.
About NIO Inc.
NIO is a global smart electric vehicle company. Founded on November 25, 2014, NIO's mission is to shape a joyful lifestyle by offering high-performance smart electric vehicles and ultimate user experience. NIO operates R&D centers and manufacturing facilities in Shanghai, Hefei, Beijing, Nanjing, Shenzhen, Hangzhou, San Jose, Munich, Oxford, Berlin, Budapest and Singapore, and has established sales and service networks in China, Norway, Germany, the Netherlands, Sweden, and Denmark, providing products and services to users in over 300 cities worldwide. By 2025, NIO plans to serve users in more than 25 countries and regions around the world.
In 2015, NIO Formula E team won the inaugural FIA Formula E Drivers' Championship. In 2016, NIO launched the EP9, one of the world's fastest electric vehicles. In 2017, NIO unveiled its vision car, EVE. On June 28, 2018, NIO began deliveries of the ES8, a 7-seater smart electric flagship SUV, in China. On September 12, 2018, NIO went public on NYSE. On March 10, 2022, NIO was listed on HKEX. On May 20, 2022, NIO was successfully listed on SGX.
NIO's lineup consists of the flagship smart electric SUV All-New ES8, flagship smart electric coupe SUV EC7, smart electric mid-to-large SUV ES7 (or EL7), flagship smart electric sedan ET7, versatile smart electric SUV All-New ES6 (or EL6), and smart electric sedan ET5, and smart electric tourer ET5T.
Media Contact:
Emma Hai