Newsroom
Press Release
06/15/2023
NIO Launches ET5T, the First Smart Electric Tourer
Shanghai, China June 15 - NIO officially launched its first smart electric tourer, ET5T. Designed with families in mind, the ET5T adds versatility, space, and practicality to the sporting character of its sedan variant, offering users a dynamic style as the world's first premium smart electric tourer.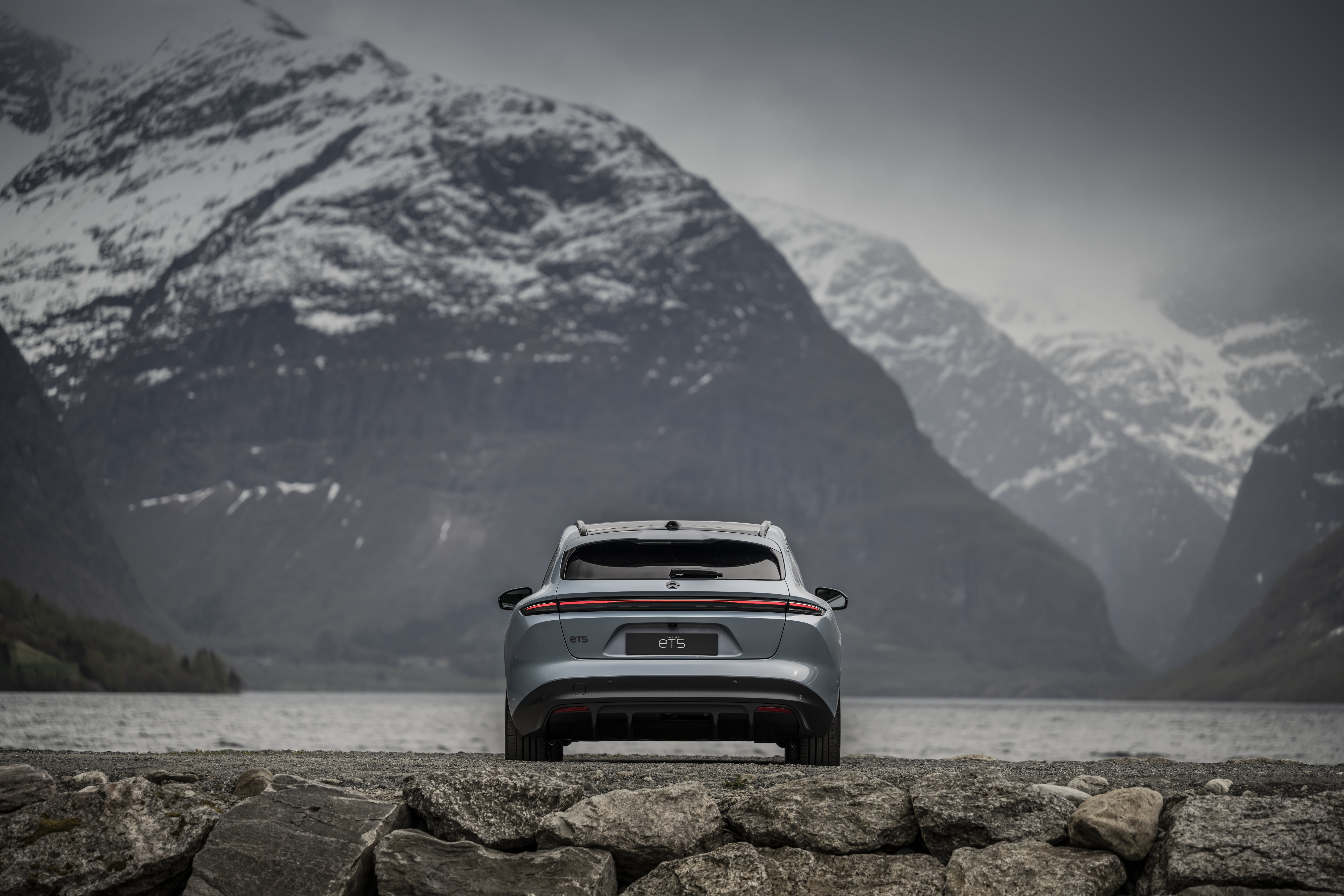 The ET5T features the second-generation design language of NIO, revealing a perfect proportion of a tourer. The hatchback design highlights its sensual and smooth profile, and sets off the dynamic and elegant body contour. The front Watchtower sensor layout seamlessly blends sensing units, such as the LiDAR and cameras, with the tourer's roofline. The ET5T measures 4,790 mm in length, 1,960 mm in width, and 1,499 mm in height, with a wheelbase of 2,888 mm. Based on the ET5 sedan, the rear of ET5T is extended, with the rooflines naturally connecting to the rear spoiler. The upwardness of the lower rear section gives the car a neat and balanced look, while the iconic rear spoiler and illumiBlade taillight makes this tourer unmistakably NIO.
The ET5T comes with a one-piece panoramic glass sunroof of 1.35m² with features of intelligent dimming, as well as protection from up to 99.99 percent of harmful UV rays and 80 percent isolation from heat.
The cockpit of the ET5T offers an immersive and cocooning experience to occupants with its wrap-around design. PanoCinema ensures an intelligent digital experience, featuring digital ambient lighting in 256*256 color combinations and 7.1.4 Surround Sound System. N-Box Enhanced Infotainment Console is offered, along with the optional NIO Air AR Glasses, bringing a private-cinema experience equivalent to watching a 201-inch screen positioned six meters away.
Thanks to its tourer styling and design, the ET5T has a spacious interior for its class. The longitudinal space of the front and rear seats reaches 1,857 mm. The design of the ET5T enables more space in the rear row, especially the headroom, while offering excellent functionality with 40:20:40 independent folding rear seats.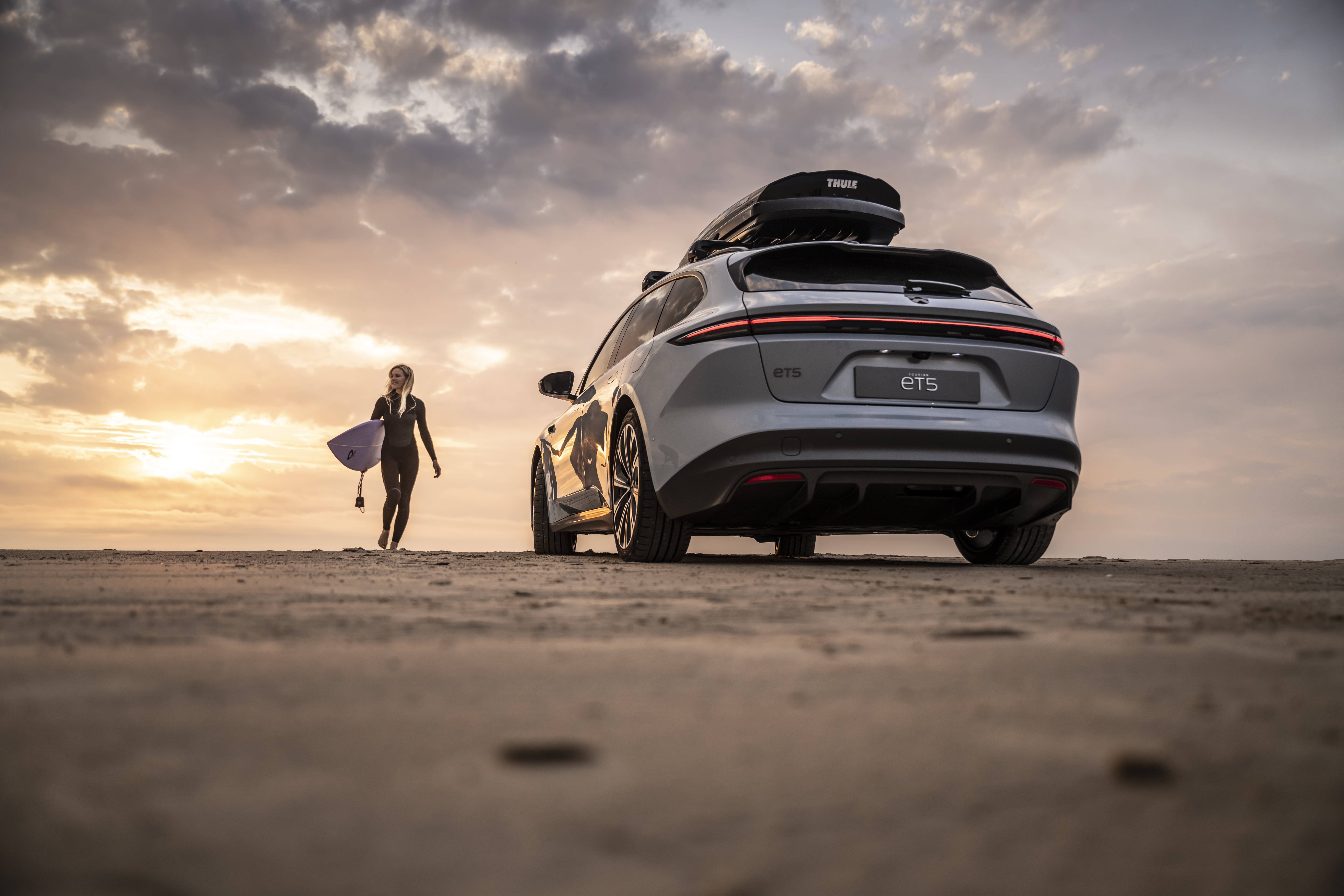 The ET5T comes with a versatile load area of 1,300 liters of total space. The trunk cover is designed to be flush with the sill for easy loading and unloading, and can be opened separately, providing an additional 42 liters of space, or be lowered to expand the cargo space vertically for taller items. The ET5T also comes with a variety of storage spaces for users to efficiently stow different items and make full use of the space, while offering expanded the exterior cargo space. The roof rails fit seamlessly into the car body, making it safe and easy to secure racks or roof boxes. With a low-profile look, it is practical enough to carry a maximum load of 75 kg.
Encompassing NIO's high-performance DNA, the ET5T features NIO's proven and powerful dual-motor all-wheel drive system and progressive aerodynamics (Cd0.25), and sprints from 0 to 100 km/h in just 4.0 seconds. The ET5T boasts perfect 50:50 weight distribution, while stability is assured through a 499mm low center of gravity. The advanced front and rear five-link suspension has been set up to ensure supreme control across a multitude of surfaces. The front and rear axles are equipped with Hydraulic Rebound Stop (HRS) system as standard to dampen the impact from the road while reducing the working noise of the suspension system, improving NVH quality, and balancing handling and comfort. NIO's proprietary high-performance four-piston fixed calipers cast in aluminum alloy, paired with high-performance NAO pads, realize a braking distance of 33.9 meters from 100 km/h to a full stop while effectively suppressing low-frequency noise.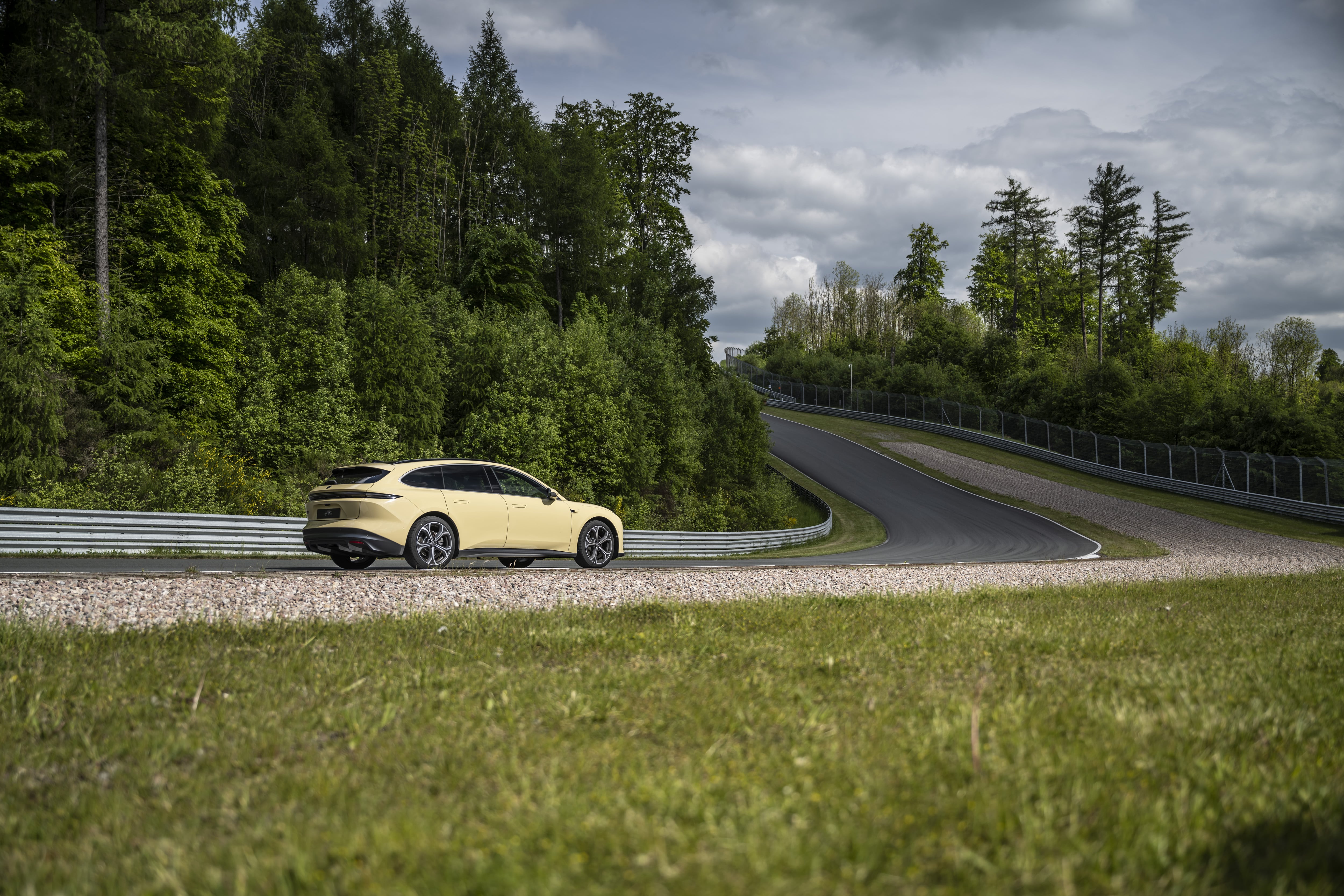 The ET5T is easy and fun to drive with its nine driving modes. In addition to the five basic modes of Eco, Comfort, Sport, Sport+, and Custom, the ET5T also offers four scenario modes, including Snow, Sand, Wet, and Trailer. These modes address all driving scenarios for users.
The ET5T features assisted and intelligent driving with NIO AQUILA Super Sensing, which contains 33 high-performance sensors. When combined with the ultralong range, high resolution LiDAR camera, it gives a supreme sense of the road and its surroundings. All ET5T models are powered by the NIO ADAM Super Computing, which features four NVIDIA DRIVE Orin X chips and 1,016 TOPS of computing power. For users, this translates into 23 safety and driver assistance features offered as standard, with more added regularly via over-the-air (OTA) software (SOTA) and firmware (FOTA) updates. With the Banyan 2.0 system, NIO products, services, and communities are all connected to bring a unique intelligent driving experience not found elsewhere.
Designed in compliance with the five-star safety standards in China and Europe, the ET5T boasts a high-strength steel and aluminum hybrid body and advanced processes, such as integrated die-cast aluminum rear floor, integrated hollow cast aluminum subframe, and aluminum extrusion sills, ensuring strength and safety while achieving a lighter weight. The vehicle's torsional stiffness is as high as 32,000 N·m/degree, placing it at the forefront of its class. Equipped with seven airbags, including a central airbag, the ET5T provides maximum protection for occupants.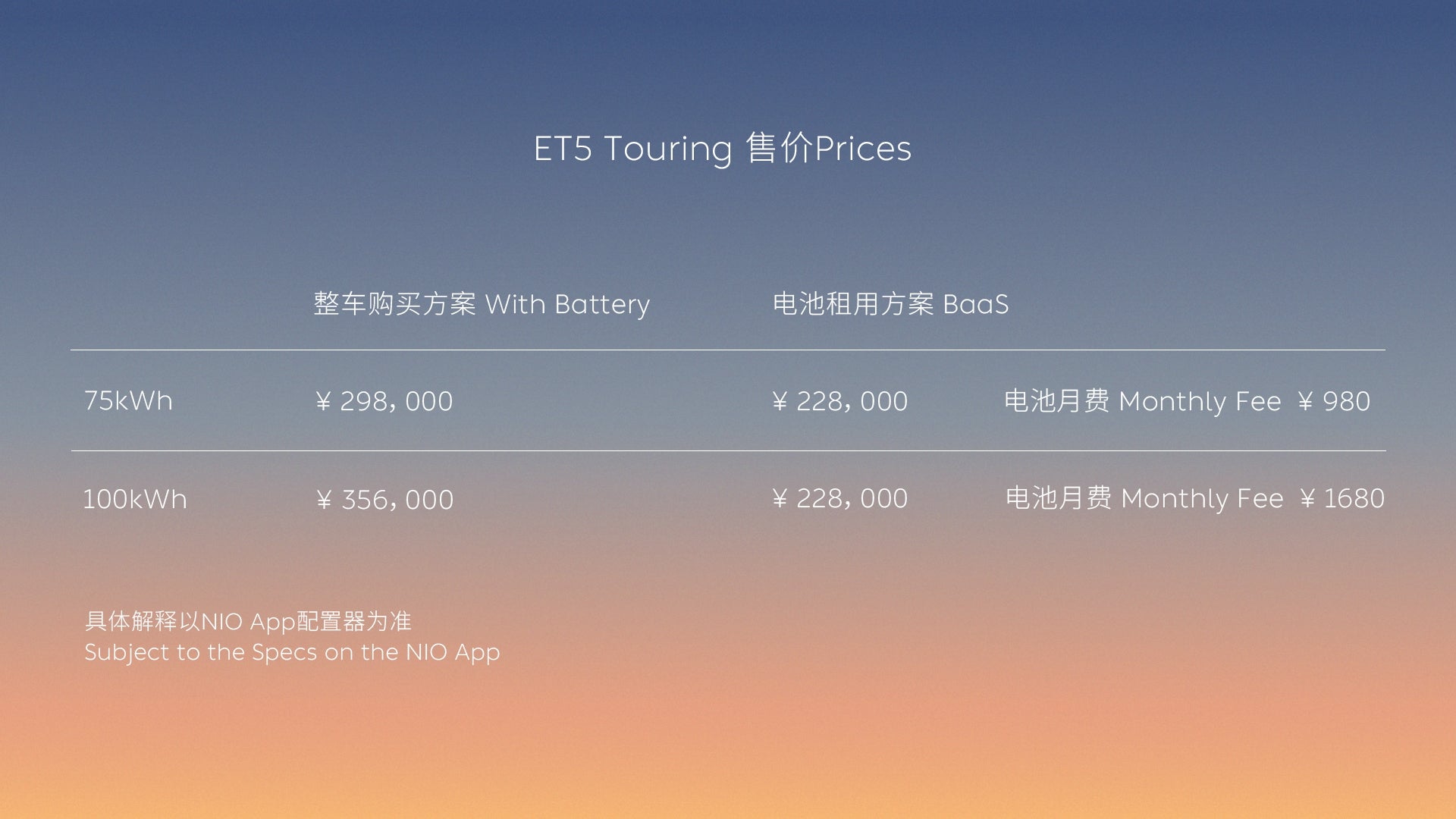 The ET5T comes with 10 exterior colors, including the NIO Color 2023 Sunlight Gold, and six interior themes. The price of the ET5T starts from RMB 298,000 with 75 kWh battery, RMB 356,000 with 100 kWh battery, and RMB 228,000 with BaaS (Battery as a Service) in China. The model is available for test drive and order now in China, with expected delivery time starting from June 16, 2023. NIO has also released the prices of the ET5T in European markets and announced that the start of deliveries will be in Q4 2023.
About NIO
NIO is a global smart electric vehicle company. Founded on November 25, 2014, NIO's mission is to shape a joyful lifestyle by offering high-performance smart electric vehicles and ultimate user experience. NIO operates R&D centers and manufacturing facilities in Shanghai, Hefei, Beijing, Nanjing, Shenzhen, Hangzhou, San Jose, Munich, Oxford, Berlin, Budapest and Singpore, and has established sales and service networks in China, Norway, Germany, the Netherlands, Sweden, and Denmark, providing products and services to users in over 300 cities worldwide.
In 2015, NIO Formula E team won the inaugural FIA Formula E Drivers' Championship. In 2016, NIO launched the EP9, one of the world's fastest electric vehicles. In 2017, NIO unveiled its vision car, EVE. On June 28, 2018, NIO began deliveries of the ES8, a 7-seater smart electric flagship SUV, in China. On September 12, 2018, NIO went public on NYSE. On March 10, 2022, NIO was listed on HKEX. On May 20, 2022, NIO was successfully listed on SGX.
Media Contact:
Emma Hai