Newsroom
Press Release
10/26/2023
The 2,000th NIO Power Swap Station Achieved in China on the Silk Road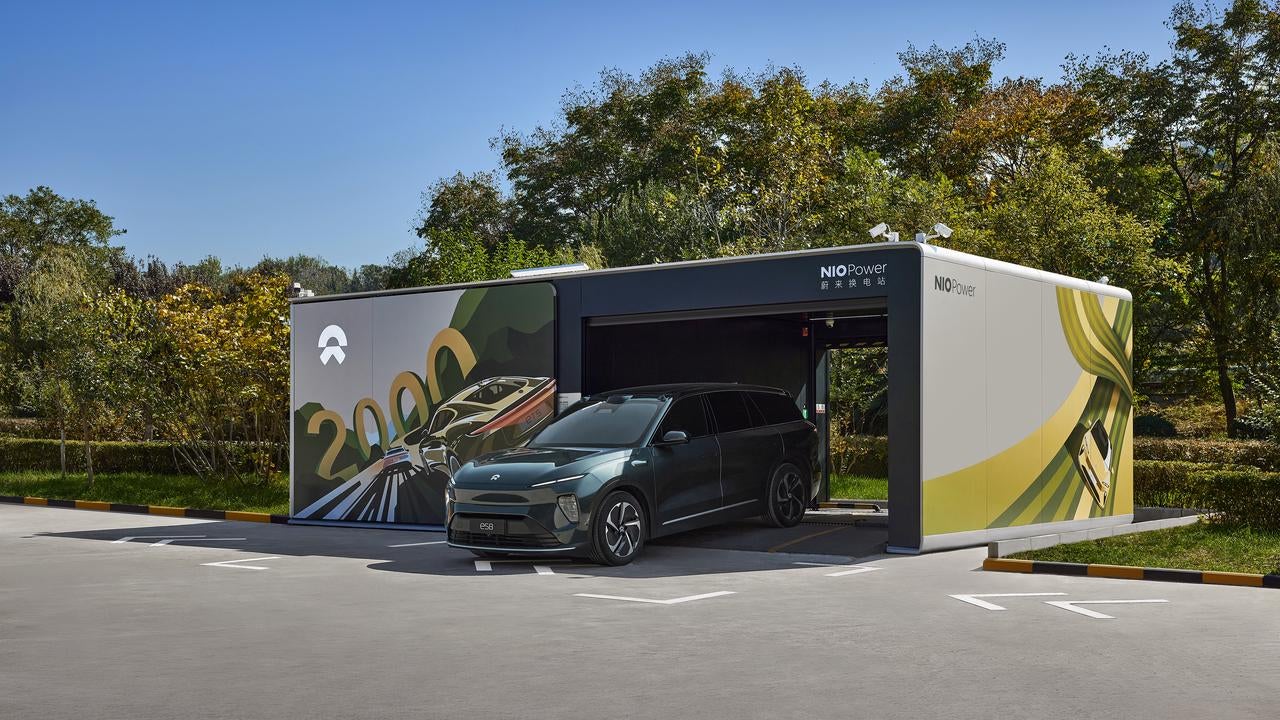 October 26, 2023 Baoji, China - The 2,000th Power Swap Station of NIO opened in the Baoji West Service Area on the G30 Lianyungang-Khorgos Expressway, which is known as the extention of the old Silk Road in China. On this route, the NIO Power network supports its users to travel from Lianyungang, located on the east coast of China, all the way to Tianshui in the western province Gansu with battery swapping.
At the beginning of 2023, NIO announced that it will build 1,000 new Power Swap Stations in China. Now with the completion of the 1,999th in Macau on October 25th and the 2000th, NIO is moving forward with full determination to its goal of building 2,300 Power Swap Stations by the end of this year.
Among the Power Swap Stations built in China, 601 are adjacent to expressways that connect 26 provinces in China. In megacities such as Shanghai and Shenzhen, more than 90% of local NIO users have access to at least one Power Swap Station within 3 kilometers of their residences.
"We are proud to see that NIO has performed nearly 31 million power swap operations for users or nearly 60,000 operations per day on average, which means that every 1.4 seconds, a car departs from a Power Swap Station with its battery fully charged.", says Dr. Fei Shen, Senior Vice President of NIO Power. "NIO will keep building Power Swap Stations to make recharging beyond refueling. With our rechargeable, swappable, and upgradable power system, we support users to travel in smart EVs without worrying about the distances to their destinations."
NIO has deployed 2,000 Power Swap Stations in China, 3281 charging stations, and 19098 chargers in addition to access to over 940,000 third-party charger. In Europe, NIO has 27 Power Swap Stations, 11 Power Charger Stations, and over 500,000 third-party chargers.
About NIO
NIO is a global smart electric vehicle company. Founded on November 25, 2014, NIO's mission is to shape a joyful lifestyle by offering high-performance smart electric vehicles and ultimate user experience. NIO operates R&D centers and manufacturing facilities in Shanghai, Hefei, Beijing, Nanjing, Shenzhen, Hangzhou, San Jose, Munich, Oxford, Berlin, Budapest and Singapore, and has established sales and service networks in China, Norway, Germany, the Netherlands, Sweden, and Denmark, providing products and services to users in over 300 cities worldwide. By 2025, NIO plans to serve users in more than 25 countries and regions around the world.
In 2015, NIO Formula E team won the inaugural FIA Formula E Drivers' Championship. In 2016, NIO launched the EP9, one of the world's fastest electric vehicles. In 2017, NIO unveiled its vision car, EVE. On June 28, 2018, NIO began deliveries of the ES8, a 7-seater smart electric flagship SUV, in China. On September 12, 2018, NIO went public on NYSE. On March 10, 2022, NIO was listed on HKEX. On May 20, 2022, NIO was successfully listed on SGX.
NIO's lineup consists of the flagship smart electric SUV All-New ES8, flagship smart electric coupe SUV EC7, smart electric mid-to-large SUV ES7 (or EL7), flagship smart electric sedan ET7, versatile smart electric SUV All-New ES6 (or EL6), smart electric coupe SUV All-New EC6, smart electric sedan ET5, and smart electric tourer ET5T.
Media Contact:
Emma Hai