Newsroom
Press Release
01/07/2017
NextEV NIO Formula E Team: Las Vegas Virtual eRace Report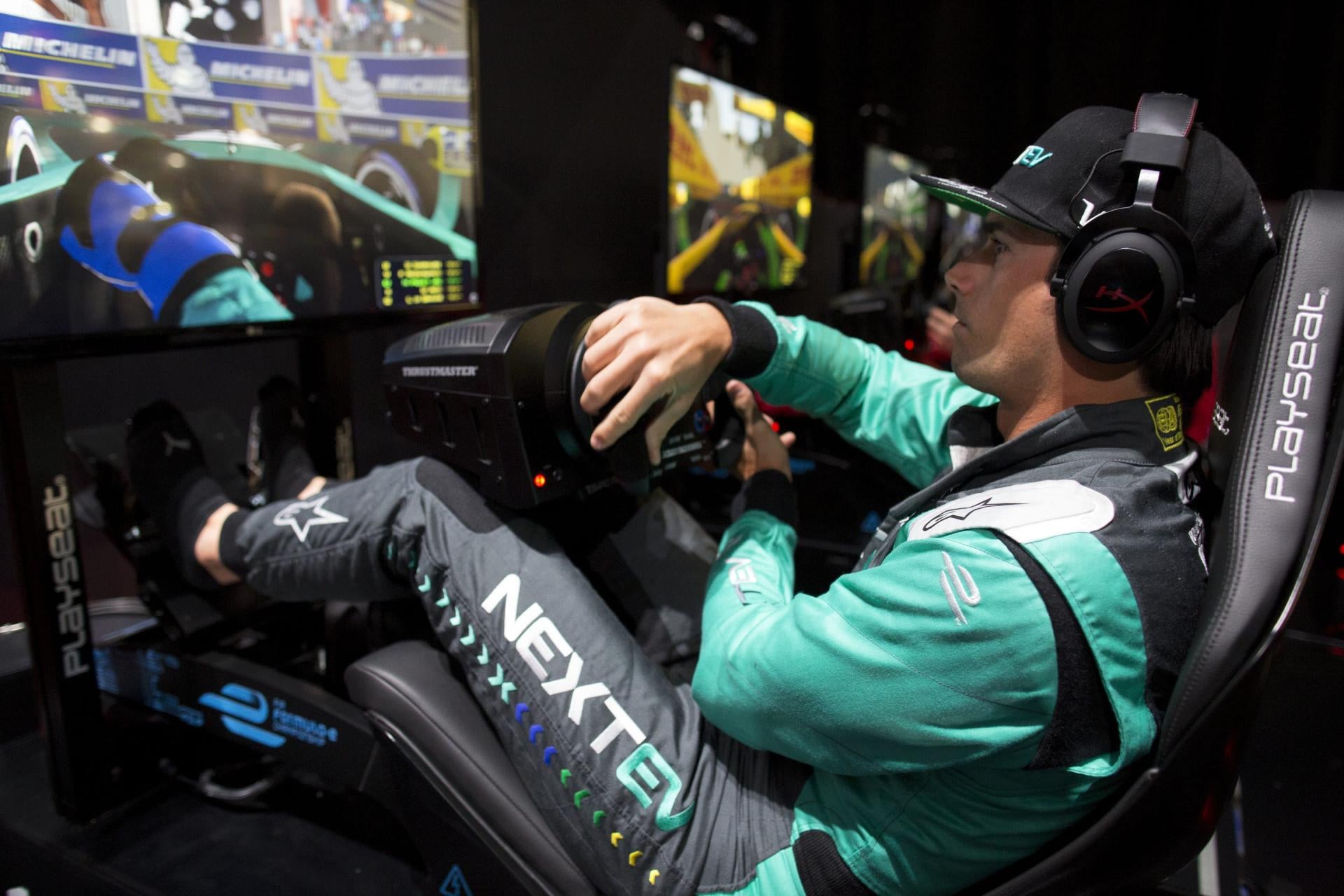 The NextEV NIO Formula E Team picked up $62,500 in winnings today at the Las Vegas eRace as Nelson Piquet Jr, Oliver Turvey and gamer Petar Brljak competed in the groundbreaking virtual race with a $1million prize fund – the biggest pot in eSports history. In the race, which was held as a key feature of CES, Nelson finished in 10th position while Oliver and Petar retired from the qualifying race.  
All 20 Formula E drivers competed in the event, which was held virtually on high tech racing simulators. They competed against ten elite sim racers, one of which, Petar Brjljak, raced in the NextEV NIO FE Team colours. Drivers raced on a specially designed 3.14km, anti-clockwise, 20 corner virtual track which snaked its way around Las Vegas, seeing the racers drive past locations such as the New York New York, Luxor and MGM Grand hotels.
It was a highly competitive day of action, with Formula E drivers keen to be competitive against the professional sim racers. In qualifying, the top ten automatically progressed to the feature race; that comprised of nine professional sim racers and Felix Rosenqvist representing Formula E. For NextEV NIO, Nelson qualified in 14th, Oliver in 27th and Petar in 29th, meaning they all went on to fight it out in the qualifying race for the final ten positions available in the feature race.
In the 14-lap qualifying race, Nelson started 4th, Oliver 17th and Petar 19th. The sprint event saw Nelson move up to third on the first lap but Oliver and Petar both retired from the race on the opening corner after a multi-car accident. It was then down to Nelson as the sole competitor remaining for NextEV NIO to fight to progress to the feature race. On lap two he moved back into fourth behind Robin Frijns and maintained position well through the race, finishing in fourth. That meant he set himself up for a seventh row start in the feature race from 14th.  
On the first lap of the 20-lap feature race, Nelson initially dropped to 17th but, by lap 7, he was back up into 14th. On lap 11 three of the leading professional sim racers crashed heavily, with one retiring and two forced into the pits for repairs. Once all drivers had made their mandatory pitstops, Nelson was running in 11th. With four laps to go he overtook Sebastien Buemi to enter the top ten, and took the chequered flag in 10th. With five professional sim racers also finishing in the top ten, Nelson was fifth of the Formula E racers, with Felix Rosenqvist, Jose Mario Lopez, Sam Bird and Daniel Abt ahead.
Nelson Piquet Jr (Car #3), 10th: "The race was okay. I played it safe as I knew it would be a long race and, if you make a mistake, the car damages pretty easily so you have to be cautious. We were not the quickest out there but I did the best I could and it was not a bad result. It was fun, the drivers all took it quite seriously which you could tell from the way everyone was pretty nervous! Felix did an amazing job representing us Formula E drivers to finish on the podium in an event that is out of our comfort zone. Overall it was a challenging, fun event that I think could really work in the long term."
Oliver Turvey (Car #88), DNF: "I had a really good start in the qualifying race, making up three positions but then I was pushed into the wall which took the front wheel off, so it was disappointing as it ended my race early. Formula E put on a really incredible event in Las Vegas, it was something very new for most of us Formula E drivers and the professional sim racers obviously were very strong. I can't wait to get back in the real car though in Buenos Aires next month!"
Petar Brljak (Car #68), DNF: "Unfortunately it was a bad day. It started out well but then I had an accident in qualifying and then on the first corner of the qualifying race I was involved in the same pile up as Oliver and my race was over. I was a little disappointed but I have had a great time and the event has been really enjoyable."