Newsroom
Press Release
09/30/2022
NIO Publishes its 2021 ESG Report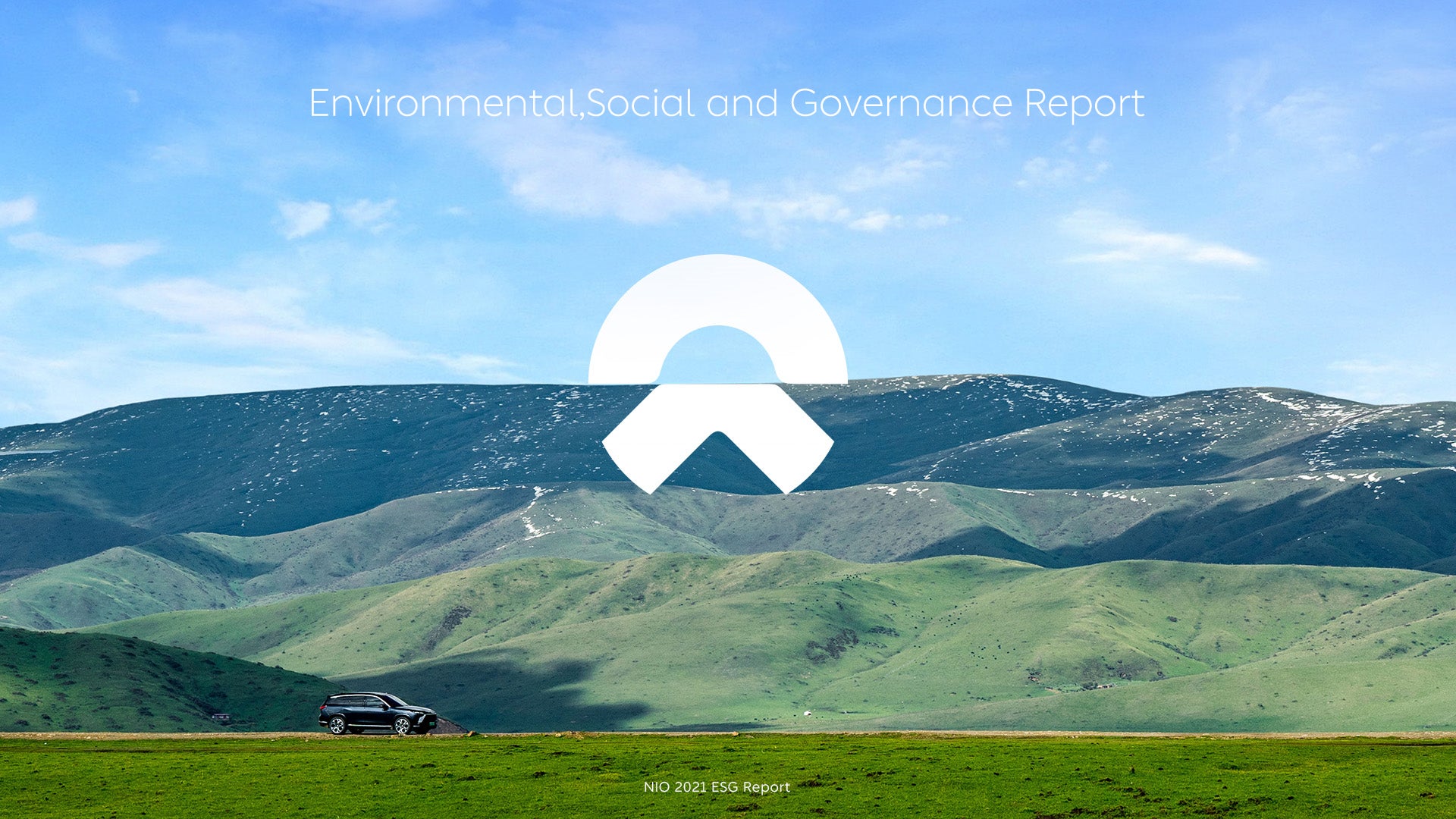 September 30, Shanghai - NIO officially published its 2021 Environmental, Social and Governance (ESG) Report, which demonstrates NIO's management, practices and performance in the areas of environment, society and corporate governance in 2021.
Blue sky
NIO has placed great emphasis on low-carbon development, ecological conservation and environmental stewardship, and has been committed to building a green industry chain covering the full lifecycle of products, practicing the philosophy of sustainable development and building green ecological systems together with upstream and downstream partners.
With the product development concept of "design for sustainability" in mind, NIO has developed green manufacturing process, low-carbon logistics and power service system, and eco-friendly office operations. In 2021, NIO's newly delivered vehicles had lowered the carbon emissions per mileage by 25% as opposed to comparable ICE vehicles, and the total carbon emissions reduction over the year hit 1.08 million tons.
Technological innovations serve as an important means for NIO to lower the carbon emissions over the full product lifecycle. For example, NIO has adhered to developing and producing electric drive system (EDS) independently since its inception. The application of silicon carbide module in the new generation of high-performance EDS carried by NIO's ET7 has reduced the comprehensive loss of the power electronic unit (PEU) by around 4% to 6%; NIO has expanded the utilization of low-carbon materials, worked with partners to develop and mass-produce renewable materials like Clean+ eco-friendly fabrics, and reduced carbon footprints by over 30% during the manufacturing process; NIO has also continuously deployed its battery charging and swapping network, improved its power service system and innovated user-end carbon reduction modes such as off-peak charging and V2G model, thus passing on the value of low-carbon actions.
In addition, NIO has launched Clean Parks, a joint ecosystem building initiative, so as to secure the authenticity and integrity of ecosystems.
Provide experiences beyond expectations
NIO has devoted itself to providing experiences beyond expectations. It has focused on the closed loop management of product experience lifecycle, conducted continuous innovations on vehicle and relevant products, e-powertrain (battery pack, electric motor and power electronic unit), smart systems and services in a bid to improve system efficiency, develop core competitiveness and bolster user experiences to a higher level of satisfactions.
In terms of product quality, NIO had obtained the ISO 9001 Quality Management System Certification, IATF 16949 Certification, as well as five product certifications for its ES8 including the European Whole Vehicle Type Approval (EWVTA) . In respect to safety, the EC6 had received the best safety rating in 2020 by the China Insurance Automotive Safety Index (CIASI) and the ES8 had acquired five-star rating by both China NCAP and Euro NCAP.
In order to build a partner system of high quality, NIO has introduced the NIO Quality Premium Partner (NQPP) system, the first partner quality certification system in the EV industry. In 2021, the audits performed by NIO covered 100% of its tier-1 partners.
As for user service, NIO has given full play to the business-to-consumer model and directly served its users. While establishing a transparent price system, NIO has also set up a standardized service process for all manner of user scenarios and touchpoints by virtue of big data and machine learning. In 2021, NIO's user satisfaction rate achieved 4.88 (on a 5-point scale).
Shape a joyful lifestyle
NIO aims to develop a community starting with vehicles where it can share joy and grow together with users, and hopes to make contributions to and create values for the society.
NIO treats users as its friends by providing them with abundant growth opportunities and resources and organizing a variety of activities in the fields of music, sports, tourism and the like, so as to continuously deepen its connection with users and advance the co-creation between the enterprise and users. By the end of the reporting period. NIO had welcomed more than 6,100 user volunteers who participated in gallery events, vehicle deliveries, auto shows, NIO Day, etc.
Building on its user service system and resource integration competence, NIO has collaborated with users in creating unique public interest programs and social activities. For example, as of the end of the reporting period, NIO Users Trust had set up a total budget of over RMB 10 million for projects related to user care, social good and joint growth. Specifically, 2,886 users in the community took part in the social good project, directly supporting and helping 1,392 people.
Create a value-driven organization
NIO upholds the values of honesty, care, vision and action, attaches importance to talent management, refines the talent training and incentive system constantly and fosters a diverse and inclusive corporate culture, thereby growing together with all employees.
NIO has always placed the development of diversified and global talents high on the agenda. As of the end of the reporting period, NIO had over 15,000 employees from more than 20 countries and regions.
With regard to employee growth, NIO has focused on value creation and assessment by establishing Vision, Action and Upgrade (VAU), a self-driven objective and process management tool, Value Indicator (VI) and Enabler Indicator (EI). In 2021, NIO had carried out 450 training sessions empowering 14,467 employees. Besides, NIO had cultivated nearly 1,700 value-driven managers via its unique NIO Career Path (NCP) over the same period.
NIO recognizes the value of every employee. Since day one, NIO's stock ownership plan has covered 100% of its employees every year.
In 2021, NIO's employee satisfaction rate reached 4.09 (on a 5-point scale).
Build a highly efficient governance framework
NIO has been committed to principles of accountability, transparency, self-reliance, conscientiousness, fairness and justice, kept improving the company governance system, built ESG governance framework and delivered on a high standard of business conducts, with a view to providing a springboard for its sustainable development.
NIO has enhanced the philosophy of sustainable development with the Nomination and Environmental, Social and Governance (ESG) Committee set up to monitor and manage NIO's ESG-related strategies, policies and practices, to report to the board of directors and ensure the consistency between ESG affairs and company roadmaps.
Click to see the full report:https://www.nio.com/esg