Newsroom
Blog
NIO App: The Highest-Ranking Vehicle Smart Application in China
24 februari 2021 by NIO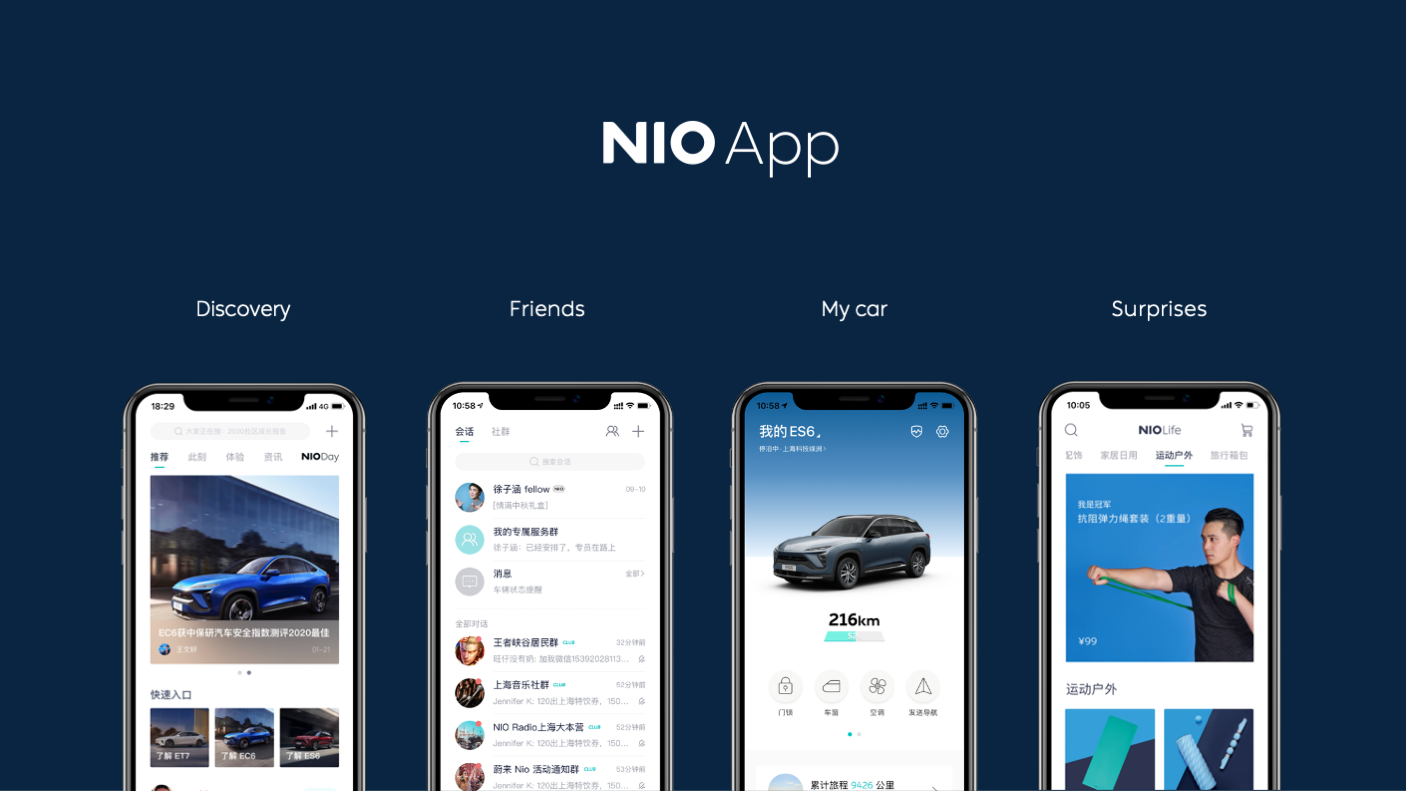 At NIO, we always put our users as the top priority to provide a unique, comfortable, and high-quality user experience to shape a joyful lifestyle for all users. 
Recently, NIO App has ranked NO.1 with the highest score of 4.5 stars on the list among 20 other mainstream automakers.  
NIO conducted extensive research on the purchasing experience. NIO App familiarizes potential users with NIO. It also allows users to share their experiences with the car and in our NIO Houses.  You don't have to be a registered NIO user to log in. You can still browse our content and engage with others within the application. This all-in-one model makes it easier for everyone, including NIO and non-NIO users.
Within the NIO application, there are five primary functions: 
Up-to-date NIO news shared by NIO users, NIO staff, and even our beloved Founder and CEO, William Li. 
The ability to chat on-line in real-time with other NIO users or NIO employees. 
The ability to schedule a test drive, customize, and purchase a vehicle. 
Request any maintenance or NIOPower service. For instance, if your car's battery is low, you can tap the App to summon the NIOPower service vehicle to come to you. The same holds for our NIO Service option.
NIO Life. NIO has merchandise offered to passionate NIO fans. We offer specialty athleisure wear through partnerships with premier designers, elegant home and household goods, epicurean delights from cakes/cookies to other savory snacks, and premium wines in collaboration with Shanghai wine exchange. 
We expect to continue investing heavily into what we believe - offering the latest, best, and innovative technology to the users. And NIO application is one of the key elements that bring all NIO lovers together as a community. We will continue to listen to the feedback from our users and make improvements.