Newsroom
Blog
NIO recognized by Automotive News PACE Awards
10 april 2019 by NIO
We're excited to share that NIO was a finalist for the 2019 Automotive News PACE Award for the Interior User Experience in both the NIO ES8 and ES6. NIO additionally won an Automotive News PACE Innovation Partnership Awards for working with Flex to develop the multicomponent interior environment.
The PACE Awards program, celebrating its 25th anniversary, recognizes automakers and suppliers for making a product or process innovation and delivering it to the market. Members of our team attended the black-tie ceremony at the Max M. and Marjorie S. Fisher Music Center in Detroit.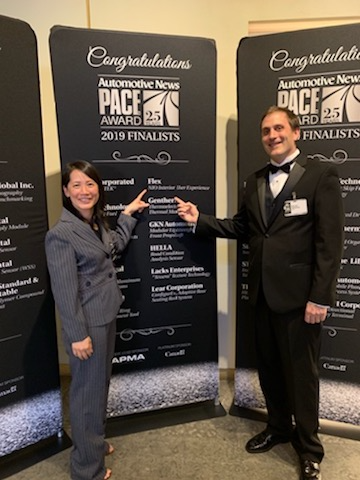 NIO's Interior User Experience integrates three revolutionary products to enhance a vehicle's interior- the Intelligent Overhead Console (iOHC™), the first overhead console to integrate a camera monitoring system; Airbender, an advanced cockpit domain controller, and NOMI, the world's first in-vehicle artificial intelligent system. The Interior User Experience has been integrated into the NIO ES8- a seven seater high-performance electric SUV currently in production, and the ES6-a high performance, long-range intelligent electric SUV launched in December 2018. NIO has delivered 15,337 ES8s by the end of Q1 2019. 
The annual innovation awards are judged by an independent panel of industry experts who review new auto industry technologies from around the world. Creating a new technology or product improvement in a laboratory is only the first test in qualifying for a PACE Award. The innovation must also be brought to market. We are honored by this recognition and celebrate the teams that made this possible.