Paula Kutansky-Brown, NIO U.S. General Counsel, Honored at The WIPL 2020 Awards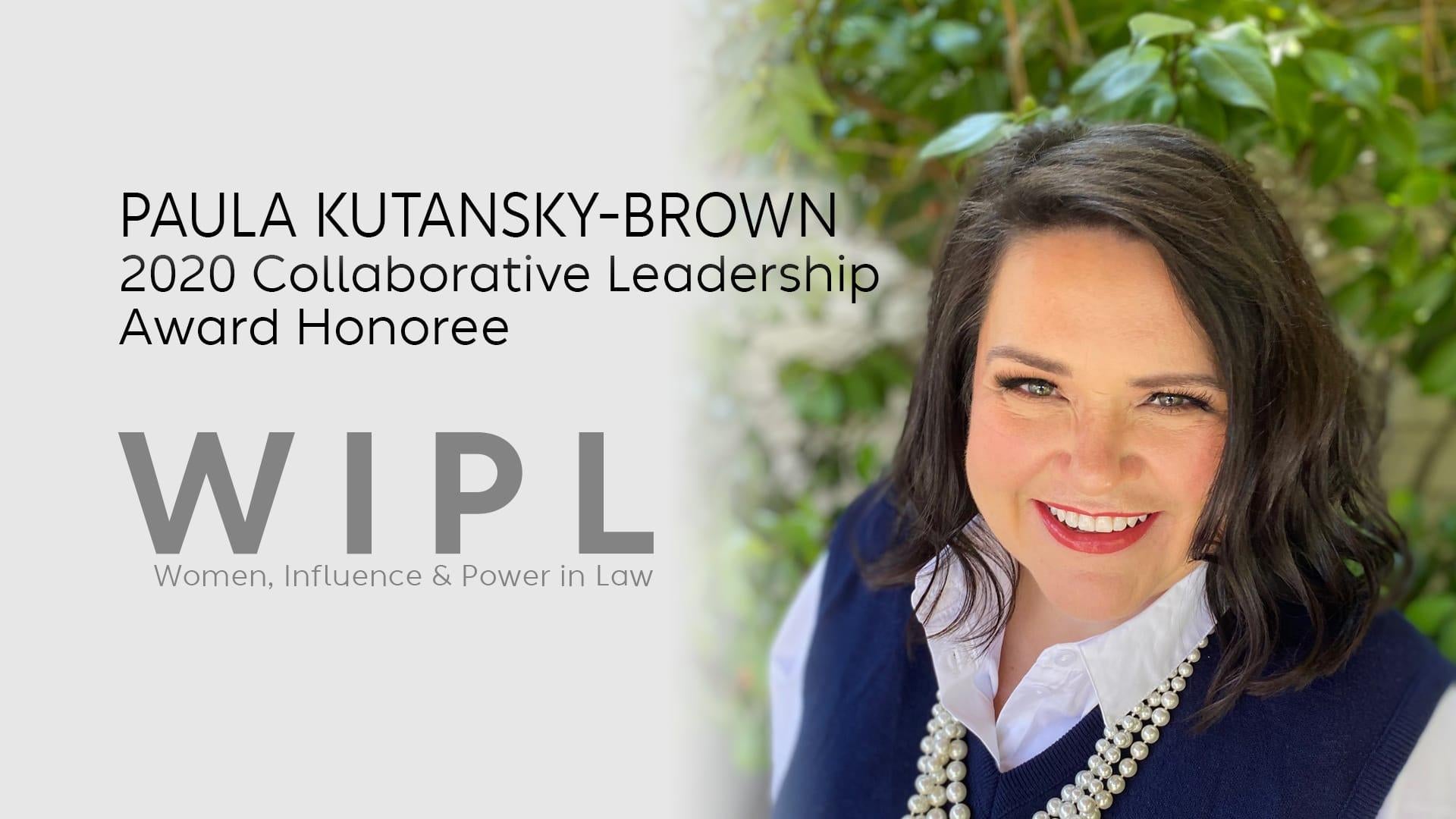 We are honored to announce that Paula Kutansky-Brown, NIO U.S.'s General Counsel, has been selected as one of the 2020 Women, Influence & Power in Law (WIPL) Awards honorees by Corporate Counsel in the Leadership Awards: Collaborative Leadership category.
"I'm honored and humbled to be recognized by Corporate Counsel as an attorney demonstrating Collaborative Leadership, and I know that that leadership, and this recognition, are only possible because I have smart, dedicated and passionate colleagues and coworkers with whom I can collaborate.  I always say that I like to begin with "yes" and then figure out how to get there legally and ethically – that philosophy only works when you can collaborate with key stakeholders on identifying the right solution and the right approach.  "Collaboration" is more than a trite corporate buzzword, it is the foundation to all successes, the necessary ingredient to all innovative achievements, and the element of fun and comradery that makes work a joyful experience."
The WIPL Awards 2020 honors top women lawyers who have made a remarkable difference in the legal profession -- whether in shaping the law, achieving outsized results for their clients, being an outstanding jurist or assisting those in need of legal services.
In many ways, more important than what Paula does is how she does it.  Paula helps guide the Leadership Team, Managers, and employees at all levels in a way that makes everyone feel respected, heard, valued, supported, and comforted.  Paula takes the "Counsel" in her title of "General Counsel" to heart, and strives to provide thoughtful, pragmatic, reasoned, positive and encouraging counsel to all who seek and/or need it.  Employees at all levels seek her out for guidance on legal and business issues, but also for support through personal struggles, ebbs in motivation, and crisis of spirit.  Paula approaches each interaction with an open heart, a ready mind, and a desire to be of service.  In conflicts, she seeks to understand rather than to be right, which makes her a sought-after resource, confidant, colleague and friend.
Paula helped to resurrect and fortify our NIO Women organization, whose mission is to create bold change by providing a platform for women to develop, advocate, support and lead.  Paula also began a weekly communication to employees distributed through our Managing Director, which keeps employees informed and encouraged while working apart during the current shelter-in-place.
Again, while Paula implements projects supporting continuous improvement, what makes her unique is the personality, character, energy, and spirit with which she approaches every task.  Employees often seek Paula out simply to spend a few moments talking to her, after which they feel lifted, invigorated, helped and encouraged - and that kind of employee is invaluable to any organization.
Paula Kutansky-Brown is the General Counsel of NIO US. With over 15 years of experience in the legal field, she partners with NIO's executives and advises on all legal, compliance, and HR matters in all departments. Previously, Paula served as Associate Dean at USF's School of Law, and for six years, worked with Flex as VP of Global Ethics and Compliance. Prior to her career in law Paula served in various administrative roles in higher education including at UCLA and the College of Marin.  Paula guest lectures at various colleges and universities regarding business ethics and related issues.  Paula received her Doctor of Law (JD) at the University of San Francisco School of Law and her Bachelor of Arts from the University of California, Los Angeles.