Newsroom
Press Release
02/01/2018
NIO Formula E Team Announces EVBox as Official Associate Partner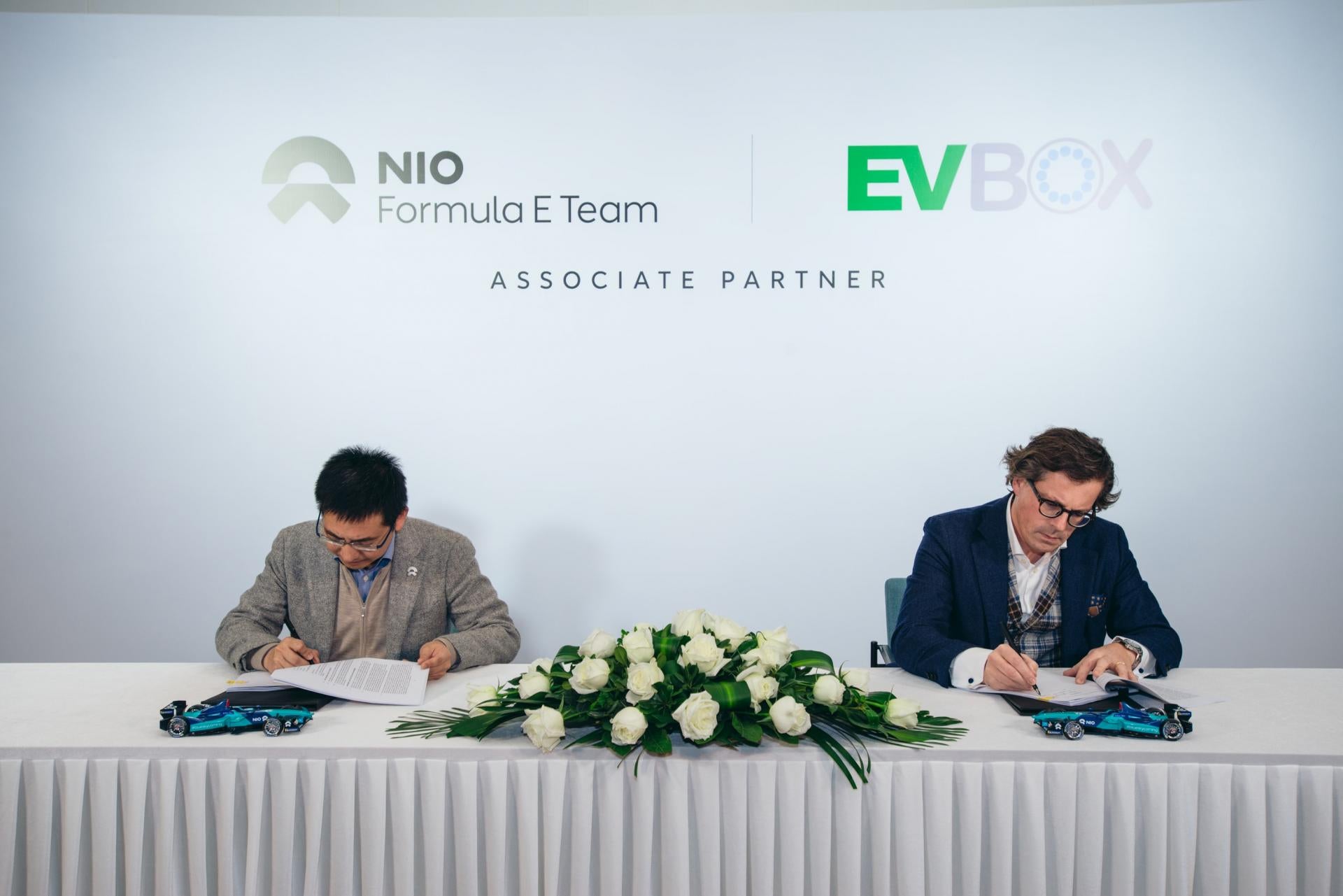 Oxford, UK / Shanghai, China / Amsterdam, The Netherlands, 1 February 2018:  The NIO Formula E Team is delighted to announce a multi-year agreement with EVBox, the global electric vehicle supply equipment brand, who becomes Official Associate Partner. EVBox branding is to appear on the team's four race cars, driver suits and team apparel from the next round of the 2017-18 ABB FIA Formula E Championship in Santiago, Chile, 3rd February 2018.
Founded in 2010, Netherlands-based EVBox is a market leader in electric vehicle charging solutions and software, with the world's largest installed base of electric vehicle charging points (50,000+) across Europe, North America and other key regions. In 2017, the company was acquired by the energy multinational Engie, who identified EVBox as a disruptive, leading cleantech company making a difference in the fast-growing industry of electric mobility. With its established reputation for best-in-class quality and innovation, EVBox is well placed to extend its global presence and become the first EVSE player capable of catering to any city, business, home and electric vehicle driver around the world.
This announcement also follows the successful launch of the inaugural 'NIO Day' in Beijing, China on 16th December 2017, when, in front of a 10,000-strong crowd at the Cadillac Arena, the company's latest production vehicle, the NIO ES8 SUV, was officially presented by Founder and Chairman of NIO, William Li.
Kristof Vereenooghe, CEO, EVBox
"We are very proud of becoming a NIO Formula E Team sponsor. Both NIO and EVBox have a profound belief that the automotive industry is on the brink of fundamental change. Both organisations believe that the future of mobility is electric and want to accelerate such transition in all continents, starting with North America, Europe and Asia."
Lihong Qin, Co-Founder and President, NIO
"We are very pleased to partner with EVBox and welcome them in to the NIO family. The ABB FIA Formula E Championship has delivered on its vision of bringing exciting, all electric racing to city-centres around the world and we, together with partners such as EVBox, aim to compete to win multiple events over the coming years. As a company NIO is at an extremely exciting phase. Not only is our Formula E Team commencing its fourth successive season, but we launched our first production road vehicle, the NIO ES8 SUV, on 16th December in China, the largest automotive market globally. I have no doubt that our racing partnership with EVBox will prove a great success, not only on track, but also in providing opportunities of investigating further clean energy projects together."