Newsroom
Press Release
10/08/2018
New Car, Driver Line-Up and Official Partner - NIO Formula E Team Proudly Launches 2018/2019 Formula E Programme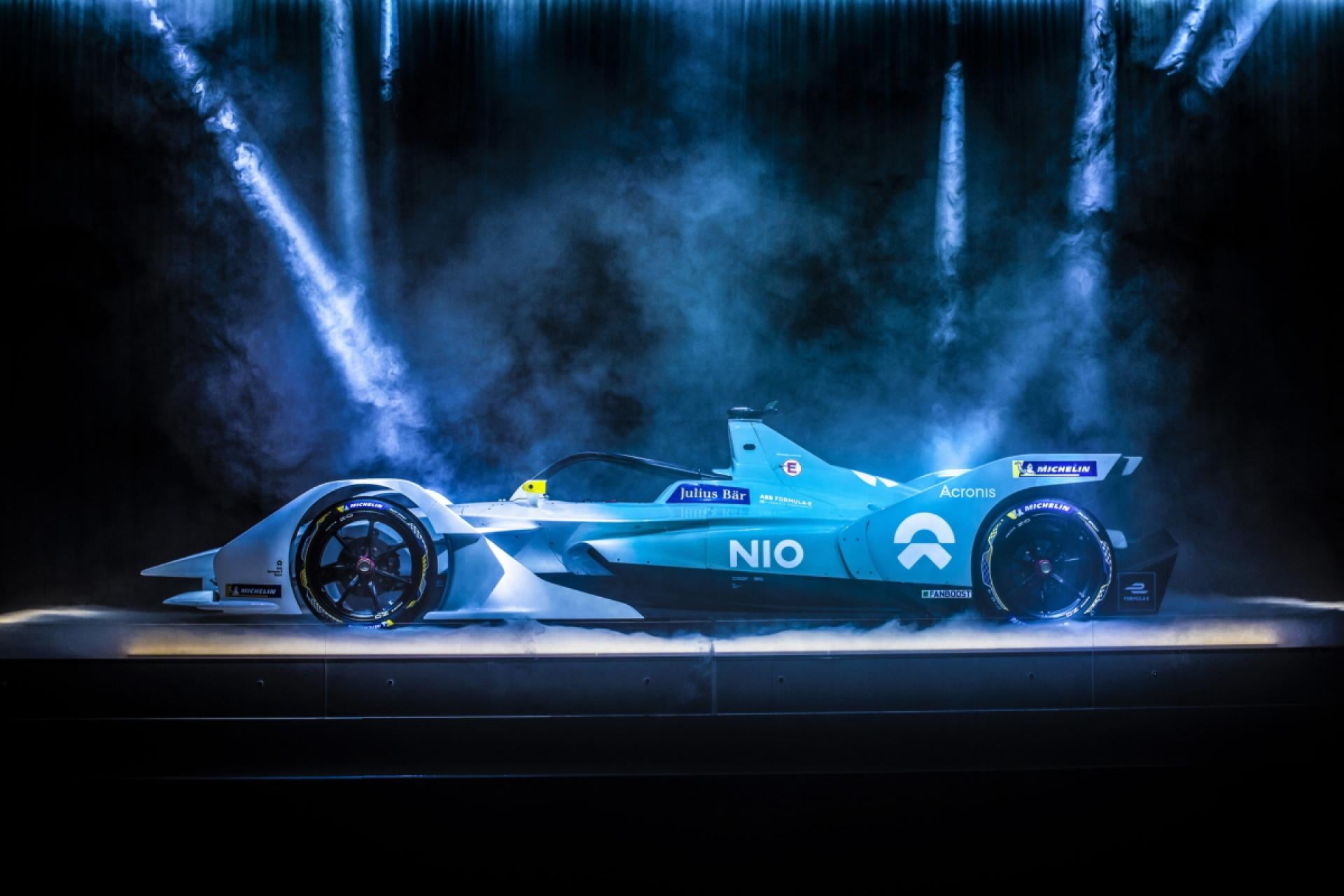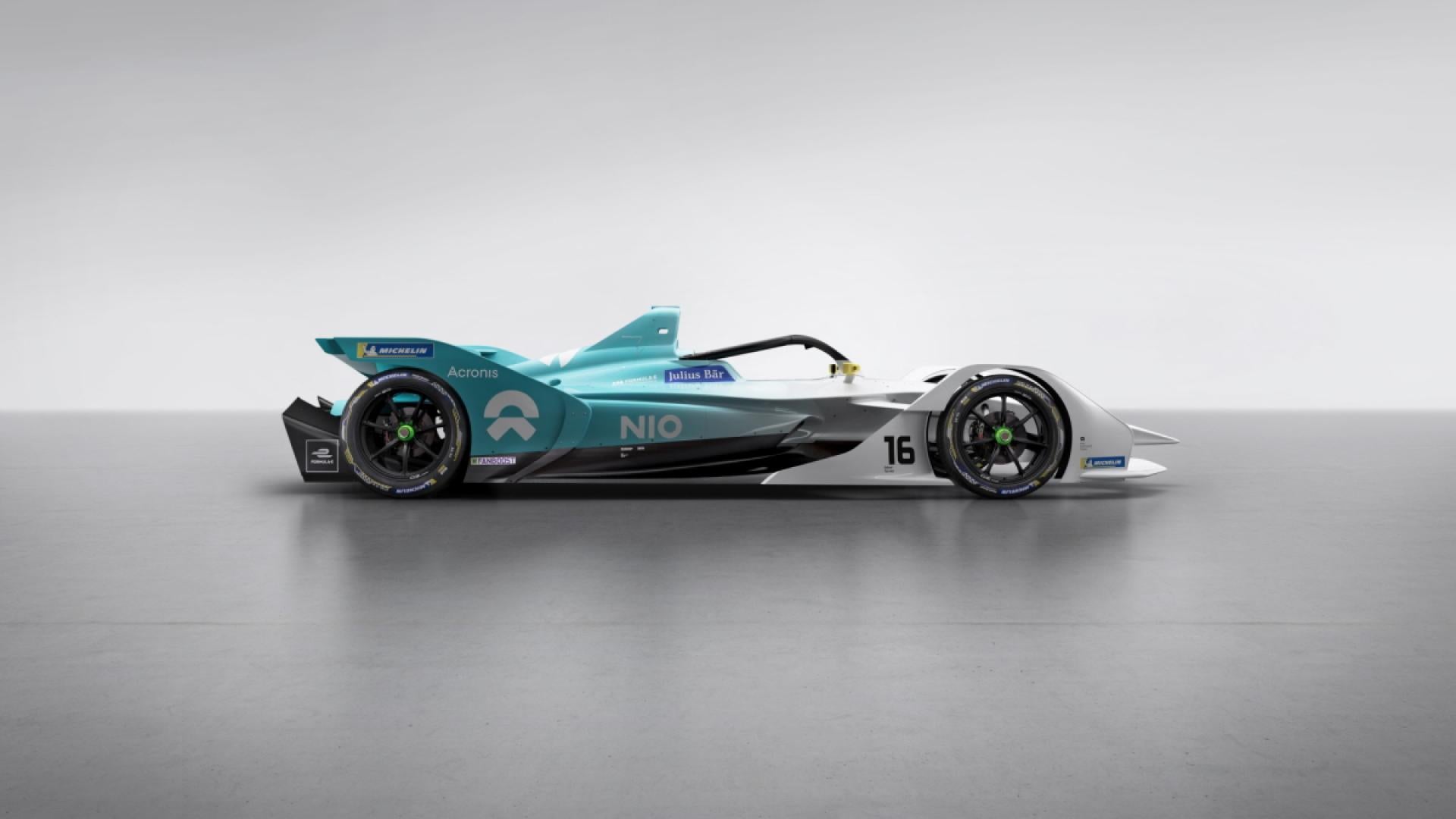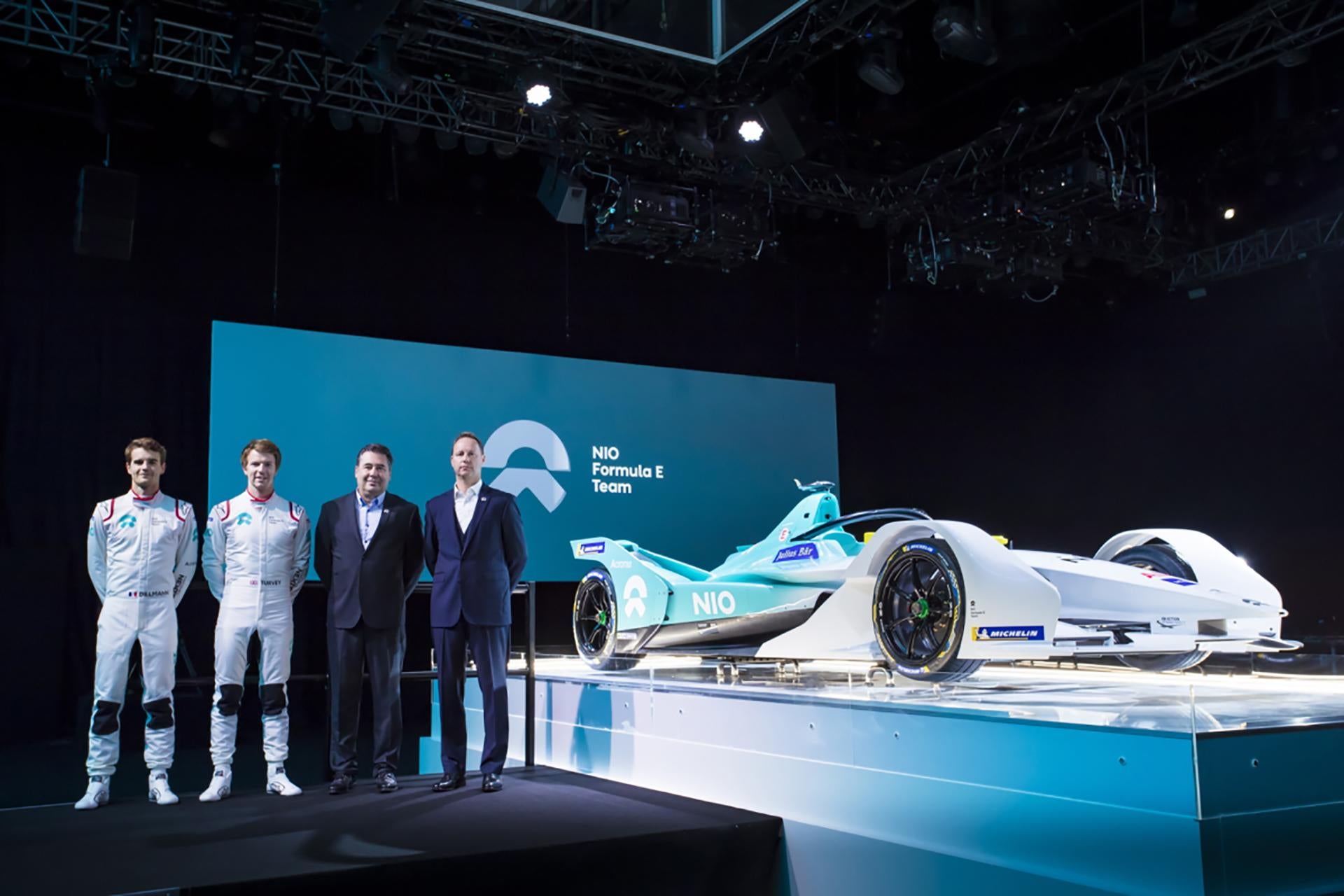 Queen Elizabeth Olympic Park in London, UK, played host this evening to the glittering official launch of the NIO team's 2018/2019 ABB FIA Formula E Championship programme, where the squad revealed a new driver line-up for Season 5, new official partner and, of course, a brand new car.
Unveiling the striking teal and white #BlueSkyComing NIO 004 Generation 2 race chassis at Copper Box Arena during the live-streamed event, NIO also confirmed the arrival of talented French racer Tom Dillmann to partner proven British driver Oliver Turvey for the new campaign.
Additionally, the team also welcomed new official partner Acronis which has entered into an exciting multi-year agreement with NIO, providing cyber protection and AI capabilities for the Formula E team and NIO's wider business activities.

Electrifying line-up of Dillmann and Turvey promises exciting season for NIO
Multiple single-seater racing champion Dillmann arrives at NIO for Season 5 with an impressive CV, including key Formula E experience gained over the last couple of years during selected appearances in the high-profile series.
With a best race result of fourth in the New York City ePrix last season, in between his outings in the all-electric championship the 29-year-old has also competed in Super Formula, the FIA World Endurance Championship and the Le Mans 24 Hours.
Dillmann, who originates from Mulhouse in France near the Swiss and German borders, first rose to prominence as a Red Bull Junior Team driver in the Formula 3 Euroseries in 2007 before winning his first championship title in 2010 in German Formula 3. He added a second motor racing crown in 2016 in the Formula V8 3.5 Championship.

Tom Dillmann, Race Driver, NIO Formula E Team:
"I am delighted to be joining NIO. We have had some good test days, developing our new car and building our relationship. I particularly enjoy the competitive and professional atmosphere within the team and I can't wait to start this new and exciting era in Formula E with NIO".
Britain's Oliver Turvey, from Penrith in Cumbria, remains with NIO for Season 5 having truly become an integral part of the team. Debuting in Formula E for the finale of the inaugural championship in 2015, he went on to secure his maiden pole position at the 2017 Mexico City ePrix. In Season 4, again in Mexico, Turvey achieved his first Formula E podium finish for NIO.
With a racing career which stretches back more than 20 years, the 31-year-old has attained some of the sport's most notable accolades along the way. Winning the hugely prestigious McLaren Autosport BRDC 'Young Driver of the Year' Award in 2006, the year Turvey was Vice-Champion in the Formula BMW UK Championship, he was then British Formula 3 Vice-Champion two years later.
Winning races in FIA Formula One World Championship support category GP2, Formula Renault 3.5, the FIA World Endurance Championship and becoming a class winner at the Le Mans 24 Hours, the Briton has also been McLaren F1 Team test and development driver for nine consecutive years.

Oliver Turvey, Race Driver, NIO Formula E Team:
"I am delighted to be continuing to race for the NIO Formula E team, I would like to thank Gérry and everyone at NIO for their continued support. Over the past three seasons we have grown together as a team, improving each season, and I was proud to be able to take our first podium together in Mexico City last season.
I have fully recovered from my hand injury at the final race in New York, although this limited the amount of testing I was able to complete over the summer. Despite not being able to drive in August, I spent time working with the engineers to support the development testing of the new Gen 2 car. Due to my fast recovery, thanks to the experienced doctors and physiotherapists who have helped me, I was back behind the wheel during the September tests.
The new Gen 2 car feels fantastic, it is a clear step forward in terms of performance and efficiency. The growth and progress of the ABB FIA Formula E Championship has been phenomenal, the new cars look stunning and the new race format with different power modes will provide more exciting races.
I would like to welcome Tom into the team and I look forward to working with him to help the whole team develop further. I can't wait to be back in the NIO car again in Valencia next week as well as for the first race of Season 5".
Gérry Hughes, Team Principal, NIO Formula E Team:
"After an extremely busy period of Manufacturer testing over the summer months, it is of course fabulous to be able to officially launch the NIO 004 car, the race livery and our revised driver line-up for Season 5 at London's Copper Box this evening.
The race livery is the product of many months of work by the NIO Brand team led by Stephen White, represents a radical departure from previous NIO race car liveries and uniquely aligns with the introduction of the all new, futuristic Generation 2 race car.
Coupling all that with a revised driver line-up for Season 5 demonstrates that we have been extremely busy in the off-season and I am very happy to welcome Tom onboard to the NIO team for the start of this new era of open-wheeled electric street racing.
We have been watching Tom for a while and since joining us for testing in the summer the whole team has certainly been impressed by his energy, work ethic and determination to succeed in this highly competitive championship.
Tom and Oliver have formed a healthy working relationship and going into Season 5 both the team and I feel that we have a formidable driver pairing with which to do battle on the world's city streets. We are now looking forward to testing in Valencia next week where, for the first time, all of the teams will come together to shakedown their Season 5 challengers."
Season 5 of the ABB FIA Formula E Championship gets underway on 15th December in Saudi Arabia at the Ad Diriyah Street Circuit. The season will conclude in New York City, USA, on 13th/14th July 2019.
Connect with the NIO Formula E Team:
@NIOGlobal Twitter, Instagram and Facebook: #BlueSkyComing