Newsroom
Blog
"Robotics and Autonomous Driving" Qiyan Wang, VP of Engineering, Digital Systems Explains
10 februari 2021 by NIO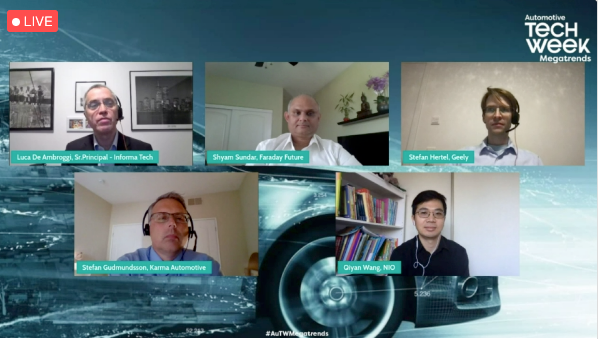 On January 29, Qiyan Wang, VP of Engineering, Digital Systems of NIO, was a guest panelist for "Software & Electronics Architecture as a Differentiator" at Automotive Tech Week: Megatrends organized by WardsAuto.  
Together with GEELY EV, Karma Automotive, and Faraday Future, Qiyan discussed the electronic vehicle's software capabilities, how technology and connectivity are valued over power and speed, and how OEMs utilize their software capabilities to develop a future proof brand.
Key factors
The next generation of a vehicle's software capabilities is key to attracting a new generation of consumers. "Robotics is the key enabler to autonomous driving. Many tier-one car companies have heavily invested into the software platforms around robotics, to provide efficient data to precise the AD cameras and lidar, with autonomous drive controls." Qiyan said during the panel. 
Autonomous driving software is one of the key differentiating features for future vehicles. Artificial intelligence software and smart cockpit technology will eventually provide more space in the car's cockpit due to autonomous driving. As a result, connectivity and software for remote applications, such as 5G and IoT devices, will be deployed more.
Safety
Safety is an essential part of the user experience, and that includes cybersecurity. "Smart vehicles are connected to the Internet, with remote control functions, over-the-air updates, etc. From the perspective of OEM's, like NIO, we need security that protects users' data and privacy," Qiyan said.
Innovation Services
NIO has created In-house innovation for differentiating features and capabilities, such as autonomous driving, UI/UX experiences through the smart cockpit with artificial intelligence, personalization, and intelligent connectivity functions, such as that with home IoT and mobile phones.
To consistently provide a better user experience, we are innovating products and services to keep up and ahead with the innovation competition. "At NIO, our Battery-as-a-Service (Baas) model allows users to have more flexible options for purchasing an EV. There is also AD-as-Service (ADaaS) and charging on-demand on a subscription basis."
Challenges
NIO's user experience has been the top priority. We are keen to provide the unique and best experience for our users. Autonomous driving has been the core technology for next-generation smart vehicles. 
As technology changes and lifestyles are upgraded, people seek more comfortable, safe, and intelligent travel experiences and hope to have more personalized expressions, system efficiency. 
Learn more about our user programs like NIO Houses, NIO Service, and NIO Life. Please acquaint yourself with our Battery-as-a-Service program, 100 kWh battery, and our industry-leading power solutions, as well.