Newsroom
Press Release
09/22/2023
NIO Unveils its Full-stack Technologies and R&D Capacities and Launches NIO Phone at NIO IN 2023
• NIO released SkyOS, improving safety, efficiency and application complexity of different domains.
• NIO unveiled its complete full-stack technologies and R&D capabilities.
• NIO released its first chip product for LiDAR, providing optimal support in complicated traffic.
• NIO launched Central Computing Cluster (CCC), sharing computing power between Assisted and Intelligent Driving and the cockpit for better user experience.
• NIO launched NIO Link, the connectivity technology centering on smart electric vehicles.
• Navigate on Pilot Plus (NOP+) for highways and cities further improve benefits for users by freeing up time and reducing accidents.
• NIO launched its first flagship phone, NIO Phone, making NIO cars even smarter and more convenient to use.
Shanghai,
September 21
-
NIO IN 2023 was held in Shanghai. NIO introduced NIO Full Stack, its comprehensive R&D capabilities and technologies, and its vision for NIO Assisted and Intelligent Driving. In the meantime, NIO Phone, the company's first flagship phone, made its debut.
NIO Full Stack Covering 12 Technology Domains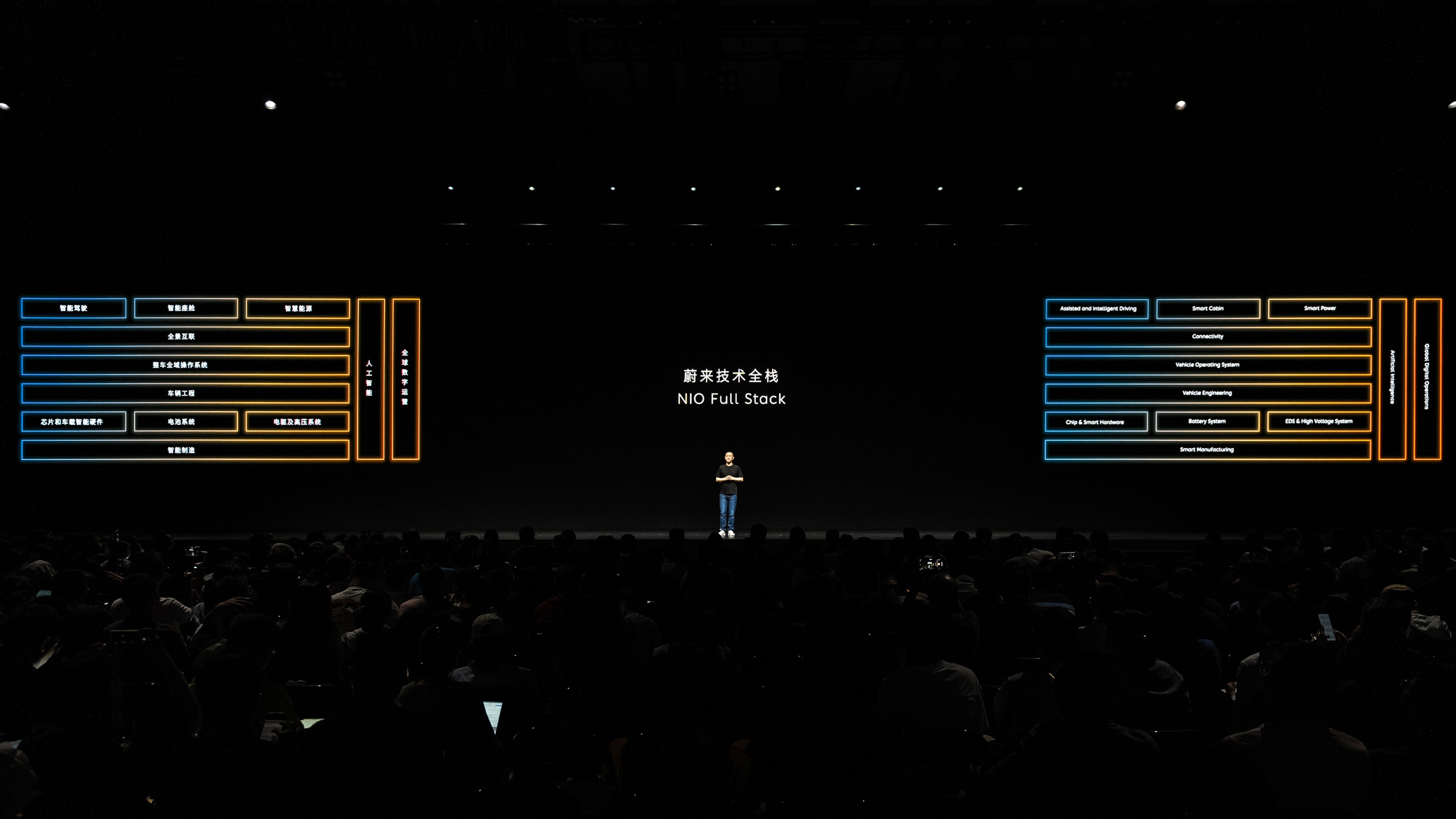 NIO Full Stack is a collection of technologies developed and co-developed by NIO. It encompasses 12 technology domains, including Assisted and Intelligent Driving, smart cabin, smart power, connectivity, vehicle operating system, vehicle engineering, chip and smart hardware, battery system, EDS and high voltage system, artificial intelligence, global digital operations and smart manufacturing.
NIO Full Stack covers smart, electric and vehicle software and hardware, as well as powerful digital operation capabilities to support NIO's products, services and community worldwide, serving multiple brands and product platforms, and fulfilling users in different regions. Behind NIO full stack technologies is NIO's pursuit of innovation and value creation, always putting users' interests first, fulfilling users' expectations for full-lifecycle experience, improving overall system efficiency and leading constant innovation.
NIO has been dedicated to forward engineering since its inception, with strategic investments in the development of chips and in-vehicle smart hardware. At NIO IN 2023, NIO unveiled China's first cross-domain computing cluster ADAM CCC, enabling seamless computational power utilization between the ADAM NIO Super Computing platform and the 8155 chip, supporting computing power sharing across intelligent driving, cockpit and vehicle, and cross-domain, low-latency data sharing perception data, to further enhance user experiences in intelligent cockpits.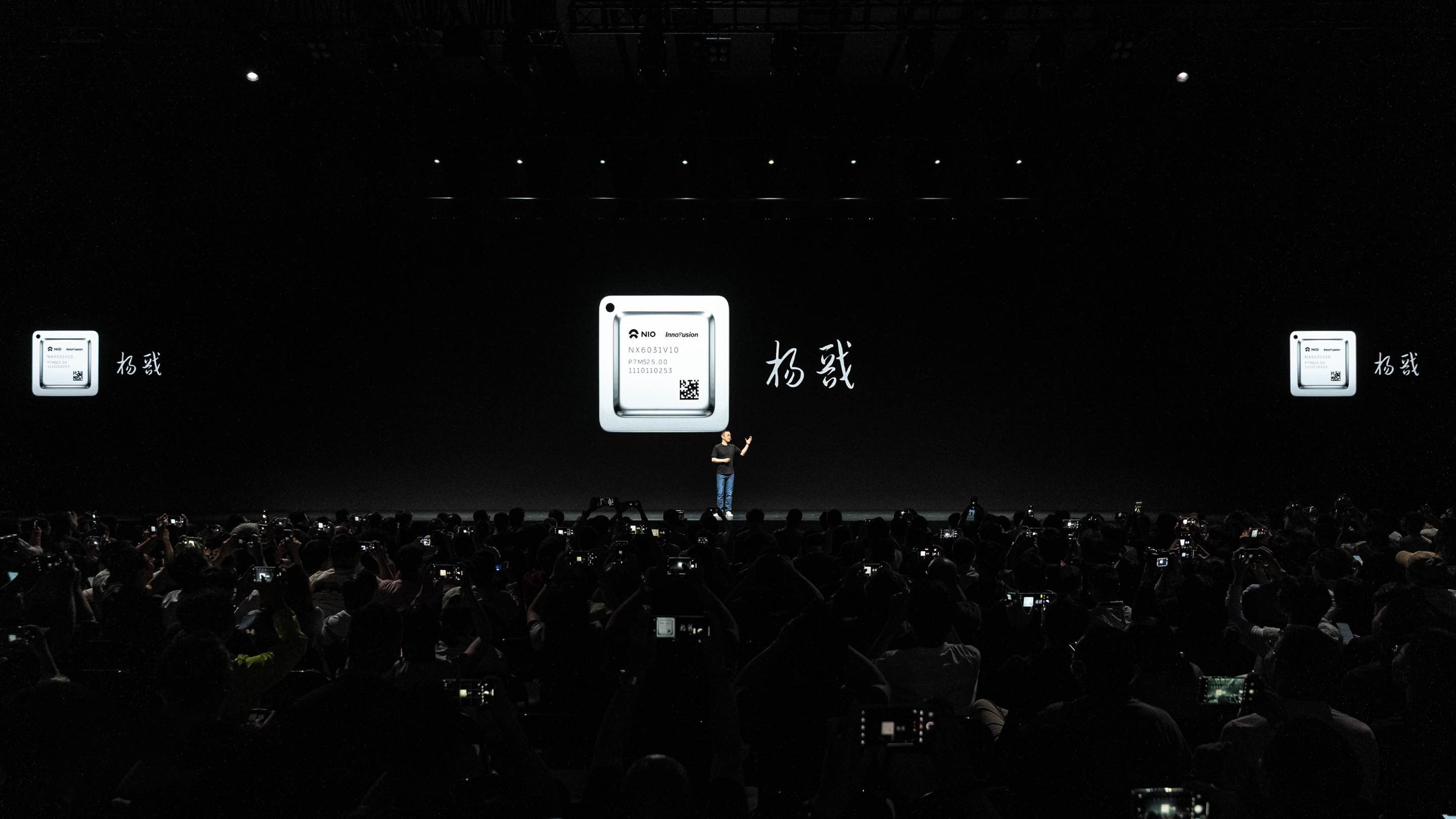 NIO also released its first chip product, Yang Jian, a SoC for LiDAR named after a Chinese mythological hero, providing stronger supports to vehicle's performance in complicated scenarios. Its highly integrated design with lower energy consumption and higher performance makes the chip a leading product among LiDAR SoCs.
Based on the concept of "chargeable, swappable and upgradeable", NIO has developed generic battery packs. On top of that, NIO also boasts full-stack capabilities which cover seven major categories throughout the battery's lifecycle, namely, material development, cell development, system development, BMS development, validation and calibration, battery data and battery recycling, underpinning the development and iteration of battery product series.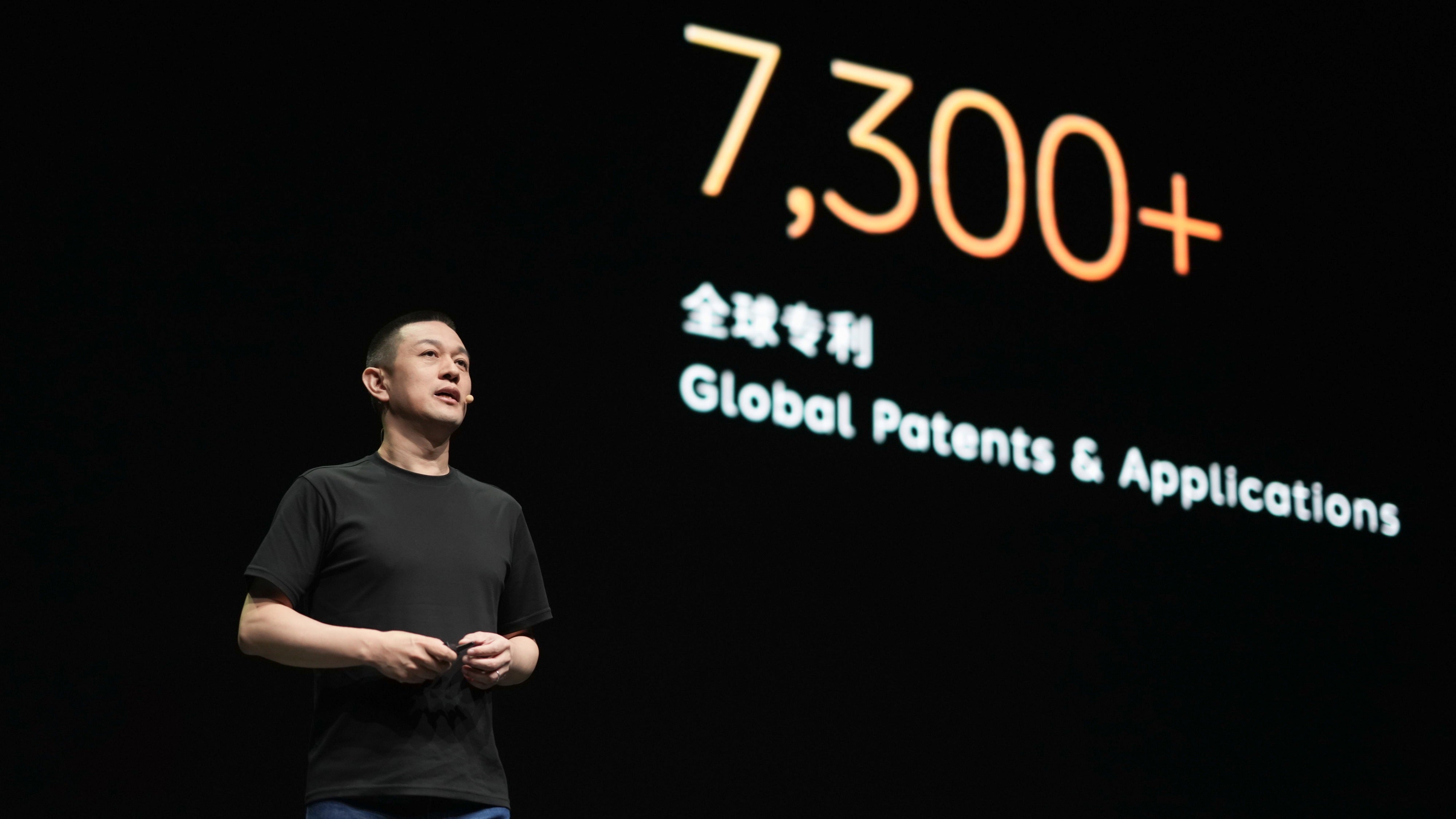 Since the beginning, NIO has been committed to the in-house development of a smart, safe and high-performance electric drive system (EDS). As of August 2023, 500+ patents have been applied for the electric drive system. With its proprietary EDS technologies, NIO is able to realize greater flexibility in the supply chain and product design, which helps it shorten development cycles and realize better product compatibility and faster iteration. The 900V high-performance electric drive system which is under development will bring ultimate performance and better energy consumption.
NIO's vehicle engineering is geared towards optimizing user experiences. NIO adopts one architecture and two mechanical platforms to design and develop multiple vehicle models. It adheres to the integrated safety structure and uses cutting-edge materials. Leveraging its key chassis components developed in-house and proprietary chassis control algorithms, NIO ensures peerless comfort and handling performance, while allowing for firmware over-the-air (FOTA) updates.
To ensure information security and driving safety, NIO laid the groundwork for its operating system development and has developed NVOS (NIO Vehicle Operating System). At NIO IN, NIO unveiled SkyOS, China's first intelligent vehicle operating system, which encompasses vehicle system, driving assistance, intelligent cockpit, energy replenishment services, and connectivity. Through a 1+4+N technology cluster, SkyOS addresses the integration of software, hardware, and services, resolving issues related to security, real-time performance, and application complexity across different domains. According to the plan, the full-feature of SkyOS will be realized on NT3 models.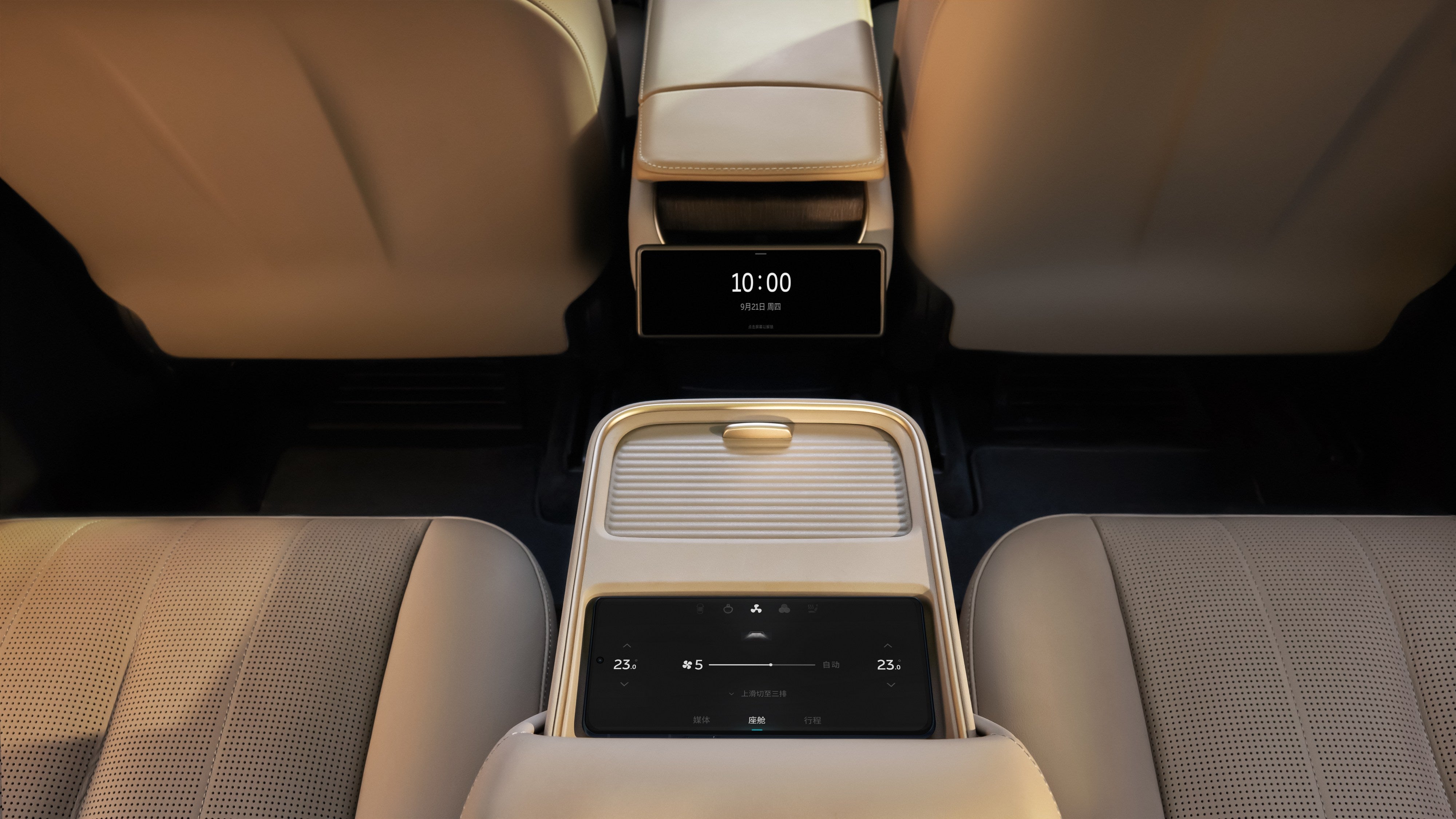 Connectivity also constitutes a pivotal part of NIO's full stack technologies. At NIO IN, NIO launched NIO Link, an all-scenario connectivity technology centering around vehicles. With integrated software and hardware, terminal-cloud coordination, a safe and open connectivity technology system, the integration of various devices is realized, including the NIO Phone. It is designed to enhance the users' connectivity experience with cars.
In order advance towards its vision for intelligent driving, to "free up time and reduce accidents", NIO has established the full-stack technical capability with end-to-end cloud integration, underlying platforms, framework algorithm, and intelligent driving applications.
NIO has developed a digital cockpit operating system, which is oriented by user experience and characterized by considerate details and expandability, to create intelligent, entertaining, and eco-friendly cockpits for global users. In partnership with variuos Apps, the App store creates an ecosystem which covers various types of services and contents.
Centered on user experience and systematic efficiency, NIO's intelligent power strategy aims to deliver an unparalleled energy replenishment experience for electric vehicle users worldwide in all scenarios. NIO's groundbreaking car-station coordinated and fully automated battery swap technology offers high reliability and fast mechanisms for models across all platforms. Moreover, NIO Power Swap Stations featuring bidirectional charging capabilities can serve as a grid-tied power storage system for grid frequency regulation and peak shaving.
NIO's intelligent manufacturing strategy leverages advanced manufacturing processes and material technologies to enhance vehicle experiences for end-users. Since 2018, NIO has progressively realized all-aluminum body manufacturing, established highly flexible and automated intelligent production lines in NIO's Second Advanced Manufacturing Center(NIO F2), introduced the Nebula dispatch technology tailored for unmanned factories, incorporated AI for autonomous decision-making in manufacturing processes, developed digital platforms of intelligent operation, and continuously elevated the end-user experience in manufacturing.
NIO has continously made investment in the full-stack artificial intelligence capability. NIO's AI technologies are driven by service requirements and real-world scenarios to empower products, services, communities, R&D, and manufacturing, which enhanced the efficiency of cloud-based data processing for autonomous driving, spearheading a paradigm shift in development of Assisted Driving.
The NIO Global Digital Operations System has substantially boosted operational efficiency across business lines. Currently, NIO provides services to nearly 400,000 vehicle owners in 6 countries and regions. The NIO App has garnered nearly 7 million registered users with over 600,000 daily active users, making it the world's largest online community for smart electric vehicle enthusiasts.
Road-based rollout of NOP+, freeing up time and reducing accidents
NIO announced the availability of NOP+ for cities and the road-based rollout of NOP+, aiming at freeing up time and reducing accidents for users, as well as improving ease and safety of driving.
To further adapted to complicated traffic in cities and regional differences in China, NIO has developed leading generalization capabilities. All NIO's NT2 products come standard with ADAM Super Computing. To ensure users' driving experience and efficiency, NIO will roll out NOP+ based on roads. Through continuous validation, learning, trouble shooting and operations, NIO will expand the availability of NOP+ in road sections with or without maps.
Besides, NIO also introduced Route Wishlist in China, allowing users to define and request NOP+ routes according to their traveling needs, and engaging users to actively participate in rolling out more routes. The collection of Route Wishlists will kick off at the end of September, followed by the action of NIO to collect wishlists from users. The target is to cover 60,000 km in cities by year-end 2023 and 400,000 km in the first half of 2024.
NIO Phone, a flagship phone dedicated to NIO users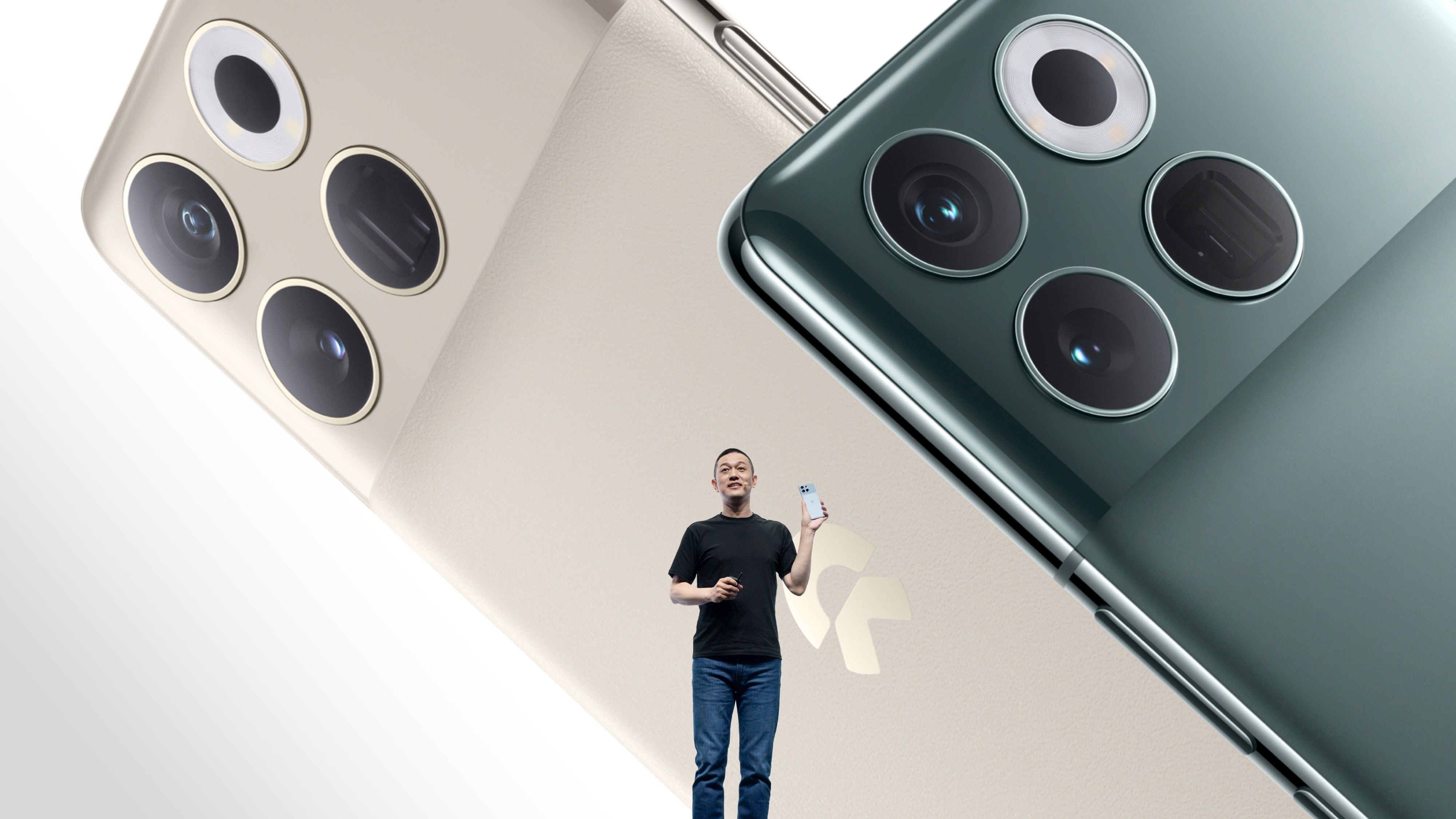 NIO released NIO Phone, a flagship phone designed for NIO users,Performance Version RMB 6,499, Flagship Version RMB 6,899, EPedition RMB 7,499. NIO Phone is aimed at bringing NIO cars and phones closer, realizing an unprecedented connectivity experience and making NIO cars smarter and more convenient.
NIO Phone features NIO's iconic horizon design, and comes in various color options as well as EPedition. It is equipped with Qualcomm Snapdragon 8 Gen 2 Mobile Platform, with up to 16GB of RAM and 1T of storage. NIO Phone also has a 6.81-inch curved screen of 2K resolution, and the high-resolution main camera, ultrawide-angle camera and periscope telephoto camera. NIO Phone has a battery capacity of 5,200mAh, and supports 66W charging and 50W wireless charging. It also boasts superior features such as wireless reverse charging, IP68 water resistance and ultrasonic fingerprint reader. NIO Phone runs on NIO's proprietary Sky UI which won't push ads to users based on their location or other information.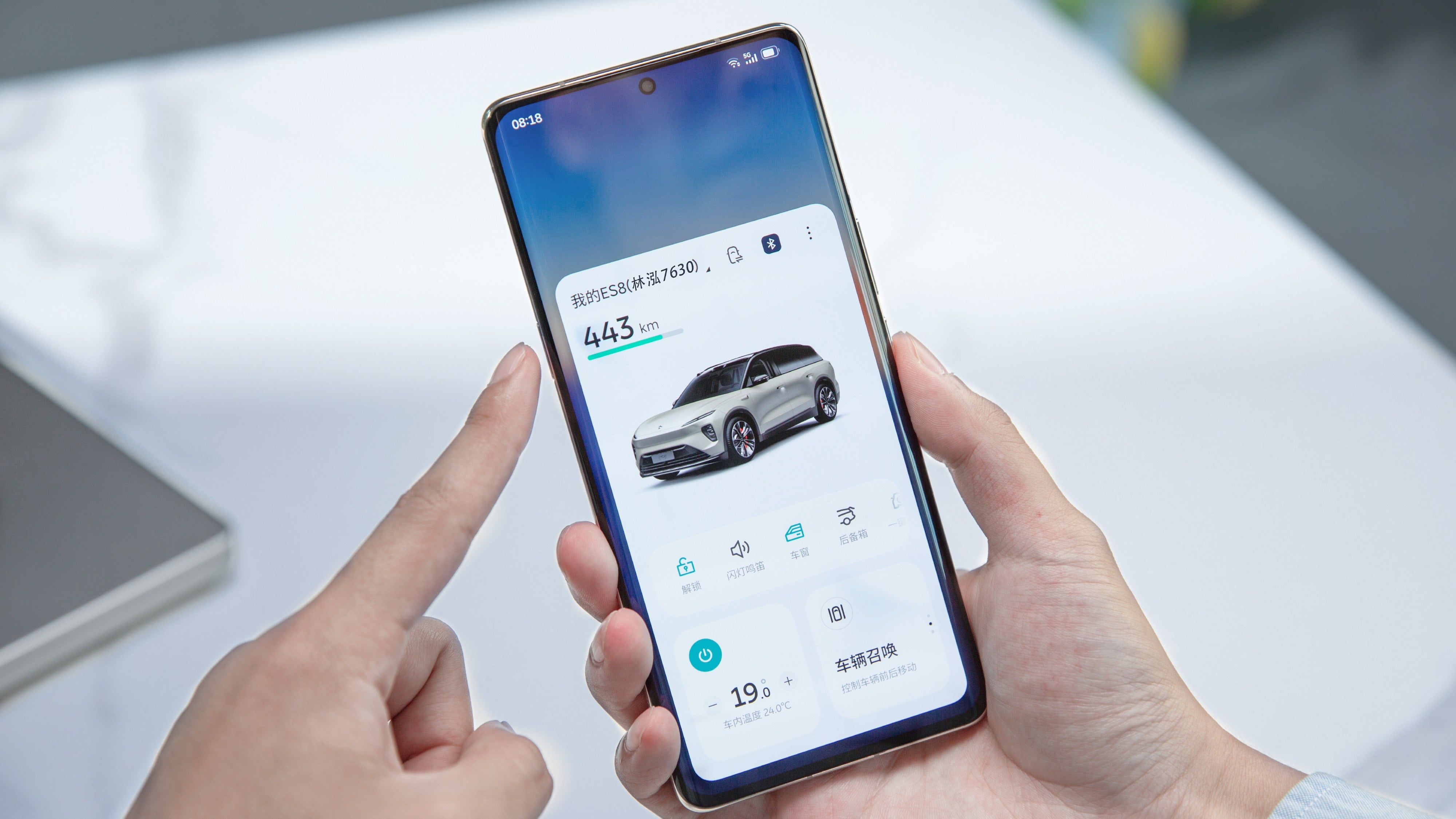 Enabled by the NIO Link technology, NIO Phone seamlessly connects with NIO's smart electric vehicles. Its UWB technology replaces traditional car keys. Pressing the NIO Link button on the left of the phone will switch on the car control card for intelligent operations. Additionally, NIO Phone can automatically switch to in-car mode, intelligently adjusting the seat position and AC settings based on where you sit. NOMI on the phone enables voice control of vehicle operations and search for charging and power swap stations. NIO Phone offers an exclusive executive console control mode for owners of the All-New ES8. It also supports interconnectivity in all scenarios, allowing in-car control of phone apps, playing mobile games, and having conference calls on the move. This superior interconnectivity makes NIO cars easier to use and even more intelligent.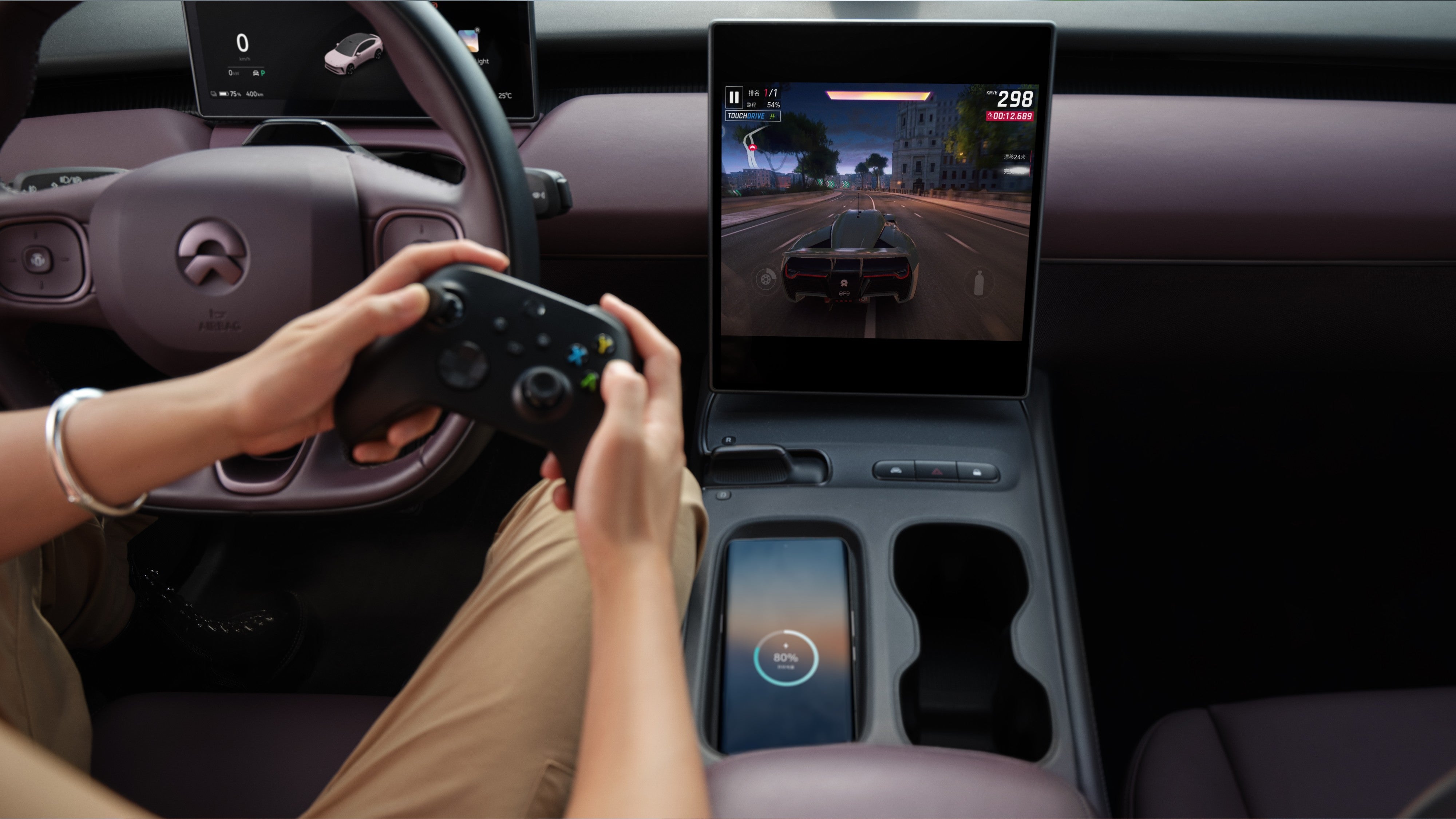 "NIO has always innovated continuously around all scenarios and product lifecycle to improve user experience and lead technological transformation. Behind the long-term R&D investment and numerous technological achievements is NIO's values-driven system of technological innovation, which is also a necessary condition for the long-term development of a smart electric vehicle company with global operations," says William Li, NIO Founder, Chairman and CEO.
About NIO
NIO is a global smart electric vehicle company. Founded on November 25, 2014, NIO's mission is to shape a joyful lifestyle by offering high-performance smart electric vehicles and ultimate user experience. NIO operates R&D centers and manufacturing facilities in Shanghai, Hefei, Beijing, Nanjing, Shenzhen, Hangzhou, San Jose, Munich, Oxford, Berlin, Budapest and Singapore, and has established sales and service networks in China, Norway, Germany, the Netherlands, Sweden, and Denmark, providing products and services to users in over 300 cities worldwide. By 2025, NIO plans to serve users in more than 25 countries and regions around the world.
In 2015, NIO Formula E team won the inaugural FIA Formula E Drivers' Championship. In 2016, NIO launched the EP9, one of the world's fastest electric vehicles. In 2017, NIO unveiled its vision car, EVE. On June 28, 2018, NIO began deliveries of the ES8, a 7-seater smart electric flagship SUV, in China. On September 12, 2018, NIO went public on NYSE. On March 10, 2022, NIO was listed on HKEX. On May 20, 2022, NIO was successfully listed on SGX.
NIO's lineup consists of the flagship smart electric SUV All-New ES8, flagship smart electric coupe SUV EC7, smart electric mid-to-large SUV ES7 (or EL7), flagship smart electric sedan ET7, versatile smart electric SUV All-New ES6 (or EL6), and smart electric sedan ET5, and smart electric tourer ET5T.
Media Contact:
Emma Hai