Newsroom
Press Release
12/06/2018
NIO Formula E Team Set for Season 5 Start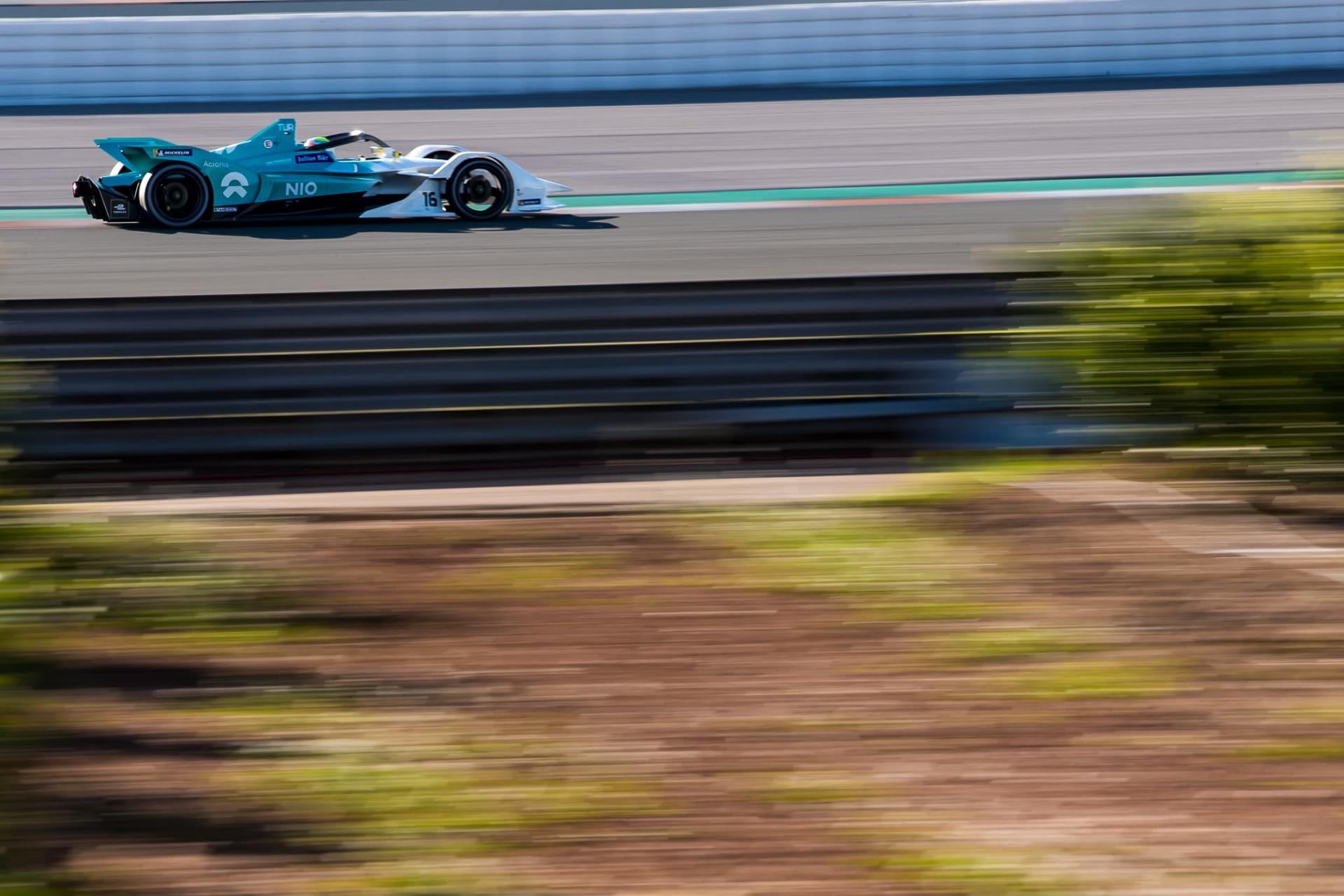 It's almost time! Round one of the 2018/2019 ABB FIA Formula E Championship season, the SAUDIA Ad Diriyah e-Prix in Saudi Arabia, is quite literally just around the corner and marks the start of an incredibly exciting new chapter for NIO. 
Taking place on Saturday, 15th December, the first race of Season 5 – which promises to be another ground-breaking campaign for Formula E with new cars, a new race format and enhanced schedule – triggers the start of a seven month journey across five continents.
Fans of the world's only electric single-seater championship will, for the first time, witness the Acronis-backed teal and white NIO 004 Generation 2 chassis in competitive action in the extremely capable hands of drivers Oliver Turvey and Tom Dillmann.
Other than the official week of testing at Valencia in Spain in mid-October, the opening event of Season 5 will be the first time all of the Formula E teams have been together on track with their new cars. With the 21-turn street circuit at Ad Diriyah providing a brand new challenge too, the opening event of the 2018/2019 championship will be impressive.
Heightened performance, evolving technology and even more excitement
In addition to new cars for Season 5, there are a variety of other changes and improvements to the ultra-popular all-electric championship ahead of the latest campaign. Energy storage capacity has been doubled, so drivers no longer need to swap cars in the mid-race pit-stops.
Each e-Prix will now be run over a timed duration of 45 minutes, plus one lap, which means energy management will be even more critical over the course of the race distance. There is also a new performance boosting 'Attack Mode' for Season 5, which will become available when drivers pass through a clearly marked activation zone and provide an extra 25kW of power. This is in addition to the retention of FANBOOST where spectators can vote in-race to give their top five favourite drivers a temporary power boost. 
Oliver Turvey, Race Driver, NIO Formula E Team: 
"I'm looking forward to starting Season 5 of Formula E with the new Gen 2 car and the new race format with attack mode. The Riyadh track looks like an exciting one with a combination of fast flowing corners and overtaking opportunities, so I can't wait to get out on track and go racing."

Tom Dillmann, Race Driver, NIO Formula E Team: 
"I am super excited to get the season underway with the team and see what we can do. The Ad Diriyah e-Prix circuit layout looks very challenging and quite different to the usual Formula E tracks. From what I have learnt so far on the sim it could be a real highlight, and perhaps a little unpredictable. I cannot wait get on track."

Gérry Hughes, Team Principal, NIO Formula E Team: 
"We are very soon arriving at the dawn of a new technological era in the field of single seater EV racing and coupling that with the challenge that a new race circuit always brings, it is only right to have a degree of apprehension on the lead-up to competition day in Saudi Arabia.
However, the past few weeks have allowed the NIO Formula E Team to continue their preparations for this all important inaugural event with the NIO 004 Generation 2 Formula E Chassis and we will approach this event like any other, pushing the boundaries of what is possible."
Coverage of the opening e-Prix of Season 5 on Saturday, 15th December, will be carried live on the BBC Sport website, the BBC iPlayer and through the BBC 'Red Button' service. Visit the official ABB FIA Formula E Championship 'YouTube' channel for a wealth of features, highlights and catch-up coverage. 
Rd1 Schedule, Saturday, 15th December: SAUDIA Ad Diriyah e-Prix (all times local)
07.00 – Free Practice 1
09.05 – Free Practice 2
10.50 – Qualifying Group 1
11.00 – Qualifying Group 2
11.10 – Qualifying Group 3
11.20 – Qualifying Group 4
11.35 – Superpole (Top 6)
15.05 – Race (45mins +1 lap)
Connect with the NIO Formula E Team:
@NIOGlobal Twitter, Instagram and Facebook: #BlueSkyComing